Ex-Thunderbirds commander gets new post at Creech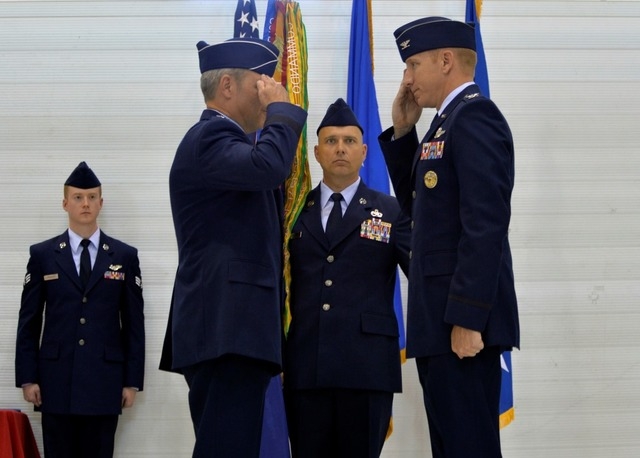 A former Thunderbirds commander has taken the reins of the 432nd Wing at Creech Air Force Base, a hub for remotely piloted aircraft operations at Indian Springs, 45 miles northwest of Las Vegas.
Col. Case A. Cunningham assumed command of the 432nd Wing and the corresponding expeditionary wing during a low-key ceremony June 29 at Creech.
Cunningham, a 1994 Air Force Academy graduate, led and commanded the Air Force air demonstration team, the Thunderbirds, at Nellis Air Force Base from January 2010 to January 2012.
After that he served a year as vice commander of the 451st Air Expeditionary Wing at Kandahar, Afghanistan, a wing of more than 2,200 airmen and 10 different types of aircraft involved in combat operations, maintenance,and mission support. Most recently he served as a special assistant to the director of the Defense Advanced Research Projects Agency.
He took command of the 432nd Wing at Creech from Col. James R. Cluff, who has been assigned to the Pentagon as military assistant to the undersecretary of defense for intelligence.
Creech officials released photos Tuesday of the change-of-command ceremony, presided by Lt. Gen. Chris Nowland, 12th Air Force commander,
The 432nd Wing trains pilots, sensor operators, and other remotely piloted aircraft crew members. It also conducts combat surveillance and attack operations worldwide with more than 130 MQ-1B Predator and MQ-9 Reaper aircraft controlled via satellite links from ground stations at Creech and elsewhere in the United States and abroad.
Overseas missions involving the RQ-170 Sentinel, a stealthy, high-flying, jet-powered flying wing, are also controlled by 432nd personnel who operate and maintain the aircraft. The RQ-170 is nicknamed the "Beast of Kandahar," for sightings at the airport in Afghanistan's second largest city that date back to 2007.
Two years later, Pentagon officials acknowledged the Sentinel's existence in a brief statement, saying the Air Force is "developing a stealthy unmanned aircraft system (UAS) to provide reconnaissance and surveillance support to forward deployed combat forces."
Cluff's biography lists him as command pilot with more than 1,900 flight hours on F-16s, Predators, Reapers and the RQ-170 Sentinel.
Cunningham, as commander of the 432nd Wing and 432nd Air Expeditionary Wing at Creech, is in charge of more 3,000 active duty, Air National Guard, Air Force Reserve, civilian government and contract personnel. He also has command over more than 1,000 Air National Guard airmen in Nevada, Arizona, California, New York, North Dakota, South Dakota, Ohio, Tennessee and Texas.
Cunningham is a command pilot with more than 3,000 flight hours in F-15 Eagles, F-22 Raptors, F-16 Fighting Falcons, MC-12W Liberty intelligence, surveillance and reconnaissance aircraft, and the MQ-9 Reaper. He has flown 525 combat hours over Iraq and Afghanistan.
Contact Keith Rogers at krogers@reviewjournal.com or 702-383-0308. Find him on Twitter: @KeithRogers2.