Famous pilot Yeager re-enacting right stuff 65 years later
October 12, 2012 - 1:04 am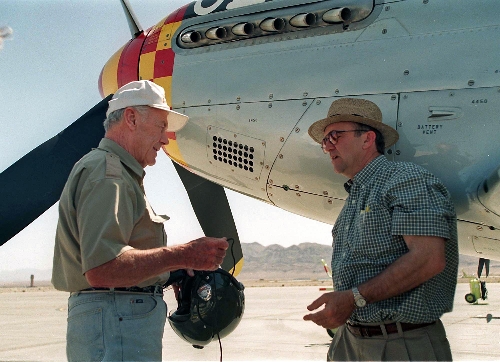 Legendary U.S. Air Force pilot Chuck Yeager will mark the 65th anniversary of breaking the sound barrier with a special re-enactment flight Sunday from Nellis Air Force Base.
But this time, the 89-year-old retired major general, test pilot and World War II fighter ace will fly faster than Mach 1, or the speed of sound, in the cockpit of a F-15D Eagle aggressor jet with a Nellis captain at the controls.
On Oct. 14, 1947, then-Capt. Charles E. Yeager became the first human to fly faster than sound in "Glamorous Glennis," a Bell X-1 rocket plane from the Air Force test center at Muroc Field, now Edwards Air Force Base, Calif.
Author Tom Wolfe's book "The Right Stuff," later made into a movie, recounted the story of the historic day when the bullet-shaped experimental plane was attached to the belly of a B-29 bomber and flown to a high altitude.
Yeager lowered himself through the big plane's bomb bay doors into the cockpit of the rocket, but broken ribs from a recent fall from a horse made it impossible to reach around and lock down the X-1's hatch. Yeager improvised, using a sawed-off broom handle to trip the latch.
Soon after the rocket plane was released, Yeager flew to about 42,000 feet and achieved 650 mph, or Mach 1.07, in level flight. That seminal achievement, which had long eluded aeronautical engineers, was kept secret for six months until it leaked to the public. It wasn't until Wolfe's book in 1979 that Chuck Yeager became a household name.
Sunday's planned anniversary flight resulted from "a lot of brainstorming" by Nellis officials, Yeager, and his wife, Victoria, after base officials asked Yeager, who now lives in Penn Valley, Calif., to make a motivational speech to Nellis airmen.
"Everything just lined up," Airman 1st Class Timothy M. Young, a base spokesman, said Thursday.
He said Capt. David Vincent of the 65th Aggressor Squadron will fly the two-seat F-15D Eagle with Yeager sitting behind him.
"They wanted a captain to fly him because Yeager was a captain at the time," Young said.
Yeager and Vincent will travel in relative comfort, taking off from Nellis under clear blue skies, reaching Mach 1 high above the Mojave Desert in the general area of the 1947 flight at 10:24 a.m., the exact time of the X-1's sonic boom that signaled to those on the ground that Yeager had broken the sound barrier.
It will be a slow flight for the F-15, which can exceed Mach 2.5, or 1,650 mph.
Aerospace historian Peter Merlin noted that Yeager has flown faster than the speed of sound on several occasions, always saying later that each time would be his last flight.
"What was path-breaking at the time – supersonic flight – is now commonplace. But it's always interesting to have the first guy to do it celebrating a milestone like this down the road," Merlin said from his home in Lancaster, Calif.
In 1997, Yeager marked the historic flight's 50th anniversary in an F-15D Eagle, dubbed "Glamorous Glennis III."
The first plane to bear that name was a P-51 Mustang, the fighter he flew in shooting down 13 German planes - five in one day – in World War II. The second was the X-1. Both were named in honor of his first wife, Glennis Dickhouse, who died in 1990.
Contact reporter Keith Rogers at krogers@reviewjournal.com or 702-383-0308.
CLINT KARLSEN/LAS VEGAS REVIEW-JOURNAL FILE PHOTO
World War II ace and test pilot Chuck Yeager, left, talks with NASCAR racing team owner Jack Rouch in front of a P-51 Mustang during a visit to Nellis Air Force Base on April 23, 1997. Yeager, a retired Air Force major general, will return to the Nellis Sunday to reenact his historic flight in which he became the first pilot to break the sound barrier on Oct. 14, 1947.