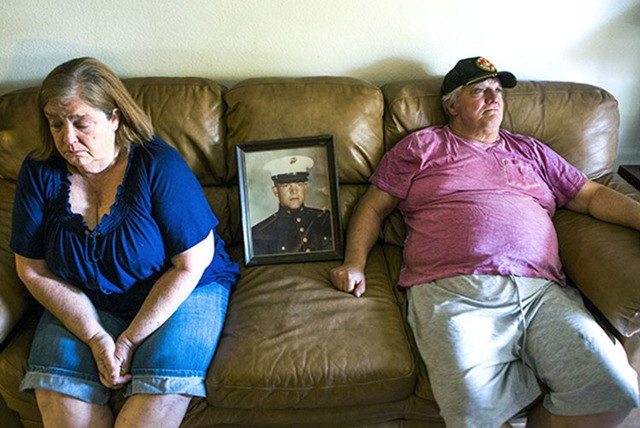 The federal government has been in no hurry to assess the health impacts of two harmful chemicals found in a water supply that Marine veterans from Camp LeJeune, North Carolina, blame for cancer and other maladies.
Nor is it in a hurry to finalize a Veterans Affairs rule that would streamline the process for Camp LeJeune veterans to collect compensation for certain health problems.
On Monday, roughly 40 years after passage of the Toxic Substance Control Act and four years after the Environmental Protection Agency declared one of the chemicals — trichloroethylene, or TCE — a known human carcinogen, the EPA announced in the Federal Register that it will begin evaluating degreasing agents TCE and PCE, or perchloroethylene, as well as eight other chemicals for potential risks to human health and the environment.
On Friday, the EPA was vague about how the human health evaluations for TCE and PCE could affect Camp Lejeune veterans' claims, noting that "it will be up to the next administration to determine how (or) whether to finalize the (EPA) rule."
"We can't say whether the first 10 chemical risk assessments will impact or bolster claims or what the findings will be," EPA officials said in response to a Review-Journal query.
It's also unclear why the EPA is even conducting an evaluation of TCE's health impacts considering that the agency upgraded its status in 2011 from possible human carcinogen to known human carcinogen based on epidemiologic data, experiments and studies.
"TCE poses a potential human health hazard for noncancer toxicity to the central nervous system, kidney, liver, immune system, male reproductive system, and the developing fetus," the review concluded.
Nevertheless, Linda Furrow, the wife of Marine veteran Stanley Furrow, of Las Vegas, said she is losing hope that he will receive compensation from his veterans benefits claim for consuming contaminated water at Camp LeJeune regardless of the EPA's health risk evaluations for TCE and PCE, a process that is expected to take up to three years.
"Why are they taking so long?" she said Friday. "I don't think it's going to do us any good no matter what. You can't fight them."
The Furrows believe Stanley's migraine headaches and neurological maladies are linked to his exposure in the early 1970s to Camp Lejeune's contaminated water, which contained TCE measuring 1,400 parts per billion, far in excess of the 5 ppb standard for safe drinking water.
They believe it also explains why Linda had miscarriages and why birth defects are present in their descendants. Their son was born with only three fingers on his left hand; their daughter has battled cysts and tumors on her head all her life; and their teenage grandson, Joseph, was born with twisted legs.
EPA officials said that when the Toxic Substances Control Act became law nearly 40 years ago it "did not provide adequate authority for the EPA to re-evaluate these existing chemicals as new concerns arose or science was updated."
It wasn't until June 22 when President Barack Obama signed an amendment to the act mandating the EPA to "evaluate existing chemicals with clear and enforceable deadlines" and publish the list of the first 10 chemicals by Monday.
Furrow said she was told recently by Veterans Affairs officials that it could take three decades for the VA to issue a final rule on "presumptive status," meaning the VA would automatically grant compensation for eight diseases related to exposure to volatile organic compounds like TCE and PCE that were improperly disposed of and infiltrated Camp Lejeune's water supply.
If the rule is finalized, presumptive status would cover "adult" leukemia, bladder cancer, kidney cancer, liver cancer, multiple myeloma, non-Hodgkin's lymphoma, Parkinson's disease and aplastic anemia. The proposed rule would modify a 2012 law that provides VA health coverage for veterans who served at the North Carolina base for at least 30 days between Aug. 1, 1953, and Dec. 31, 1981.
Among those who stand to benefit by presumptive status is Camp Lejeune Marine veteran Richard Zaccara, of Henderson. He was diagnosed with leukemia in 2003 and says his illness was caused by Lejeune's contaminated water. He is on a registry of veterans exposed to organic solvents when he trained there in 1963.
While he recently won a battle over bills for VA health care coverage under the 2012 Honoring America's Veterans and Caring for Camp Lejeune Families Act, he still waits for compensation from the Veterans Benefits Administration.
Zaccara found out about a week ago that VA workers won't get around to completing his case until sometime between 2019 and 2023. "That's insane," he said. "That's crazy."
U.S. Sens. Richard Burr and Thom Tillis, both R-N.C., have urged the VA to act quickly to finalize the presumptive status rule. They estimate that from 1953 to 1987, nearly 1 million service members and their families were poisoned by Camp Lejeune's water supply.
Retired Marine Master Sgt. Jerry Ensminger has led a crusade for Camp Lejeune veterans and their families through his website, "The Few, The Proud, The Forgotten." He said he still hasn't received a response from the VA from comments he submitted on the presumptive status rule after it was proposed in September.
He said he also doesn't understand why the EPA's forthcoming evaluation of TCE's human health effects is necessary given that the agency has already listed it as a known human carcinogen and a year later, in 2012, the International Agency for Research on Cancer followed suit.
He said he's also baffled about why TCE is a known human carcinogen yet PCE, with just an additional chlorine atom, isn't.
"That doesn't make any sense," Ensminger said.
Contact Keith Rogers at krogers@reviewjournal.com or 702-383-0308. Find him on Twitter: @KeithRogers2.
RISKY COMPOUNDS
The first 10 chemicals that the EPA will evaluate for potential risks to human health and the environment are:
— 1,4-Dioxane
— 1-Bromopropane
— Asbestos
— Carbon Tetrachloride
— Cyclic Aliphatic Bromide Cluster
— Methylene Chloride
— N-methylpyrrolidone
— Pigment Violet 29
— Tetrachloroethylene, also known as perchloroethylene (PCE)
— Trichloroethylene (TCE)