Goodwill adds third Las Vegas career center to help veterans land jobs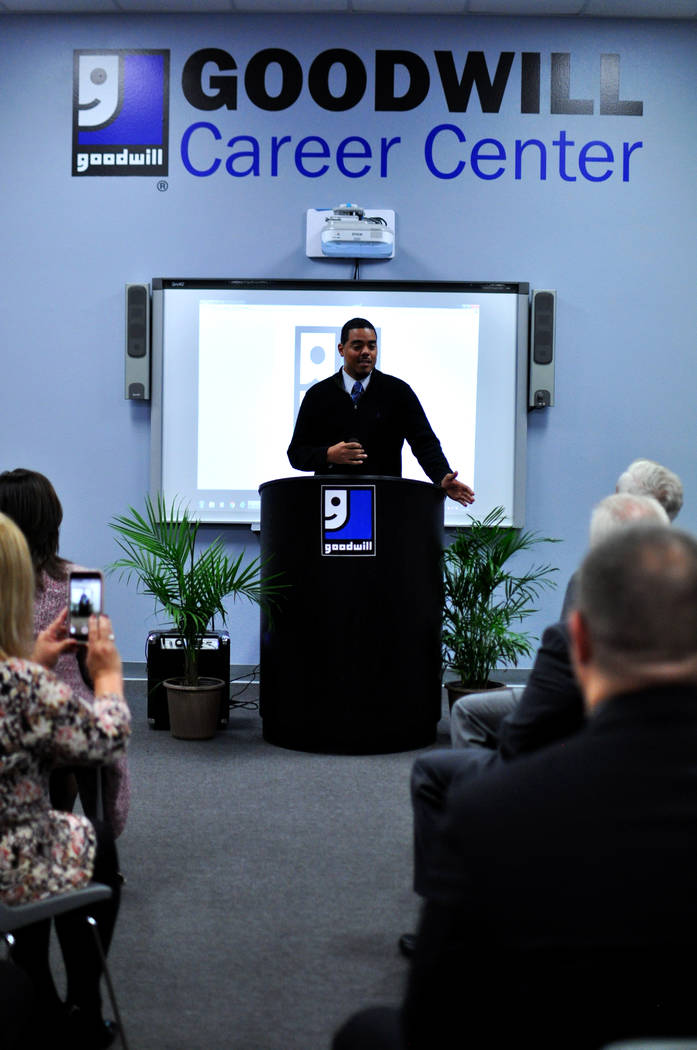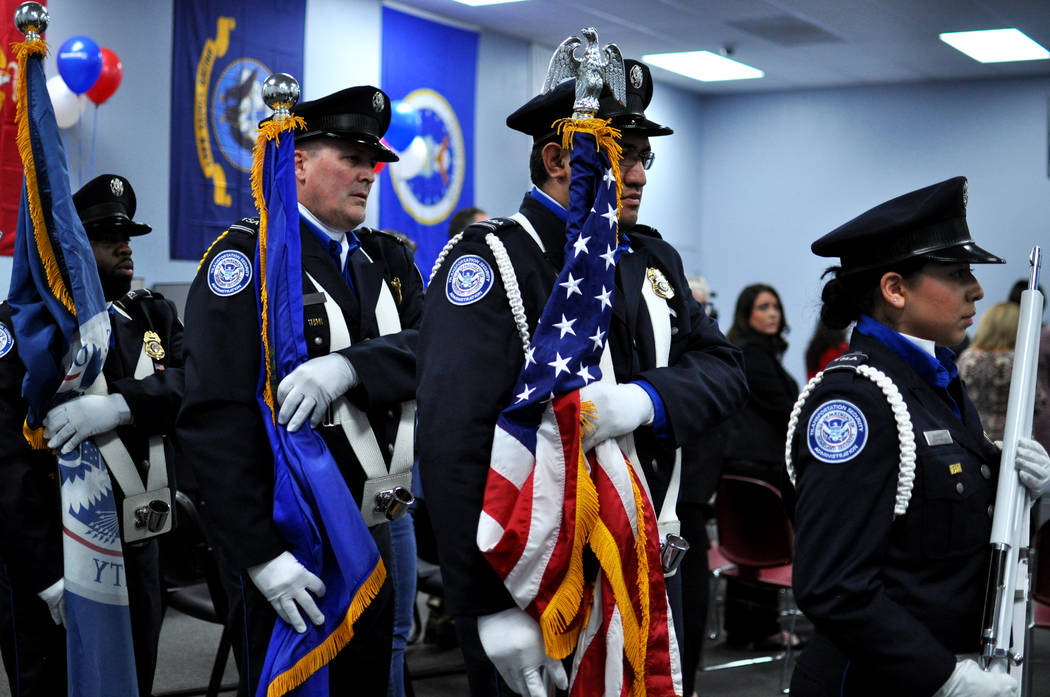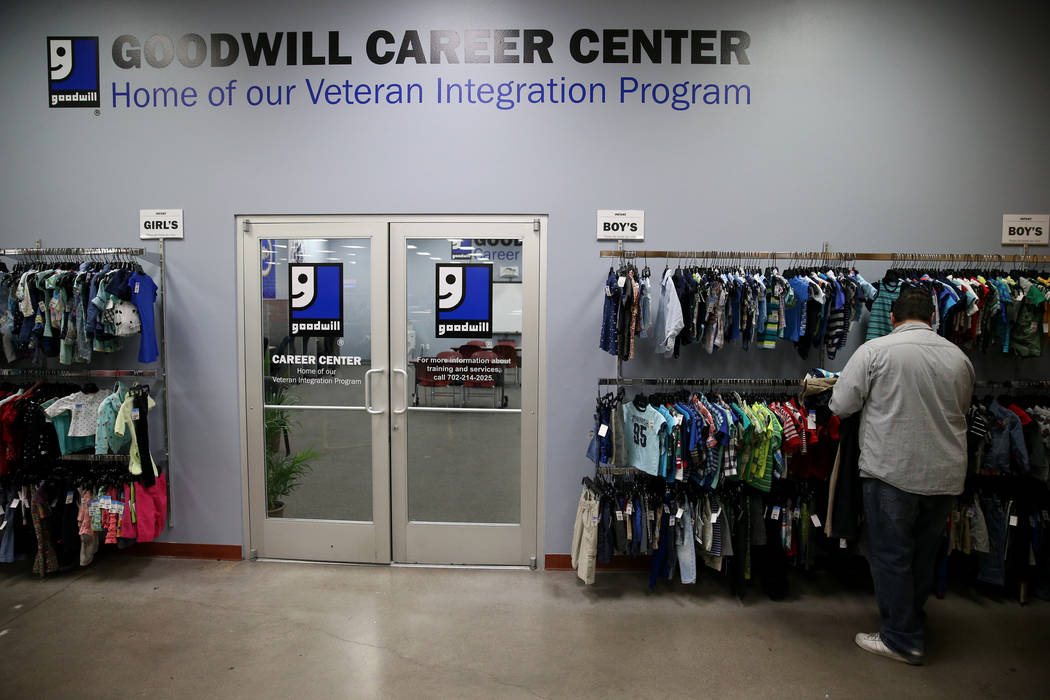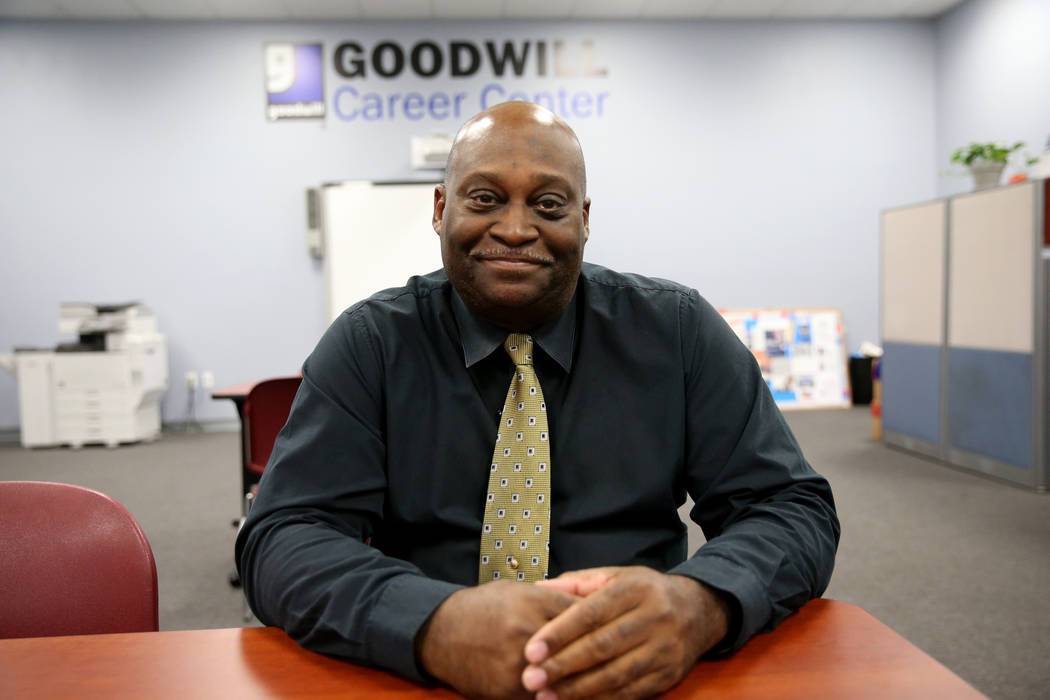 When Sgt. George Martin was discharged from the Army in 2003, the difficulties of transitioning from military to civilian life quickly became evident.
"Everything is so structured in the military; everything is so by the book," he said. "You make your bed real tight, shine your shoes, do your job."
Civilian job hunting was an entirely different mission. Employers told him that he didn't have the right experience. Others told him he had too many skills.
"I had a wealth of experience and seeing the world and doing a job for eight years. Why was it so difficult for me to find something sustainable?" he asked himself. "I've commanded soldiers, with their lives on the line. I know how to lead."
Martin, 40, credits the interviewing and job-building workshops he attended through Goodwill of Southern Nevada's Veteran Integration Program with helping him land a job as an office manager for Just Quality LLC, a local cannabis company.
On Wednesday, Goodwill opened the city's third veteran career center, at 741 S. Rainbow Drive, just a month after receiving a $1.4 million grant from the U.S. Department of Labor's Employment and Training Administration to expand the program. The grant will help expand the resources offered at the two previous locations, 3700 S. Maryland Parkway and 3345 E. Tropicana Ave.
'I'm valued'
The new center will help the nonprofit cater to the estimated 8,000 veterans who are expected to transition out of the military and settle in Southern Nevada in the next two years.
That will be instrumental in helping newly minted veterans adjust to their new lives, Martin said.
"I'm valued, and I'm feeling like I'm appreciated. I came from this place where I'm not just a number," he said of his experience in the program. "It's a complete travesty that we don't take better care of the people that take care of us."
Veterans and their family members who participate in the free program can attend occupational skills workshops as well as receive advice on dressing for job interviews, writing resumes, preparing for interviews and getting placed in a job.
The center also provides support services, such as transportation and clothing, and helps veterans secure required certifications for certain jobs.
Six team members will operate the new center on Rainbow, all of whom are veterans or family members of veterans and are focused on intense case management.
"It's people who understand how the transition is from military to civilian," said Nina Ridgeway, who manages the veterans program and served in the Air Force for 20 years.
"We want to provide them with every tool possible for getting and keeping their job," added Jennifer Ramieh, Goodwill's director of philanthropy, noting that the nonprofit partners with over 500 local employers that want to hire veterans.
Since the program's inception in 2012, more than 2,500 veterans have been directly placed in jobs.
John Helderman, interim CEO of Goodwill, said the federal grant recognized that the veterans and their families transitioning out of the military and settling in Southern Nevada "need our support."
He also cited a striking statistic from the U.S. Department of Affairs, which estimates that 22 veterans commit suicide each day. That figure puts Nevada among the 10 states with the highest rates.
"Our country is facing a tragedy with veteran suicides, and while Goodwill cannot help with all of the factors that contribute to that, what we can do is help people find a prosperous path forward by finding them a job and helping to eliminate the barriers to get there," Helderman said.
Battling stereotypes
Las Vegas City Councilman Steve Seroka, who attended Wednesday's opening of the new veterans center, said that "we can prevent such tragedies and put a large dent in that number in Nevada by embracing our veterans."
The former Air Force colonel and fighter pilot during a 30-year military career, who has advocated for veterans for years, said employers have stereotypes when considering a veteran.
"People think all veterans are homeless under the bridge, they have PTSD, they are going to hurt themselves or others, and other times they say, 'You guys are just not used to thinking; you just take orders.'"
Seroka attributes such views to the fact that a lower percentage of Americans serve in the military than in the past.
"When you take the uniform off and put the civilian uniform on, all of a sudden the conversation changes," he said. "It's not so much 'thank you for your service' anymore. It's 'well, we don't have anything that quite fits what you have to offer.'"
Seroka said the city and the Chamber of Commerce are also in the early stages of developing an economic zone to encourage employment of spouses of veterans and military members.
In the meantime, he said, Goodwill is filling a need for "a segment of our veteran community that is unserved right now."
About 1,000 veterans are discharged from Creech and Nellis Air Force bases each year, though many of them leave the area. Seroka hopes that the Goodwill program will entice more of them to stay and continue to contribute to Southern Nevada's growing economy.
"Those warriors … were the best when they left, and now they're better," Seroka said.
For more information on the veteran integration program, visit www.goodwill.vegas/programs.
Contact Briana Erickson at berickson@reviewjournal.com or 702-387-5244. Follow @brianarerick on Twitter.
Beginning the transition early
The USO has an office at Nellis Air Force Base to help connect veterans with services like Goodwill.
Former Master Sgt. Clay Barber, the site manager for the office, said he sits down with active military members who will be discharged within a year to help them identify goals and establish a pathway to achieve them before the transition to civilian life begins.
"We've always used Goodwill as a resource; now we've got the opportunity to help with job training and certification training," he said of the new expanded program. "Being on base and working with the active service member to connect them with these resources, it prevents some larger catastrophic events later down the line and increases the efficiency of their transition."