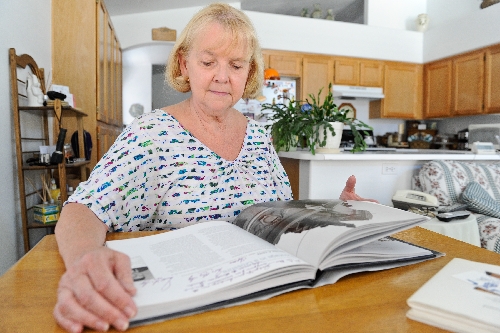 The words "Medal of Honor" popped up on the caller ID display of Dee Kline's answering machine when the phone rang just before noon on Memorial Day.
As a widow of an Army soldier and a close friend of Vietnam War Medal of Honor recipient Harold "Hal" Fritz, she felt compelled to answer.
Much to her surprise, instead of Fritz or someone else from the Congressional Medal of Honor Society, the voice on the line was a recorded message.
"They ask if you want to donate a vehicle," Kline said, describing the phone solicitation from "Medal of Honor charity."
"I just can't believe somebody would do that," she said . "I think they're using something they have no right to and leading you to believe they're working with the Congressional Medal of Honor Society."
Kline's curiosity prompted her to check the phone book, but there was no listing for Medal of Honor charity.
A couple of days later she saw a Medal of Honor charity newspaper advertisement. Several days after that, a friend in her Las Vegas neighborhood received the same recorded, telemarketer-style phone message soliciting donations from "Medal of Honor charity."
"Donate your car! Running or not. Scholarships for Children of Nevada's fallen servicemen. Same day pickup. We do all paperwork. Highest tax deduction in Nevada," stated the ad, which listed the website address MOHCARS.com.
With revolving photos of children and families at military funerals mourning fallen soldiers and Marines, the website tugs at the heartstrings of patriotic Americans, urging them to donate used cars to raise money for sending children of the fallen to college under a tax-deductible "Medal of Honor" program. The home page features a "1-click donation" button next to an image of the Medal of Honor.
"Son of a fallen serviceman receiving the flag in his honor," reads one of the generic captions below the mourning family photos.
Kline said she was appalled by the website's content.
The Henderson-based Medal of Honor group, which claims to be a nonprofit corporation, run by Travis Peterson, of Ephraim, Utah, has no federal tax-exempt status as a charitable organization, according to the Internal Revenue Service.
Peterson filed articles of incorporation on April 24 with the Nevada secretary of state, listing him as Medal of Honor's noncommercial registered agent with an address of 701 N. Green Valley Parkway, No. 200.
An IRS official who checked tax-exempt organization listings last week said there were no recent filings for tax-exempt status for a Nevada organization called Medal of Honor. There are no previous tax-exempt listings for Medal of Honor on IRS master lists for Nevada or Utah.
A reference under "frequently asked questions" on Peterson's website had said the Medal of Honor charity was partners with a tax-exempt organization in Michigan. But, when the registered agent of the Michigan charity learned about the Medal of Honor ad, she demanded that Peterson remove reference to her 501(c)(3) organization from his website because he had not signed an agreement with her and didn't provide Better Business Bureau accreditation as she had required.
The reference was removed from the website June 22, but as of Monday, the Medal of Honor charity home page still stated: "Did you know that Federal Law allows Medal of Honor to guarantee the full Fair Market Value Tax Deduction for your vehicle at the time you donate?"
When contacted last week by the Las Vegas Review-Journal, Peterson said he hadn't made any donations to scholarship funds for children of fallen Nevada servicemen, nor could he name one fallen Nevada soldier, Marine, sailor or airman of the 79 who have died in the nation's wars overseas since the Sept. 11, 2001, terrorist attacks.
He said he didn't know the names of people portrayed as family members of fallen servicemen in the photographs on his website's home page. One is a copyrighted Associated Press photo that shows an 8-year-old boy in Tennessee on the verge of crying as he is handed a folded flag during the funeral for his father, Marine Staff Sgt. Marcus Golczynski, who was killed in 2007 by enemy fire in Iraq.
Peterson said he didn't think he needed permission from news outlets or the families to run their photos because his website designer copied them from Google images.
"When you're a small charity just starting, you can't give out funds you don't have," said Peterson, 44, adding he has never served in the U.S. armed forces.
However, Peterson, who has operated a car lot and real estate business in Utah, acknowledged having obtained some donated vehicles, but he wouldn't say what became of them.
"A couple cars have come in, but they aren't running," he said. "We will be selling the vehicles unless they are junk; then they'll go to the scrap yard."
Peterson, who sometimes spells his name "Petersen," had planned to have donated vehicles towed to a storage yard and hold auctions. Fees for towing and the auctions would be paid from proceeds that would be shared with a partner charity. The Medal of Honor would receive 85 percent of the balance.
"I'm trying to help people," he said, adding that his charity is struggling.
But Medal of Honor recipient Harold Fritz said Peterson's "cloaking" of his website, newspaper ad and telephone solicitations to replicate the authentic Congressional Medal of Honor Society organization "is a despicable ruse designed to deceive the compassionate and caring public."
"This example of 'identity theft' displaces true compassion with self-serving greed!" Fritz, the society's president, wrote in an email to the Review-Journal.
Fritz and the Congressional Medal of Honor Society complained about the ad, and the newspaper has stopped running it.
Congressional Medal of Honor Society spokeswoman Victoria Kueck said, "After speaking with Mr. Peterson, I was not convinced that he understood the concern that the (society) had about his website being misleading advertising and misrepresenting itself."
She said the South Carolina-based society asked Peterson "to clearly post a disclaimer on the opening page of his website stating that the Society had no affiliation and the site was not endorsed by the Congressional Medal of Honor Society or any of its 81 living Medal of Honor recipients."
"Mr. Peterson said that was not possible but would consider doing it elsewhere embedded within the website. It is dishonorable to solicit from potential donors in this manner," Kueck said.
The website still appeared this week without a disclaimer on the home page.
Contact reporter Keith Rogers at
krogers@reviewjournal.com or 702-383-0308.