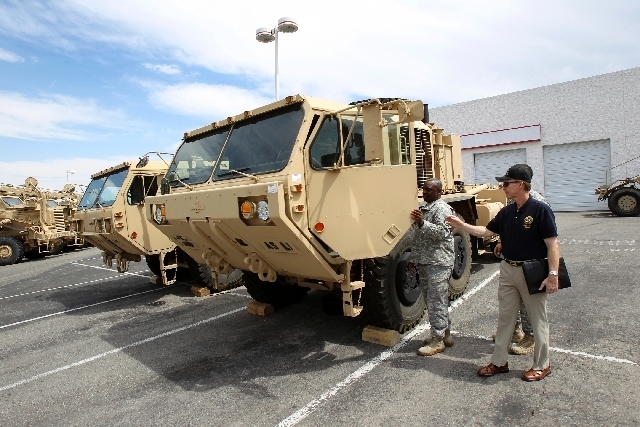 The headlines for a YouTube video clip make it sound like the second coming of Area 51 or some conspiracy by the U.S. military preparing to invoke martial law in the northwest Las Vegas Valley.
"Unmarked Military Base Discovered in Las Vegas," reads one header for the 79-second video.
Another attached to the footage of military vehicles parked behind the barbed-wire-top fence of a nondescript car lot on Sky Pointe Drive reads, "Secret Base for Martial Law in Las Vegas?"
Yet another posting for the video uploaded by the Sons of Liberty III proclaims, "Military equipment for martial law hidden in Vegas." It adds that the old Dodge dealership lot is reportedly being used for "staging military equipment for civil unrest. The equipment includes tanks to small arms."
Not true, according to Rick Teraoka, civilian staff supervisor for the Army Reserve's 505th Theater Tactical Signal Brigade.
During a tour last week of the car-lot-turned-training-facility there were no tanks or small arms in sight, not in the car lot or inside the high-windowed building of the former United Dodge dealership.
The Army Reserve began leasing the vacant facility in 2011, three years after the dealership went bankrupt when the economy tanked.
"We don't have any secrets," said Teraoka, who serves as an Army Reserve lieutenant colonel and the 505th's deputy commander one weekend a month.
He offered to quell the hype from a YouTube video and Next News Network clip.
A woman with a British accent, who narrates the Next News Network video, describes a "secret" and "secluded" military station.
"It would appear that the equipment is being deliberately hidden from the public on this secluded property surrounded by barbed-wire fences," she says. She goes on to mention a teenager named Jonathan who says the military equipment has been there for six months.
"His friends added, 'We think it's a secret undercover operation or a military base,'" the narrator says.
In a longer YouTube video from June, an amateur cameraman shows the car lot, apparently about a month after the biggest trucks arrived.
"Look at the size of these things. Holy cow," he says. "Are you freakin' kidding me?"
As viewers' comments assert, neither the reference to the mysterious "base" being "discovered" or "secret" is true.
In fact, two years before Next News Network "discovered" the military "station," the Las Vegas Review-Journal reported on May 31, 2011, that "the military has also found a new use for a former Dodge dealership in the Centennial area. It's been leased to the U.S. Army Reserve for a training facility."
When reached Tuesday by telephone, Next News Network Executive Producer Gary Franchi said the "Unmarked Military Base Discovered in Las Vegas" video was sent to the network by a viewer. He explained that the word "discovered" was used "because there is no official insignia with the base itself. That's why we published it as such."
He said the video has been viewed 35,000 times "which is pretty substantial. It's definitely making a buzz."
"A lot of our stuff ends up getting uploaded by individuals," he said, noting, "I didn't produce the story so I can't comment on it."
YouTube viewers had mixed reviews of the videos.
"That's nothing!" one wrote, sarcastically. "The cunning bastards have even hidden Nellis (Air Force Base) right in plain sight. The balls!"
Another viewer saw things differently. "I know how you feel! My boyfriend makes fun of me and calls me a conspiracy theorist too! At least we know the truth though!"
Another agrees: "Happening in all major cities in preparation for martial law. Welcome to America."
Then another viewer counters with, "Nothing to see here folks. Just move along now and get back to your slot machines and TVs. Have a nice day."
Army Reserve officials said they will continue to lease the car lot and building until a permanent facility is built in or around the Las Vegas Valley. It is one of five Army Reserve facilities in Southern Nevada that serve 15 units. In all, there are 1,500 Army Reserve personnel in Nevada.
Meanwhile, citizen-soldiers scoff at YouTube descriptions making the motor pool sound like a neighborhood version of Area 51, the once-secret defense installation along the dry Groom Lake bed 90 miles north of Las Vegas where high-tech aircraft are tested.
Instead of extraterrestrials, they note that the folks behind the fence of the old car dealership are Army Reserve soldiers who maintain a whole bunch of tan-colored trucks and Humvees and some bigger rigs like the ones engineers use to clear mines and roadside bombs in Afghanistan.
Teraoka estimates there are a few dozen vehicles parked in the lot. They are used for readiness training of the 505th, the 63rd Brigade Support Battalion, and the 386th Engineer Company. Among the trucks are several Husky mine-detection vehicles and Buffalo, V-hull mine-clearing vehicles.
Teraoka insists the Army Reserve has no space aliens behind the barbed wire.
"I wish we did. It would be so exciting," he said.
For now instead of little green men, curious onlookers will have to settle for just some big guys in camouflage uniforms.
Review-Journal writer Brian Haynes contributed to this report. Contact reporter Keith Rogers at krogers@reviewjournal.com or 702-383-0308.