Las Vegas police arrest 13 at Sunday protest near Creech Air Force Base
October 10, 2016 - 1:15 pm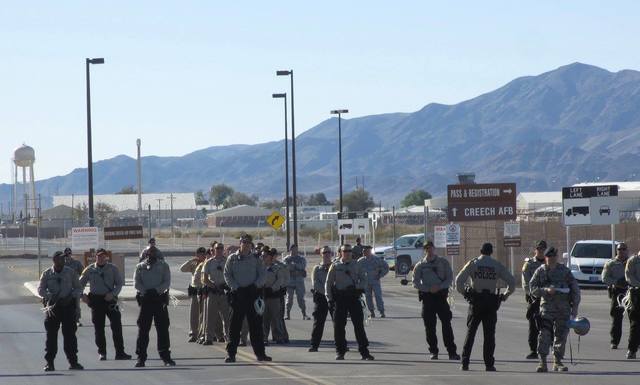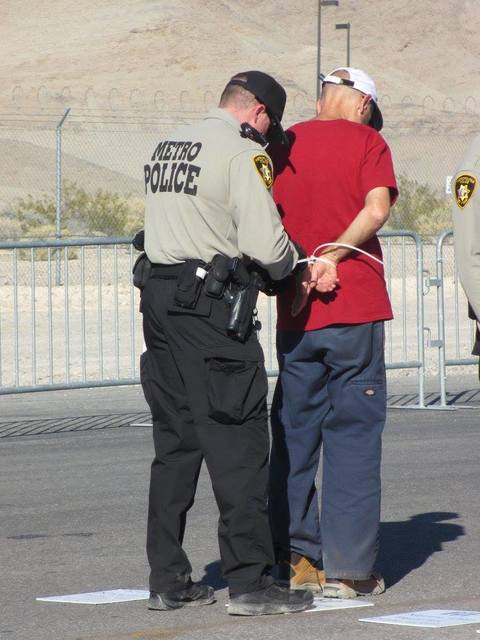 Las Vegas police said they arrested 13 people from a Catholic political group opposed to drone warfare after a protest Sunday near Creech Air Force Base.
The protesters were arrested on a charge of unlawful assembly. The base is in Indian Springs on U.S. Highway 95, about 45 miles northwest of Las Vegas.
More than 60 protesters associated with the Nevada Desert Experience received an order of dispersal after blocking the road, Metro said. Those who remained were arrested.
The protesters visited from around the country to call attention to the U.S. drone strike program.
"Our intention was not to break the law," said protester Brian Terrell, one of those arrested. "We tried to talk to police. There are crimes committed at the Air Force base, according to international law."
The group opposes the military's use of drone strikes to target terrorism suspects abroad. Many are civilians "going to weddings, going to pick up their kids at school," Terrell claimed.
Terrell said he hopes the group one day has the chance to argue its case in court to call more attention to the program.
Contact Rachel Hershkovitz at rhershkovitz@reviewjournal.com or 702-383-0381. Follow @rzhershkovitz on Twitter.