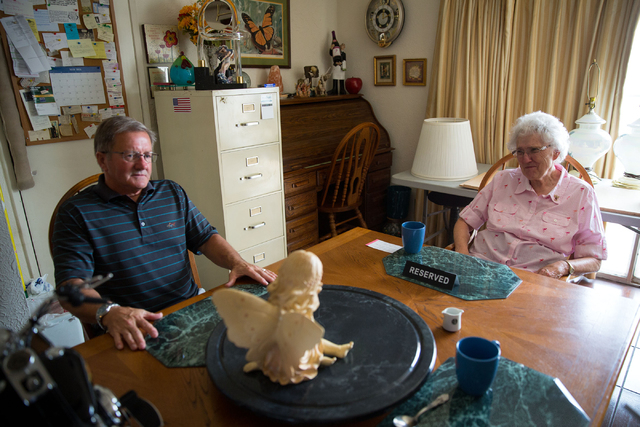 Bernard A. Hebert was an Army master sergeant who served in Korea and survived two tours of the Vietnam War.
"He loved the military life and lived it to the max," his widow, Phyllis, said Friday.
After Hebert died in 2005 of complications from exposure to Agent Orange, she sent a letter to military officials asking for a record of his medals. To her surprise, not only did they give her information about the medals, but they also sent the medals to her.
So she decided to make a memorial for him in the den of her Las Vegas home.
Then she added some pictures of other family members and friends who have served.
"It started out with my dad who was in the second World War. As I went along, I got my son-in-law's picture, my son's picture, my grandson, and I thought, 'Wow.' I only started out with three pictures, then it escalated," she said.
Now, there are 27 framed, 8-by-10-inch photographs of her relatives and friends in uniform, from a 1940s black-and-white of her father, Lawrence Chapin, wearing a helmet in Germany — "He went through hell" — to soldiers from the 1950s, '60s and '70s, to her granddaughter, Army Pfc. Jasmine Carreon, an Iraq War veteran.
In between there are Marines, airmen, soldiers and a sailor. They are cousins, nephews, brothers-in-law, uncles, sons-in-law and her daughter's neighbor from San Antonio. They surround a poster of the World Trade Center Twin Towers behind the Statue of Liberty.
"I thought to myself, 'perfect,' because that's the only time we've been attacked on American soil, and these are all who protect us," Hebert said.
Today, on Memorial Day, she will be in her den thinking about "all the men and women who fought for us so we have our freedom."
"To me it's more of a solemn, personal thing," she said. "It's contemplating all the lives. A lot are already gone."
Her father is buried at the Southern Nevada Veterans Memorial Cemetery in Boulder City. She doesn't visit his grave site on Memorial Day, "but I do give it a few minutes of thought. When my sisters come to town on occasion, we do go out and visit it."
At 81, Hebert has seen the public's attitude toward the nation's wars change over the years, even between her husband's two tours of Vietnam.
"I wish there were no wars because there is always a lot of suffering," she said. "Nobody really wins, but sometimes you have to do that to protect your country."
Once he came home from Vietnam when they were living in Wisconsin and "he didn't want us to pick him up at the airport (in Milwaukee) because there were all those people yelling. But he had to do what he had to do. To avoid it, he caught a small plane, and I picked him up in Oshkosh."
The other time he returned, people at the airport "were all up in the air about it. They wanted donations for bracelets of people missing in the war. It was different times and different places."
None of the veterans in the photos on her wall were killed in action. She is trying to locate a photo, however, of her nephew, Jimmy Dolan. The Army soldier was killed within a month after he arrived in Vietnam. "He was so young," she said.
The word is out among her relatives about her wall of photos, "but I usually don't push it too hard for them to come and see it."
"My neighbors come and see it," she said, "and there isn't one person who has looked at it and doesn't appreciate it's up there."
On Friday, her friend, Marine veteran Gene Demeter, 64, stopped by for a slice of chocolate cake. He served in Vietnam where he specialized in weapons systems on helicopters and planes, maintaining the gamut of firepower from handguns to mini-guns and .50-caliber machine guns. His photo is on the wall, too.
What was Vietnam like?
"We'd take off from the ship. That was probably the harriest part of it. To me, my first impression was we're too low, were going to get shot down because were near the ground, so we need to be higher. When we got higher, it was like we're sitting ducks up here," he said. "At first it terrified me, but after a while it became routine."
He continued to serve as a Marine Corps reservist and in the Oregon Air National Guard. He supported operations in the war in Afghanistan.
Today, Demeter said he will be "kicking back, taking it easy."
Memorial Day, he said, "is just a time to reflect on friends of mine who are still with us and the ones who aren't. The friends that I lost (in Vietnam) are high school classmates, six of them" from Gresham Union High School in Oregon.
Contact Keith Rogers at krogers@reviewjournal.com or 702-383-0308. Find him on Twitter @KeithRogers2.