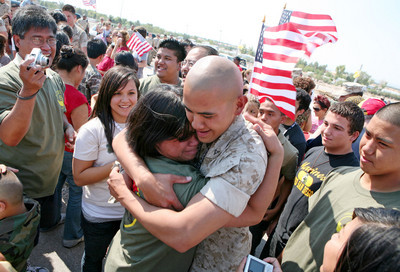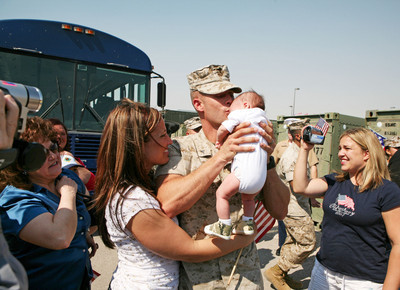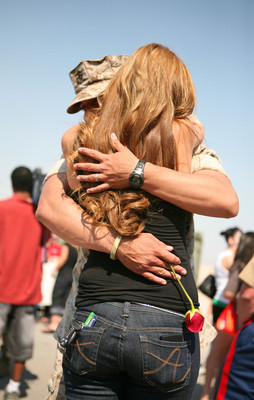 War may be hell, but seeing your 2-month-old son for the first time in the flesh is heavenly.
When his Marine Reserve unit returned to the Las Vegas Valley on Sunday after seven months in Iraq, Lance Cpl. D.C. Swanson stared wide-eyed at the child who was wearing a "Welcome Home Daddy: It's Nice To Meet You" T-shirt at Nellis Air Force Base.
"Unbelievable," he said.
Swanson's wife of 14 months, Brianna, teared up as she kissed her husband and handed him his sleeping namesake, D.C. Swanson Jr.
"Oh, he smells so good," the 26-year-old father said.
As the Swansons enjoyed their first few moments together as a family, Gunnery Sgt. Raul Cortez looked around at about 40 of his fellow Marines of Detachment 2, Bravo Company, 6th Motor Transport Battalion as they enjoyed reunion hugs, kisses and cheers amid a sea of hand-held U.S. flags and "Welcome Home" signs.
"I'm so proud of them," he said of the Marines he had trained and served with, hand-ling the dangerous task of hauling supplies in truck convoys to support infantry units.
It had been Cortez's third tour of duty in Iraq. It didn't involve as much direct combat with the enemy as his prior tours, he said.
"We were mostly worried about IEDs (improvised explosive devices) along the road this time," he said.
Cpl. Reuben D'Silva, 22, was living proof that the transport battalion didn't entirely escape enemy fire.
Hit in June by a bullet fired by an enemy sniper, D'Silva's left hand is permanently disabled, he said.
"The bullet blew out a nerve around my elbow so I'll never be able to move my fingers again," said D'Silva, who was awarded the Purple Heart on Sunday.
D'Silva, who had been acting as a gunner on a tank when he was hit, plans on finishing his senior year at the University of Nevada, Las Vegas and then going into teaching.
Swanson plans on becoming a firefighter.
Cortez's wife, Diana, said, "We're going to start on a family."
Parents who were welcoming their sons home from the war Sunday seemed tired.
Brenda and Terry Johnson, whose son Wes acted as a gunner on a Humvee, said sleep hadn't come easily for months.
"Every day is an unknown," Brenda Johnson said. "There is temporary relief when they call you. And you become either hooked on news of the war or you dread it. Either way, you keep worrying about what might happen and nights are especially hard."
"I'll be honest with you," said Terry Johnson, an assistant manager in the Clark County Public Works Department. "I could use a nap right now. Seeing him today is the first time I've really relaxed in a long time."
While his parents seemed ready to nod out, Lance Cpl. Wes Johnson literally seemed ready to jump for joy. With one arm holding his 7-month-old daughter Ryleigh and the other arm around his wife, Nicci, Johnson described himself as "euphoric."
"I can't tell you how high I feel right now," he said.
Lance Cpl. Matthew Nelson, 22, was also riding a natural high.
He said he couldn't believe the rush he got when Las Vegas police gave his unit a police escort to Nellis Air Force Base from McCarran International Airport.
The unit's bus went down Las Vegas Boulevard with the escort, prompting people along the Strip to cheer and wave.
"Today seems so surreal," said Nelson, who works in construction at the airport when his Reserve unit isn't deployed. "It feels like I just left yesterday. This feels so great."
When does Nelson see the war ending?
"It will end," he said, "when the people in Iraq are willing to help themselves."
Operation Iraqi FreedomA special package of news updates, local coverage, multimedia and more.