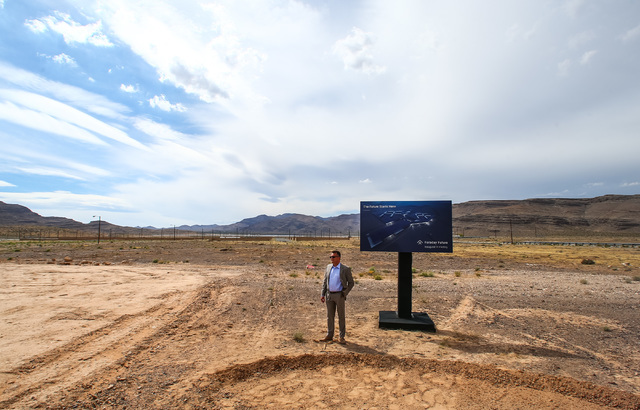 Documents show an Air Force commander raised questions last year about whether an electric car company moving to North Las Vegas posed a national security risk, although state officials say the project passed federal vetting.
The concerns appear in a Dec. 8, 2015, email from the then-commander of the 99th Air Base Wing based at Nellis Air Force Base to officials at Republican Rep. Cresent Hardy's office.
The documents emerged as Hardy is in the middle of a tough re-election campaign and facing criticism for raising the prospect of Chinese spying from Faraday Future, which plans to create thousands of jobs at a electric car plant in an industrial park not far from the base.
"With legitimate concerns having been raised, Congressman Hardy wants to make sure that we strike the appropriate balance between growing our economy and protecting one of our nation's most vital military installations," said Hardy's spokesman, Larry Farnsworth.
Hardy spoke to the Active Republican Women of Las Vegas club in July and characterized military officials as "terrified" of the company's building plan because of its Chinese backing. The comments were captured by a Democratic tracker and first reported earlier this week by political journalist Jon Ralston.
"They are sitting here at our Air Force bases all over this country watching things go, watching things come, stealing our intellectual property," Hardy said during a question-and-answer session July 21.
The comments apparently originated from concerns outlined in the email, which had some names redacted before it was reviewed by The Associated Press. The document raised the question of whether a business affiliated with the Chinese entrepreneur backing Faraday Future was linked to the Chinese government.
It also raised the prospect of unauthorized monitoring of Department of Defense communications at the base near Faraday's site.
Steve Hill of the Nevada Governor's Office of Economic Development said officials on the Committee on Foreign Investment in the United States, who represent a range of federal agencies including the Department of Defense, reviewed the project and cleared it in December before the Nevada Legislature voted to proceed with tax incentives for the project.
He said he is confident in the monthslong vetting process and that the company is not owned by the Chinese government. He also noted that not all parties within the military may have been aware of the vetting that came with the Faraday project.
Officials from Hardy's office said the concerns have come up even after the Dec. 8, 2015, email.
"The mission of Nellis AFB is to provide ready and relevant training for the warfighter," officials from the 99th Air Base Wing said in a statement. "We continue to be concerned when potential encroachment affects that mission and our national security. That said, we are committed to partnering with the community to develop compatible land use zoning around Nellis Air Force Base and its training areas."
Hardy is in a tough bid for re-election to Nevada's 4th Congressional District. His Democratic opponent, state Sen. Ruben Kihuen, who supported the Faraday project, characterized Hardy's statements about the car plant as "bizarre conspiracy theories" and "fear-mongering."
Kihuen's campaign continued to hammer Hardy on the matter Friday, saying he was "doubling down" against Faraday Future.
"It's disappointing but nothing out of the ordinary that Congressman Hardy is continuing down this rabbit hole and trying to argue that he has 'legitimate concerns' about Faraday Future," Kihuen said in a statement. "I agree with Governor (Brian) Sandoval and (U.S.) Senator (Dean) Heller that our state will be better off because of this remarkable economic investment coming to North Las Vegas."
The $1 billion Faraday plant is forecast to employ 4,500 people and create about 3,000 construction jobs and 9,500 indirect jobs. All told, the project is expected to increase the Gross Regional Product in Clark County by 4 percent, Brad Marmer, director of business development for the Nevada Governor's Office of Economic Development, said in June.
The company last month received a permit to begin grading on the site for the 3 million-square-foot plant on the vacant 900-acre site within the Apex Industrial Complex, located just west of U.S. Highway 93 and Grand Valley Parkway.
Faraday Future has not provided definite dates for when it will begin construction of the plant or start producing vehicles in North Las Vegas.
The Las Vegas Review-Journal contributed to this report.
RELATED ITEMS
Faraday breaks ground for electric car plant in North Las Vegas
Faraday gets OK to build rail spur for $1 billion electric car factory in North Las Vegas