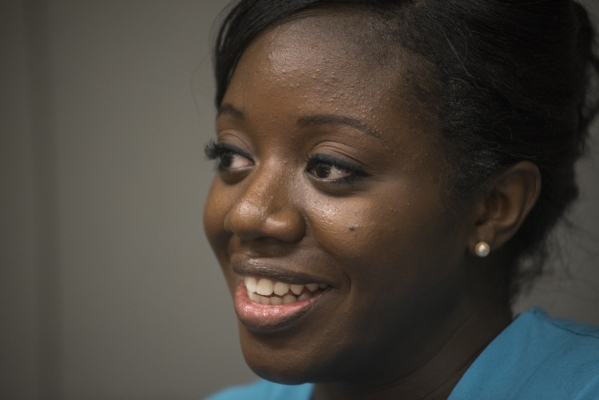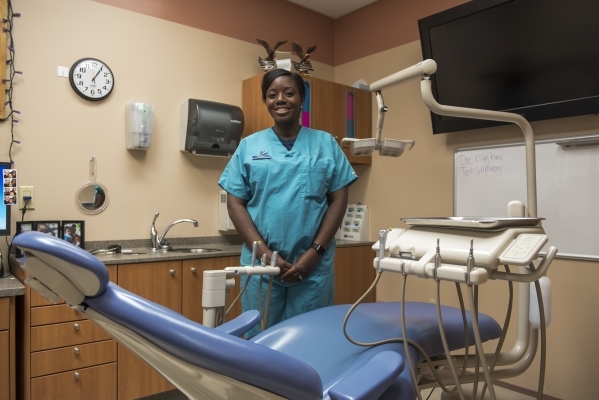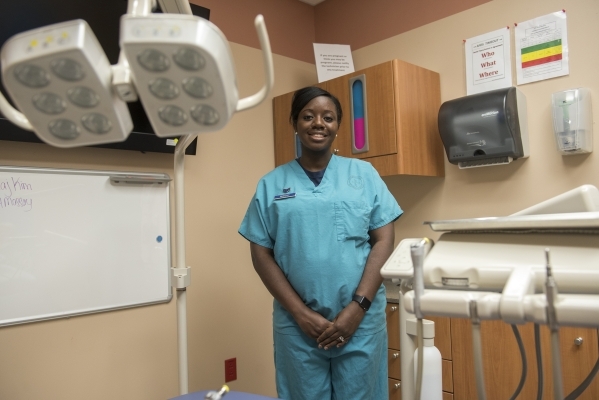 Let's call it Operation Motherhood.
The next mission for Senior Airman MiaLisa Mossay, a 25-year-old dental assistant at Nellis Air Force Base, will begin in about five months. That's about the time she will deliver her third child as an active-duty military mom.
But this time, after the baby is born, she'll get double the amount of leave time for bonding, breast feeding and other family details. This comes thanks to a Jan. 28 directive from Defense Secretary Ashton Carter that highlights the importance of granting more time for military moms to bond with their babies.
The new policy to give equal footing across military branches increased maternity leave for Air Force and Army women from six to 12 weeks but reduced maternity leave for Navy and Marine Corps women from 18 to 12 weeks.
Air Force Secretary Deborah Lee James had hoped for the 18 weeks of maternity leave that the Navy and Marines have enjoyed, but Carter settled for the 12-week middle-ground policy.
Capt. Brooke Brzozowske, an Air Force spokeswoman at the Pentagon, said the policy's intent is to retain women in the service talent pool by promoting a work-life balance.
The policy includes career-protection safeguards that stipulate no member will face disadvantages in her career including assignments, performance appraisals or selection for professional military education because she has taken maternity leave.
A welcome benefit
Mossay and her husband, Staff Sgt. Sebastien Mossay, a civil engineering airman at Nellis, have a 5-year-old daughter and a 2-year-old son. They welcome the extended maternity leave even though his paternity leave remains the same at 10 days off.
The Pentagon also plans to push for introduction of legislation to increase paternity leave to 14 days across the total force in keeping with the new maternity leave policy aimed at retention.
Brzozowske said the maternity leave extension shows the Air Force has not been dragging its feet on calling for the policy change. She noted that James, the Air Force secretary, has said the changes "place our Air Force in the top tier of organizations that offer 12 weeks to new mothers."
Mossay said she understands "what it takes being in the military as well as what it takes being a mom. (You) understand the mission, understand your family.
"Being a mom embodies quite a few things. Just being an airman, period, embodies a lot when you take on that oath and that mission," she said during a Feb. 12 interview where she works at the base hospital.
She predicted that not only will 12 weeks of maternity eliminate "a lot of stressers" but it also will help meet the goal "of keeping more women in the military. It was definitely a good thing to implement that."
"People sometimes have to choose between career or their family. And having extra time to be with your family, I feel like that sets us up for more success. That makes it easier to decide to have a little bit of both," she said.
In her line of work at dental clinics, more women than men serve as dental assistants, so the trend has been that three women typically are pregnant at the same time. However, she said, "The first time that I was pregnant, there ended up being six women who were actually pregnant at the same time."
When Mossay first met her husband, they were set on both making 20-year careers in the Air Force. So when the effort was afoot to increase maternity leave he was "definitely for it," she said. "He was very excited because he knew that would prompt me more to want to stay in the military."
Guard reaction mixed
On the Army National Guard front, reaction was mixed. Two female soldiers the Review-Journal talked with had different reasons for their views.
Nevada Army National Guard Staff Sgt. Christina Repetto, 33, of Las Vegas, feels the previous 6-week period for maternity leave "was long enough."
"I think it should be an option," Repetto said Thursday. She said she was fortunate that her three children were born on military time when six weeks was the limit for maternity leave.
At ages, 3, 6, and 8 they are all healthy. But for a woman soldier who needs more than six weeks off, she suggests they should have the option of requesting the additional six weeks based on advice from the family's health care provider.
"You do leave duties and responsibilities that you have to get back to," said Repetto, who deployed to Iraq in 2003 with the 72nd Military Police Company. "It's a double-edged sword. If you're in a leadership position, you have soldiers who depend on you. It's a balancing act."
Sgt. 1st Class Nancy Sanchez is grateful for the opportunity to be the first Nevada Army National Guard soldier to experience additional maternity leave under the new policy.
Her son, Hugo, was born Dec. 2. She had decided to take four weeks of annual leave to have more time with her newborn but now she gets to save that leave time for later.
"I think it's an amazing step forward for women in the military and everybody. It benefits the whole family," Sanchez said.
Mossay summed up her thoughts on being a military mom.
"I don't feel like I'm different from any other mom," she said. "I feel like we nurture, we love our children, we take care of them just as much as any other mom. The only difference is we wear the uniform."
Contact Keith Rogers at krogers@reviewjournal.com or 702-383-0308. Find him on Twitter: @KeithRogers2