Nellis-based Thunderbird jet skids off runway, flips in Ohio
Updated June 23, 2017 - 2:19 pm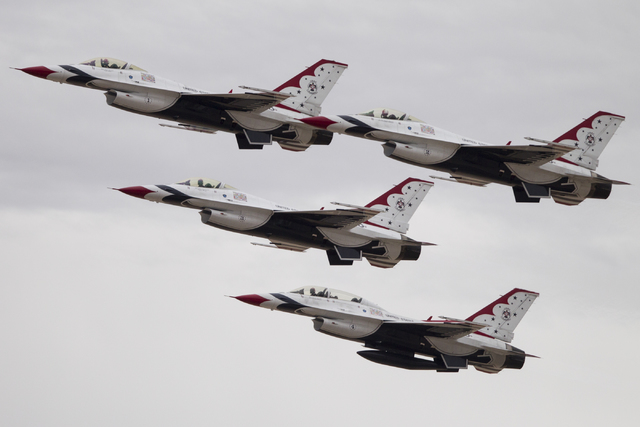 DAYTON, Ohio — Authorities say the pilot of an F-16D Fighting Falcon from the Air Force Thunderbirds demonstration team at Nellis Air Force Base in Nevada and his passenger are in good condition after the jet flipped Friday after landing at the conclusion of a "familiarization flight" for an Ohio air show at Dayton International Airport.
The "mishap," according to the Thunderbirds website, occurred at 12:20 p.m. local time during a "single-ship familiarization flight."
"The plane sustained damage and the pilot and his passenger, a tactical aircraft maintainer, were taken to a local hospital," according to the Thunderbirds' website.
"The pilot and passenger are receiving care and currently in good condition," says the 1:37 p.m. update.
The team's performance at this weekend's air show "is to be determined," the website says.
The team's public affairs office had no immediate response to a Review-Journal query about the identities of the pilot or passenger. The F-16D model is a two-seater and is used by the team to take an observer on familiarization flights.
NBC News reported that it wasn't clear what caused the accident but said the red-white-and-blue jet "ran off the runway and flipped." It also said the accident apparently occurred during practice in thunderstorm conditions ahead of this weekend's 2017 Vectren Dayton Air Show.
Winds were gusting up to 17 mph at the time of the crash, the network reported, citing Weather.com.
Penelope Reed of the Montgomery County Sheriff's Office in Dayton says a report was received at 12:31 p.m. saying a jet ran off the end of a runway and was on its top. She says Wright-Patterson Air Force Base dispatched a crash team and heavy rescue crew.
Staff Sgt. Tabatha McCarthy with the Air Force Thunderbirds public relations office says there was a "mishap" while a plane was on the ground. She had no other information.
#BREAKING PHOTO: The scene of the Dayton Air Show Thunderbird Crash in Ohio – @whiotv pic.twitter.com/NeC5c9QNOL

— NewsPulse (@Npulse) June 23, 2017
The last accident of a Thunderbirds jet occurred on June 2, 2016, in Colorado following a flyover at the U.S. Air Force Academy graduation ceremony.
The pilot, Maj. Alex Turner, suffered a minor injury after he ejected from the F-16CJ Fighting Falcon jet near Colorado Springs, Colorado, following the team's six-jet flyover at the academy's graduation attended by President Barack Obama.
Investigators determined that a sticky throttle trigger caused him to inadvertently cut off the engine's power. Turner managed to put the $29 million jet on course to crash-land in an unoccupied field.
It was destroyed on impact even though it came to a rest upright and appeared to be mostly intact.
Contact Keith Rogers at krogers@reviewjournal.com or 702-383-0308. Follow @KeithRogers2 on Twitter. The Associated Press contributed to this report.