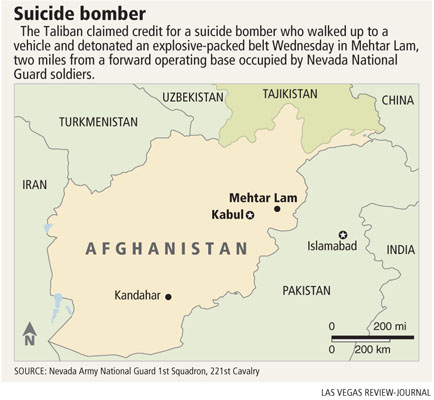 A suicide bomber attacked a marketplace in Afghanistan on Wednesday near where Nevada Army National Guard soldiers are serving, killing the country's deputy intelligence chief and 22 others who were leaving a mosque near the city's main bazaar, authorities said.
Lt. Col. Scott Cunningham, commander of Nevada's 1st Squadron, 221st Cavalry, said no U.S. soldiers were injured in the attack in Mehtar Lam that killed Afghanistan's deputy director of the National Directorate of Security, an Afghan intelligence organization.
"One of our patrols was 150 meters away and responded immediately," Cunningham wrote in an e-mail to the Las Vegas Review-Journal about the attack that occurred about 10:30 a.m. local time in Laghman province, about 60 miles east of Kabul. Time in Kabul is 111/2 hours ahead of Las Vegas.
A news release from Capt. Blain Holmes of the unit, known as Task Force Wildhorse, said reports from the scene indicate the blast was caused when a suicide bomber blew himself up in front of a local government vehicle.
"This happened at the opening ceremony of a Mehtar Lam mosque in which Muslims were preparing to make the holy pilgrimage to Mecca," the release said.
According to Holmes, witnesses said the suicide bomber was disguised as a security officer and tried to enter the security director's vehicle shortly before the blast. He was believed to be wearing an explosive-packed belt.
Cunningham said the explosion was loud enough to be heard two miles away at the squadron's base, one of many locations throughout Afghanistan where some 700 Nevada Guard soldiers are supporting combat operations.
"Smoke was rising from downtown, and within minutes we started getting reports of a bomb blast in the vicinity of the main market bazaar," he said.
A Nevada platoon led by 1st Lt. Michael Moya and Sgt. 1st Class Douglas Gahm had been on patrol at the nearby agriculture ministry and were the first soldiers to arrive at the scene, which Cunningham called one of "destruction and devastation."
"Hearing and feeling the immense blast, they turned to see flames and debris scattered in a cloud of dust and smoke. Reacting immediately, the cavalry troops rapidly ran towards the site of the attack, as terrified and injured civilians ran in the other direction," Cunningham wrote in a follow-up message. "Several vehicles had been blasted apart and were in flames. Nearby shop stalls and carts were in ruins, and injured, dead and dying lay on the ground."
He said the platoon secured the area and got into position to protect rescue personnel from any subsequent attacks by gunmen while reinforcements were dispatched; medics from the squadron treated casualties after the local hospital had reached its capacity.
The Taliban claimed responsibility for the attack "from their safe havens in Pakistan," Cunningham said.
The attack killed Abdullah Laghmani, a close ally of President Hamid Karzai. Laghmani was a major figure in Afghanistan's security and intelligence apparatus.
His death was seen as a setback to Afghan efforts to curb Taliban and other extremist activity.
Besides the 23 who were killed, 50 were injured.
"The fact that the attack occurred at a mosque, during Ramadan, with complete disregard for mass casualties among the innocent is the clearest, most telling indicator into the mindset of the enemy that we fight," Cunningham wrote. "No target, time or location is off limits to them. Civilian deaths are acceptable. Collateral damage is of little concern to these criminals."
Karzai said in a statement that the "enemy" tried to kill "brave and hardworking" officials, but others would take their place.
The assassination of such a senior figure was a shock to the Karzai administration, already under fire for alleged fraud during the Aug. 20 presidential election. With votes tallied from 60 percent of the polling stations, the country's election commission said Wednesday that Karzai is leading with 47.3 percent, followed by ex-Foreign Minister Abdullah Abdullah with 32.6 percent.
Karzai needs to win a majority of the votes to avoid a two-man runoff.
But the balloting was marred by fraud charges from Abdullah and others in the 36-candidate field as well as a low voter turnout, especially in southern Pashtun areas where Taliban influence is strong but where the incumbent was expected to draw most of his votes.
The Obama administration had hoped that the election would produce a government with broad public support to confront the Taliban, combat corruption and curb the flourishing drug trade.
Instead, Abdullah escalated his fraud allegations Wednesday, accusing the Afghan election commission of playing a role in "organized fraud" throughout the country.
"Proof and evidence show that with the cooperation of the election commission, a massive fraud has taken place," Abdullah told reporters.
A separate U.N.-backed commission is looking into more than 650 allegations of major fraud, and in the northern city of Mazar-i-Sharif, an Abdullah campaign official warned that his followers would take to the streets if they believe those complaints have not been thoroughly investigated.
"We are not talking too much because people are very angry, and we don't want to add to that, but Dr. Abdullah is meeting with foreign embassies and regional partners to try to find a solution," said Zalmai Younosi, Abdullah's campaign chief in six northern provinces.
"After that, if there is no result, then it is protest and violence," he warned. "How can we accept a corrupt government funded by drugs and not respected by the world? We have to defend our own rights."
Cunningham, in a final e-mail sent at 5 a.m. Thursday Afghanistan time, said it was hard to immediately assess the aftermath of the bombing.
"We will learn more as the day progresses. The Afghans are rather stoic. It's almost as if they are numb to it. They have had 30 years of war, so this doesn't have the same impact on them as it would had it happened in the U.S."
The Associated Press contributed to this report. Contact reporter Keith Rogers at krogers@reviewjournal.com or 702-383-0308.