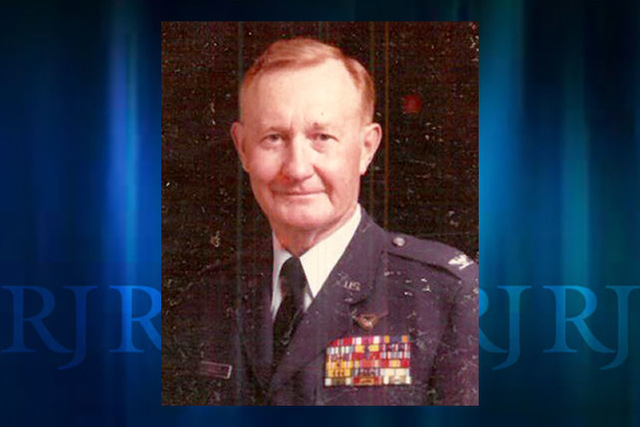 Proud patriot. Distinguished Flying Cross recipient. Workaholic. Loving husband and father.
Those are some of the words Paul Dudley used to describe his dad, retired Air Force Col. Paul F. Dudley, who died Friday at his Las Vegas home of an apparent heart attack. He was 90.
"He meant everything to our family: the pride, the patriotism, the drive. Everything about the way we are is from my father," his son said Tuesday.
Paul F. Dudley will be remembered at a funeral service 10 a.m. Thursday at Palm Mortuary, 7600 S. Eastern Ave., Las Vegas.
From serving in the Marine Corps during World War II to his Air Force assignments as a nuclear safety officer in Italy in the 1960s to duty as an inspector general at Tan Son Nhut Air Base, near Saigon, South Vietnam, in 1972, Dudley mastered a variety of skills during a military career that took him and his family to many parts of the globe.
He received two Distinguished Flying Cross medals for "extraordinary achievement" as a Marine radioman-gunner during World War II. For one he is credited with using his radio skill "to get his crew back safely," his son said. He flew 43 combat missions in Mitchell PBJ patrol bombers during the Pacific campaign.
After the war, he returned to his hometown in Ohio and married his high school sweetheart, Marjorie Anne Mason.
Paul Frederick Dudley was born April 24, 1925, in Marengo, Ohio. He enlisted in the Marines after graduating from high school. He attended Otterbein College following World War II and worked as an Ohio State Patrol trooper and detective.
Dudley also served in the Ohio Air National Guard, returning to active duty and graduating first in his class as a nuclear weapons maintenance officer with the Air Force in Colorado. He commanded the NATO Special Ammunition Storage Site in Ghedi, Italy.
Dudley moved his family to Las Vegas in 1975 to command the Aviation Depot Squadron at Nellis Air Force Base. He loved playing guitar, writing music and speaking at Memorial Day events.
Dudley is survived by his wife of 69 years and six children: Barbara Frost, of Oklahoma City; Paul Dudley, of Hoschton, Ga.; Diane Trimble, of Henderson; Michael Dudley, of Cleveland; Linda Dudley-Olsen, of Boulder City; and James Dudley, of Henderson. He also leaves 16 grandchildren and 18 great-grandchildren.
The family prefers donations to the American Cancer Society, 1325 E. Harmon Ave., Las Vegas, 89119.
Contact Keith Rogers at krogers@reviewjournal.com or 702-383-0308. Find him on Twitter: @KeithRogers2.