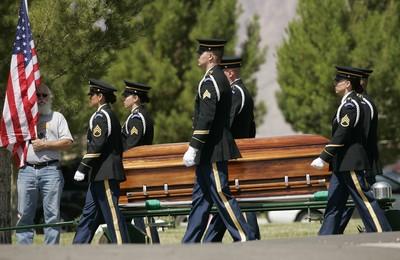 Six honor guards brought in Army Reserve Staff Sgt. Coby Schwab to the chapel, his casket covered by an American flag.
The crowd of 300 people stood, silent except for stifled sobs.
By the time he was carried to his grave at the Southern Nevada Veterans Memorial Cemetery on Saturday, when the ceremonial shots had been fired and taps had been played, the Henderson soldier was remembered for his bravery, his service to his country, and his friendships.
Schwab, 25, died in Iraq on May 3.
He and another soldier had been trying to recover a Humvee, and the injured soldiers inside, that had been hit by a roadside bomb.
In that pre-dawn hour near Ar Ramadi, a second improvised explosive device went off, killing Schwab and Spc. Kelly B. Grothe, 21, of Spokane, Wash.
The funeral in Boulder City brought out friends and family to honor Schwab.
He had joined the Army in 2000, and already had served a tour in Iraq in 2004. After his service was over, he volunteered for the Army Reserves to help train the next generation of soldiers, said Maj. Gen. Lawrence J. Johnson at the funeral.
"He saw the reserve soldiers had little, if any, combat experience," Johnson said. "He wanted to take his experience and use it to shape their experience."
When Johnson went to Fort Lewis in Washington state to honor some soldiers for their service, Schwab was nowhere to be found to receive his medals.
"He was setting up a particularly dangerous training exercise because he knew what they would face," Johnson said. "I never got the chance to present (the honors) to him."
He presented Schwab's mother, Jane Hanson, and his stepfather, Don Hanson, with the Bronze Star, Purple Heart and Meritorious Service medals.
Schwab's friend, Jim Downer, who served with him in the Stryker Brigade, said Schwab wanted to be with his buddies.
"The sacrifices he made as a soldier, I think it's important to remember, were made out of love and not out of hate: Love for his country, love for his fellow soldiers, and the hope that every soldier has that his sacrifices mean other people won't have to sacrifice in the future," he said.
Downer, who uses a wheelchair because of injuries suffered in an accident, said Schwab helped him regain his life.
"Through all the things I was going through, relearning to live my life again, he was a big part of helping me do that," said Downer, who shared an apartment with Schwab in Washington. "I can't quantify or put a price on what his friendship meant to me, and how much he helped."
Andy Finch, a friend of the family who spoke at the funeral, said he would remember Schwab for his "devilish grin."
"Thank God for the opportunity to know you," he said.
Coby Glen Schwab was born Jan. 12, 1982, in Grand Junction, Colo., his mother's only child. They moved to the Las Vegas Valley from Fort Collins, Colo., in 1988.
Jane Hanson has said that her son spent most of his life in Henderson.
He attended Burkholder Middle School in Henderson and graduated from a Clark County magnet high school, the Advanced Technologies Academy, where he was an honor student in architecture.
After serving in Iraq, he rejoined an Army Reserve unit there as a combat engineer and married another Fort Lewis soldier about a year ago. They were divorced on April 26.
Schwab and Grothe, the other soldier killed in the blast, were assigned to Bravo Company of the Army Reserve's 321st Engineer Battalion out of Hayden Lake, Idaho.
The unit had been sent to Iraq in September to clear roadside bombs.
He is the 49th member of the U.S. military with ties to Nevada who has died in the wars overseas since the Sept. 11, 2001, terrorist attacks.
"It's unlikely that books will be written about this small event," Johnson said. "It doesn't happen that way. But he served others and did what he said he would do."
Operation Iraqi FreedomA special package of news updates, local coverage, multimedia and more.