Thunderbirds return to practice under solemn sky one week after crash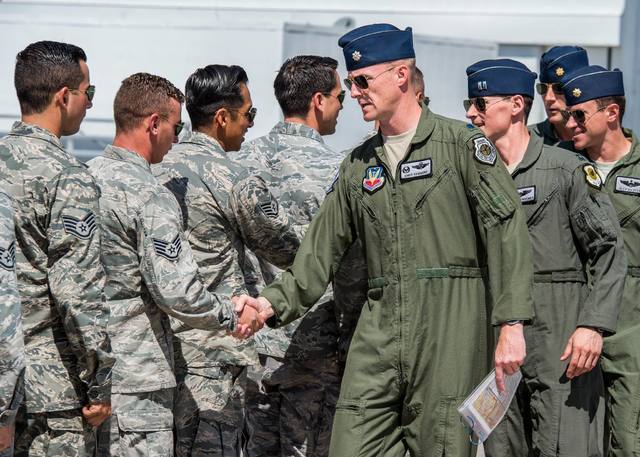 The Thunderbirds are back practicing over Nellis Air Force Base after last week's crash in Colorado.
But they have returned under a solemn sky as some pilots and team members traveled Wednesday to Naval Air Station Pensacola, Florida, to attend Thursday's memorial service for Blue Angels' pilot Marine Capt. Jeff Kuss.
"This shows good solidarity between the two demonstration teams," Thunderbirds spokeswoman Master Sgt. Chrissy Best said Wednesday.
It was unclear if opposing solo pilot Maj. Alex Turner made the trip to Florida. He ejected safely from his Thunderbirds' F-16 Fighting Falcon jet near Colorado Springs, Colorado, following a flyover the team performed for the Air Force Academy graduation attended by President Barack Obama.
Kuss died when his F/A-18 Hornet jet exploded during practice last Thursday for an air show near Nashville, Tennessee — minutes after Turner's No. 6 red-white-blue jet went down.
Both crashes are under investigation by respective Air Force and Navy safety boards.
The Thunderbirds missed the team's scheduled performance June 4-5 at Kirtland Air Force Base, New Mexico; the team also cancelled this weekend's show at North Kingstown, Rhode Island. It remains to be seen if the team will be cleared to fly for performances June 18-19 in Ocean City, Maryland, Best said.
The team resumed practice Tuesday at Nellis Air Force Base, where it is assigned to the 57th Wing.
"They are flying. They are practicing," said Lt. Col. Michael Meridith, deputy director for public affairs at Air Combat Command headquarters at Joint Base Langely-Eustis in Virginia.
"That suggests they're pretty close to reaching some kind of decision," Meridith said, referring to Air Force safety investigators.
The Thunderbirds' mishap is the latest in a string of crashes in recent months involving aircraft or pilots from Nevada.
The National Transportation Safety Board released a preliminary report May 11 for the crash of a single-engine Extra EA-300/L stunt plane that killed Sky Combat Ace pilot Ben Soyars, 37, of Las Vegas, and his passenger, Steve Peterson, 32, of Rohnert Park, California, when the aircraft impacted a hilltop April 30 near Jean, 12 miles south of Henderson Executive Airport.
NTSB investigators have also released a preliminary report for the May 5 fiery crash of a twin-engine Cessna 310F near North Little Rock Municipal Airport, Arkansas. The crash killed instructor pilot Doyle Reynolds, 56, of Jefferson, Arkansas, and seriously injured Nevada Air National Guard C-130 pilot Capt. Daniel Shure, of Nevada's 152nd Airlift Wing in Reno.
Shure, 30, of Benton, Washington, was taking a civilian airline transport pilot check ride when, according to the preliminary NTSB report, the aircraft's left engine lost power shortly after takeoff. Reynolds "took over airplane control and was attempting to fly the airplane back to the airport when the accident occurred."
Contact Keith Rogers at krogers@reviewjournal.com or 702-383-0308. Find him on Twitter: @KeithRogers2
RELATED:
Thunderbird jet crashes after academy flyover in Colorado; Blue Angels lose plane, pilot in Tennessee
Supporters say Thunderbirds, Blue Angels are worth the risk, cost