Trump bans transgender people from military service
Updated July 26, 2017 - 6:49 pm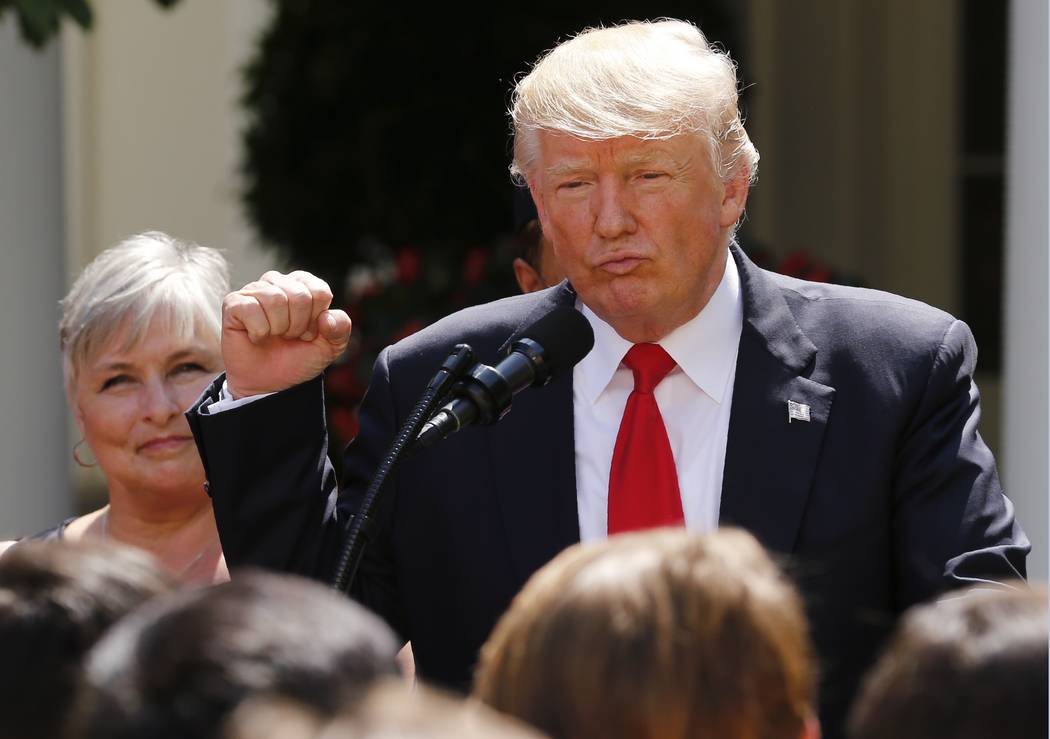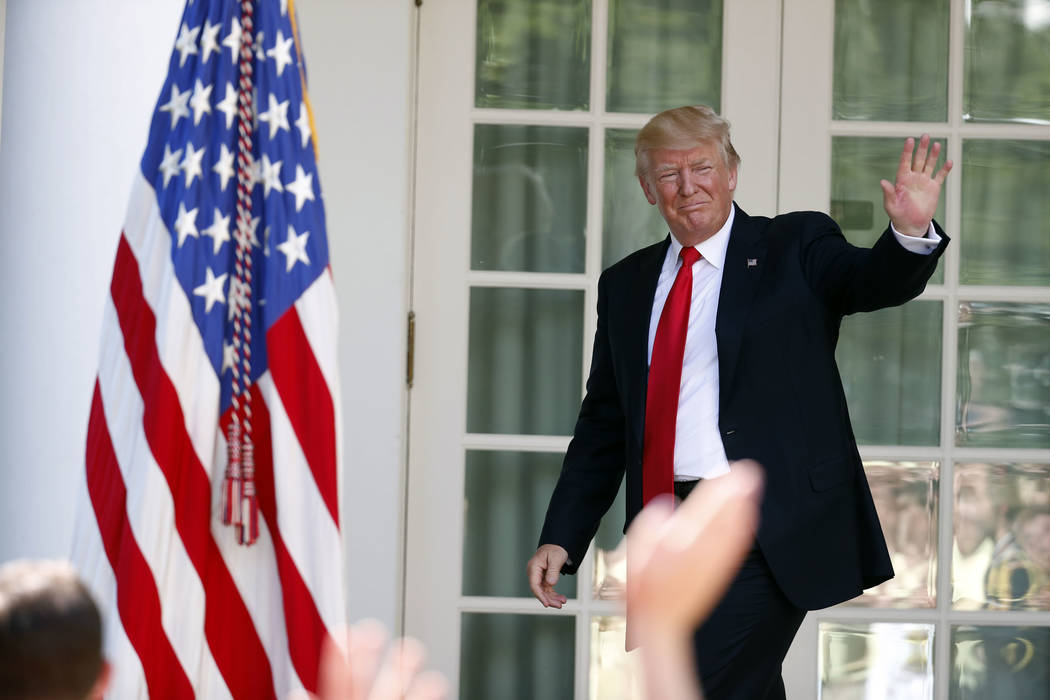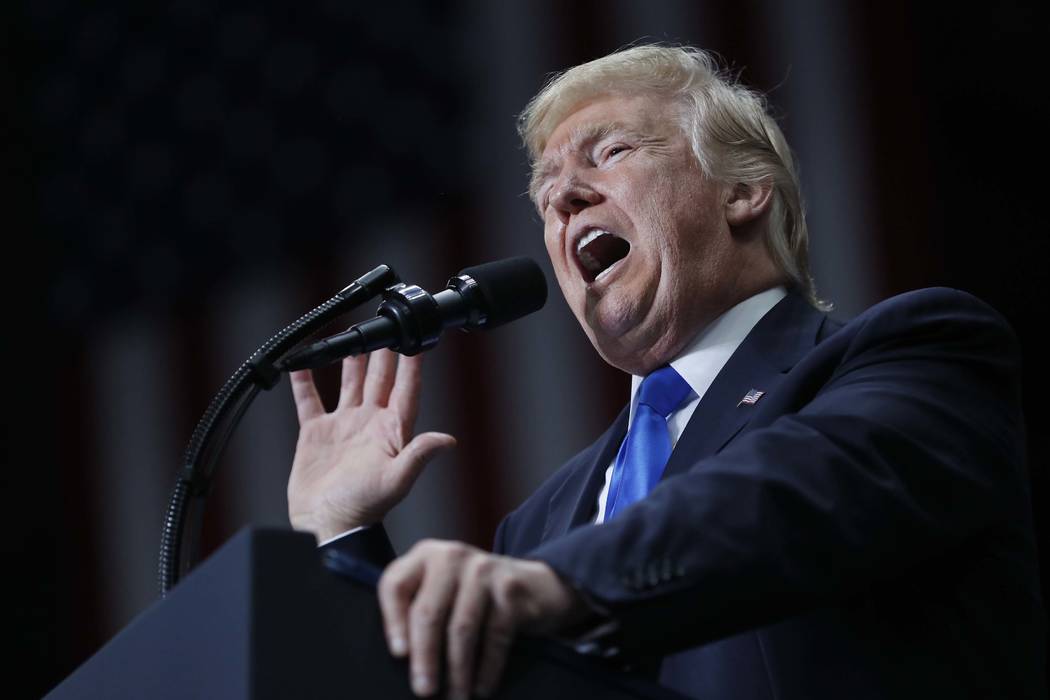 WASHINGTON — President Donald Trump announced on Twitter Wednesday that the U.S. would "not accept or allow" transgender individuals to serve in the military.
"Our military must be focused on decisive and overwhelming victory," Trump tweeted, "and cannot be burdened with the tremendous medical costs and disruption that transgender in the military would entail."
It was an announcement that seemed to come out of nowhere. In 2016 after a working group studied the issue, then Secretary of Defense Ash Carter announced that transgender individuals could serve openly in the military. The policy change was set to take full effect in June, until current Defense Secretary Jim Mattis delayed full implementation to Jan. 1, 2018.
Trump claimed that he had decided to rescind the policy in consultation with generals and military experts, but the president did not name any supporters' names. Rather than roll out the thinking behind the policy flanked by military leaders, Trump simply typed out three Tweets.
After consultation with my Generals and military experts, please be advised that the United States Government will not accept or allow……

— Donald J. Trump (@realDonaldTrump) July 26, 2017
….Transgender individuals to serve in any capacity in the U.S. Military. Our military must be focused on decisive and overwhelming…..

— Donald J. Trump (@realDonaldTrump) July 26, 2017
….victory and cannot be burdened with the tremendous medical costs and disruption that transgender in the military would entail. Thank you

— Donald J. Trump (@realDonaldTrump) July 26, 2017
The policy reversal was so precipitous that Press Secretary Sarah Huckabee Sanders could not answer questions about whether Trump's announcement would result in the ouster of open transgender service members.
"Implementation policy is going to be something that the White House and Department of Defense have to work together to lawfully determine, and I would imagine the Department of Defense will be the lead on that and keep you posted as that takes place," Sanders said during a press briefing at the White House.
The White House referred the media to the Defense Department, while Pentagon spokesman Jeff Davis referred all questions to the White House.
"We will continue to work closely with the White House to address the new guidance provided by the Commander-in-Chief on transgender individuals serving the military," Davis said. "We will provide revised guidance to the Department in the near future."
Campaign appeals
During the GOP primary in 2016, Trump framed himself as the Republican in the race most inclined to support gay and transgender rights. He told NBC he believed transgender individuals should "use the bathroom they feel is appropriate." After an Islamist extremist killed 49 at a shooting in an Orlando gay bar, Trump reached out to the LGBT community when he tweeted, "I will fight for you while Hillary brings in more people that will threaten your freedoms and beliefs."
Reaction to Trump's announcement was swift and strong.
The Human Rights Campaign, America's largest lesbian, gay, bisexual and transgender organization, blasted Trump for "a dangerous and unpatriotic move to reinstate a ban on qualified transgender people serving in the military."
Sen. Catherine Cortez Masto, D-Nev., released a statement slamming Trump that began, "Discrimination has no place in our Armed Forces." And a spokeswoman for Sen. Dean Heller, R-Nev., said "Senator Heller believes that anyone who wants to join the military should be able to and he has the utmost respect and appreciation for all of those who stand up to serve our country."
However, Family Research Council president Tony Perkins, a Marine veteran, praised Trump.
"The military can now focus its efforts on preparing to fight and win wars rather than being used to advance the Obama social agenda," said Perkins. He cited a recent Rasmussen poll that found that 23 percent of likely voters believe that allowing openly transgender adults to serve is good for the military.
Rep. Duncan Hunter, R-Calif., a member of the House Armed Services Committee, also backed Trump. "The president's decision was the absolute right decision. … It's about time that a decision is made to restore the warrior culture and allow the U.S. military to get back to business."
Perkins also praised Rep. Vicky Hartzler, R-Mo., for introducing legislation to prohibit the military from paying for gender reassignment surgery and hormone therapy for transgender service members. Her amendment failed in a 209-214 vote, but then Trump announced his policy change.
'Minimal impact'
Supporters of the Obama policy cited a study by the Rand Corp., a federally funded think tank, that said allowing transgender people to serve openly would "have minimal impact" on readiness or the military's health care costs.
The study estimated the number of transgender service members at between 1,320 and 6,630 out of 1.3 million active-duty troops. It also estimated that extending gender transition-related health care coverage to transgender personnel would cost the military $2.4 million to $8.4 million a year, out of a yearly Pentagon budget of more than $600 billion.
Researcher Radha Ivengar explained that Rand looked at countries like Australia, the United Kingdom, Canada and Israel that permit openly transgender service members and found the cost to be negligible. Only a small fraction of transgender troops will seek "gender-confirming surgery," she said.
In addition, Ivengar observed, "We didn't find any effects or impacts on unit cohesion or operational effectiveness."
Unit cohesion once was offered as a reason to ban openly gay and lesbian troops from military service before Obama signed a measure repealing the Clinton-era "Don't Ask Don't Tell" policy in 2010.
"This sudden switch in declared policy came as surprise and shock to those affected most," said Reno's Ty Cobb, a foreign policy adviser to President Ronald Reagan now with the National Security Forum, referring to senior military leaders.
In the Reagan and Jimmy Carter years, he said, an announcement like Trump's would not have been made absent considerable study. "Just to issue a statement, I find that very hard to understand."
Contact Debra J. Saunders at dsaunders@reviewjournal.com or at 202-662-7391. Follow @DebraJSaunders on Twitter.