UNLV speakers' concern is drone warfare fuels hatred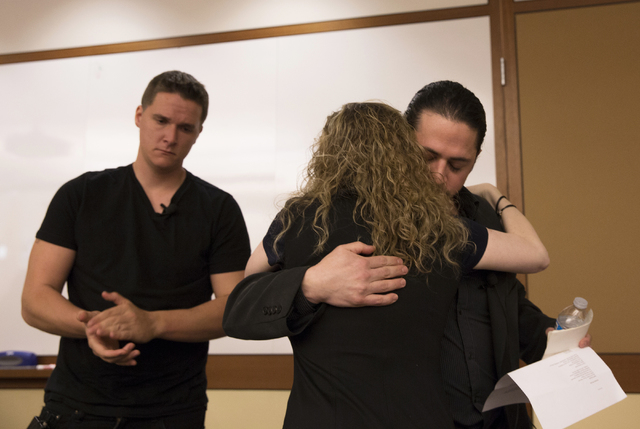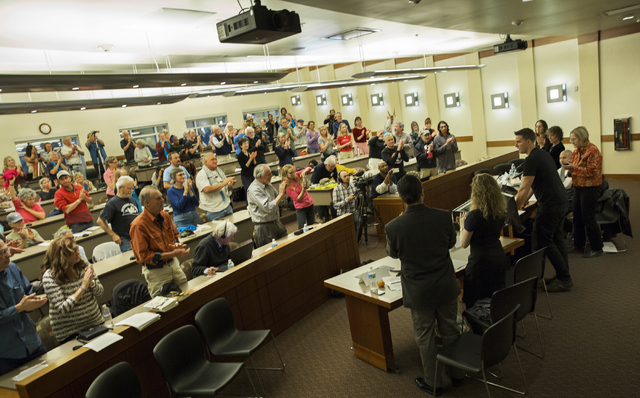 "I'm up here for those kids that I helped kill."
That's what Cian Westmoreland, former Air Force drone program communications technician, said his motivation was for speaking Wednesday night at a UNLV symposium on drone warfare.
The event at Boyd School of Law sponsored by Veterans for Peace and Knowdrones.com drew a crowd of more than 120 people. It focused on the impacts on whistleblowers and families of civilians killed by overseas airstrikes from remotely piloted aircraft controlled by operators at Creech Air Force Base and other military installations in the United States.
Westmoreland said his research shows that 359 civilians were killed during operations targeting terrorists and their leaders when he served in Afghanistan in 2009 with the Air Force's 73rd Expeditionary Control Squadron.
"I don't think drones to win a war … is the right weapon simply because bombing people isn't foreign policy," he said.
"What we're essentially doing is we're fueling hatred. Every time it creates hatred in the families. There's just anger and sadness. They don't have anywhere else to turn (so) they're going to turn to radical organizations"
Another speaker, Christopher Aaron, who was billed as a former counterterrorism officer for the Central Intelligence Agency's drone program, said after one drone strike in 2006 and observations later from afar, "I came to a conclusion that we cannot change ideological radicals by dropping bombs on them. It just does not work."
Aaron said, "We are absolutely … sowing the seeds for the next round of people to hate us. The next round of terrorists, as we call them within the intelligence community."
Westmoreland said a misconception is that the airstrikes are the work of pilots and sensor operators at ground stations controlling MQ-1B Predators or MQ-9 Reapers armed with laser-guided Hellfire missiles and, in the case of Reapers, bombs.
"It's really not just the platform itself," he said. "It's a network of equipment, machines placed all over the world and different people doing different roles for that mission to go forth."
Officials for the 432nd Wing at Creech Air Force Base, 45 miles northwest of Las Vegas, offered a comment about the symposium in response to a Las Vegas Review-Journal query.
"The men and women of the 432nd Wing work diligently 24/7 to support the national security mission by providing this persistent intelligence and precision strike when needed," Capt. Sarah Ruckriegle said.
"When kinetic engagement is necessary, it is done with meticulousness, professionalism, and only when all the rules of engagement have been met. This mission keeps our nation and our people safe, and is one we perform proudly," she said.
Contact Keith Rogers at krogers@reviewjournal.com or 702-383-0308. Find him on Twitter: @KeithRogers2