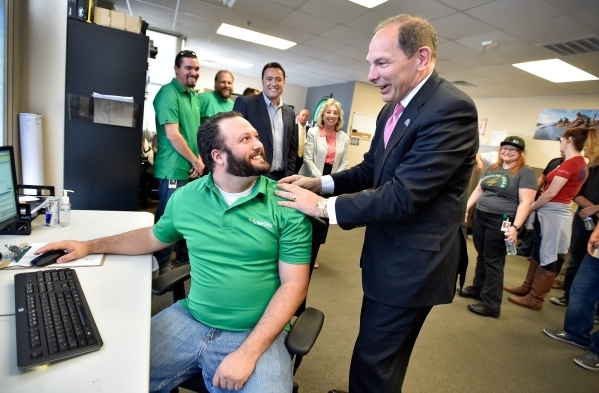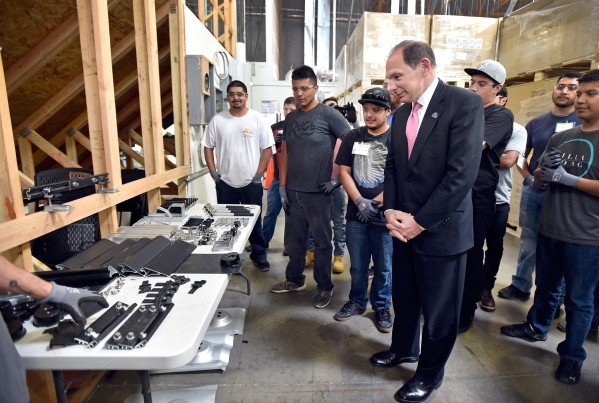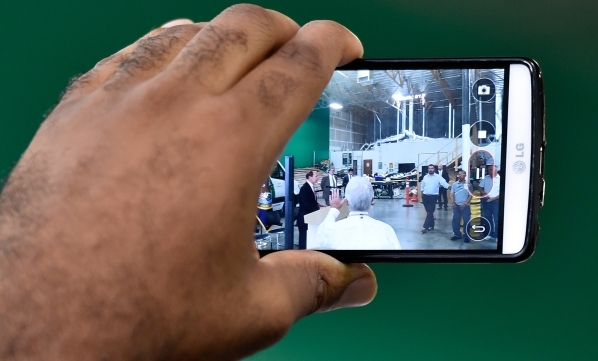 Veterans Affairs Secretary Robert McDonald returned to Las Vegas Tuesday where he set goals a year ago to restore trust in an agency rocked by scandals.
With an audience of a company that hires a relatively high percentage of veterans, he stopped short of grading himself on the goals he announced Aug. 9, 2014, saying, "Over the past year, we've made progress but we have more progress to make."
"We've made 7 million more completed appointments in the last year versus the previous year. Of that 7 million about 4.5 million were appointments in the community. So this idea that we at the VA are somehow against veterans getting health care in the community is wrong," he said.
His comments came during a tour of SolarCity, a solar panel installation and training facility in North Las Vegas. The company in about a dozen states has hired more than 1,000 veterans.
"I think this company understands that hiring veterans is great business," he said. "We know that veterans possess the character, the team-building skills, the technical skills, the self-discipline that are necessary to make tremendous employees."
Before he left to address The Military Order of the Purple Heart convention for wounded combat veterans in Las Vegas, he spoke of progress the VA has made in reducing the backlog disability claims which peaked in March 2013 at 661,100 that took longer than 125 days to resolve.
"We're down now to 120,000 longer than 125 days, which is good but we're going to be down to hopefully around zero by the end of the year," he said.
Asked if the VA really would have shut down its hospitals if Congress hadn't fixed the budget, he said his agency was caught in the middle of executing payment for health care benefits that Congress had approved with a shortfall of money to handle the task as more veterans seek VA care.
He was able to persuade lawmakers to give him flexibility to use money from the program that allows veterans a choice to seek care outside the system.
"My biggest nightmare is the veteran goes out for care and I've got the money in the wrong pocket and I can't move it from that pocket," he said.
This was McDonald's third trip to the Las Vegas Valley as VA secretary since he took the reins in the wake of former Secretary Eric Shinseki's departure. Shinseki resigned in May 2014 after public outcry when scandals surfaced about false reporting of veterans' wait times for health care tied to performance bonuses VA officials received.
In his first visit to Las Vegas a year ago this month, McDonald spoke to the National Disabled Veterans convention, pledging to restore trust in the VA and reduce wait times while improving health care on the advice of a board of physicians.
McDonald, a former Proctor and Gamble chief executive and 1975 graduate of the U.S. Military Academy at West Point, N.Y., returned to Las Vegas in June, pledging to end homelessness among veterans.
Contact Keith Rogers at krogers@reviewjournal.com or 702-383-0308. Find him on Twitter: @KeithRogers2.