VA Southern Nevada Healthcare System grapples with spike in veterans visits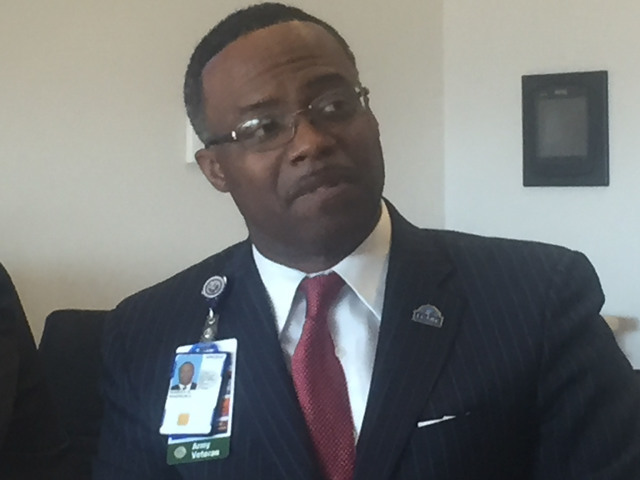 The Veterans Benefits Administration continues to chip away at a backlog of disability claims, but a spike in veterans seeking care for disabilities and health issues has caused the VA Southern Nevada Healthcare System to struggle in meeting those needs.
"That indicates to us a lack of health care in the (Las Vegas) Valley. We've been growing like a weed in the last five years," system Director Peggy Kearns said Wednesday during a roundtable discussion.
Because of the shortfall of doctors in public and private practice in Southern Nevada, veterans who are eligible for VA care are turning to the North Las Vegas VA Medical Center and its satellite facilities for health care.
Kearns said since the 2016 fiscal year began Oct. 1, the system has experienced 640,000 visits through June, up 15.8 percent from June 2014.
The caseload draws from 158,000 veterans in and around Southern Nevada, of which 70,692 were enrolled in the system.
Citing the most recent statistics, Woodrow Anthony Roeback, officer-in-charge of the local Veterans Benefits Administration office, noted that the initial disability claims backlog has been reduced nationwide by 88 percent from a peak of 611,000 in March 2013 to a historic low of 71,352 claims last year.
The average wait for a claims decision is 93 days — a 189-day reduction from a peak of 282 days in March 2013.
Roeback said the Veterans Benefits Administration Reno Regional Office has exceeded its goals for more than 200 claims processed and completed during the past three months.
"We're performing exceptionally well as a team as well as with the processing that we have in the benefits office," he said.
Roeback attributes the success to working through a national "work queue" program that allows the regional staff to concentrate on claims from veterans in Nevada.
"Approximately 80 percent of the cases that are coming through the national work queue are from the state of Nevada," he said. "So we're taking care the veterans in Nevada for the most part."
He said the regional office has completed more than 6,000 cases in the 2016 fiscal year, which will end Sept. 30. "We have a goal of 7,000. We are already going to get beyond that, perhaps in the next couple of months."
As the initial claims backlog was reduced, however, there has been a surge in the number of appeals on claims that were denied or the disability ratings were challenged by veterans.
U.S. Rep. Dina Titus, D-Nev., a member of the House Veterans Affairs Committee, introduced a bill in June to reform how the VA processes appeals on rejected or challenged claims.
She believes the legislation, if passed and signed by the president, will save the VA more than $2.6 billion while decreasing the average wait time of more than two years.
Contact Keith Rogers at krogers@reviewjournal.com or 702-383-0308. Find him on Twitter: @KeithRogers2.