Vegas Desert Rats aim to win hearts, minds in Afghanistan
January 30, 2012 - 2:01 am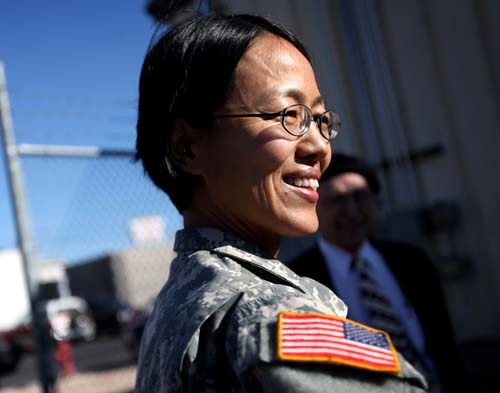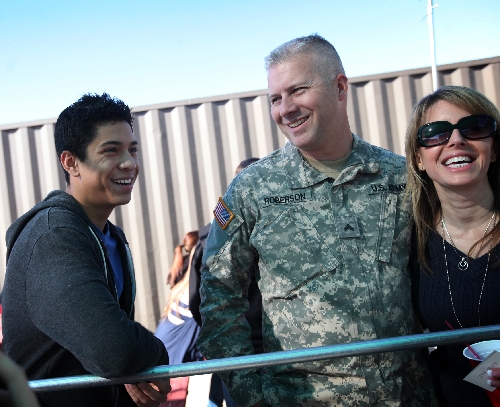 The Vegas Desert Rats were set to take off early this morning on their way to wage peace in Afghanistan.
Wearing camouflage uniforms, the 30 hand-picked soldiers from the Army Reserve's Delta Company hugged their loved ones one last time before boarding a jet at McCarran International Airport to begin their yearlong journey, first to Fort Dix, N.J., and then to Afghanistan.
They're on a nation-building mission to win the hearts and minds of Afghans by providing stability, clean water, sanitation and essential needs to help the country mend from a decade of war.
But that doesn't mean they'll be safe.
"We're going into a kinetic area," 1st Sgt. Randy Ford said at a send-off barbecue that VFW Post 10047 hosted for the citizen-soldiers on Saturday. "What we do is up close and personal, which puts us more at risk."
Cpl. Eric Roberson, a Las Vegas police officer and Marine who served in the Persian Gulf War, said he's honored to serve again in Afghanistan in a nation-building role.
"Hopefully we won't have another war," he said, standing near a picnic table with his wife, Tracy, and their four children ages 7 through 16.
"I want my grandchildren to ask me, 'What was a war like?' "
Jordan Roberson, his 15-year-old son, said he's "kind of scared" for his dad, but at the same time, "I'm proud of him because I know it's for a greater cause than just us."
His dad's biggest motivator for wanting to serve again was the Sept. 11, 2001, terrorist attacks. He persuaded Tracy to let him volunteer for Afghanistan because the desire has been in the back of his mind since 9/11.
Roberson said he was honored by the send-off at the VFW post near Nellis Air Force Base. His step daughter, Casey Steward, 16, sang "The Star-Spangled Banner" in front the company formation, and Vietnam War vets grilled hot dogs, burgers and sausages for the troops and their families.
"It's humbling to see these guys who were in Vietnam. They didn't get a send-off, much less a welcome home," said Roberson, 40, of Henderson.
One wife, who joined the Army Reserve five years ago on the day she became a U.S. citizen, said goodbye to her husband, Warren Sessler, a Korean War veteran and Silver Star medal recipient who knows the dangers that lurk in a hostile land.
"My husband, he's my hero," said 1st Lt. Xiao Sessler, 40, who was born and raised in China.
As a private in 1953, Warren's squad was caught in machine-gun fire on a slope near Songnae-Dong, Korea.
"Pvt. Sessler, with complete dis­regard for his personal safety, crawled to within feet of the enemy's position, lobbed grenades into their midst and dispatched them," his Silver Star citation reads.
Xiao met Warren about 10 years ago while he was on a business trip for his company, which makes props for movies.
"The first thing he asked me is, 'Do I want to go to America?' I said, 'No,' because I thought China was the best country in the world. But he said things that changed my mind."
Warren Sessler said: "She found out how much freedom is here compared to living under communism."
At her U.S. citizenship ceremony in 2007, she reminded others in her class that "freedom is not free" and urged them all to join the armed forces.
She said she "would be proud to die defending my country so others could be free. Freedom of speech gives us so much. It is so important."
"People come to this country because they want a better life, so when you come here, you better chip in because everybody needs to do their part," she said Saturday.
At his urging, she attended UNLV, signed up for Army ROTC, then completed military police officers' training at Fort Leonard Wood, Mo. She was assigned initially to the 313th Military Police Detachment in Las Vegas and volunteered for deployment with the Vegas Desert Rats.
The Sesslers took a trip to Pakistan last month.
"I thought it would be a good boots-on-the-ground experience to let her see the culture," said Warren Sessler, 77.
Xiao Sessler will lead an outreach team with two other women. They want to show Afghan women there is hope for a better life in their own country without war.
Her teammate, Sgt. 1st Class Quitze Garcia, has deployed before to Iraq and Afghanistan. The third female soldier on this tour, Spc. Candace Bascom, is on her first war zone deployment. Both women were assigned to Delta Company of the 405th Civil Affairs Battalion from Utah.
"This is the bravest lady. She's a rock," Garcia said about Bascom.
"We're going to do the best we can do to improve the situation. We can't leave it for our children," Garcia said.
On Wednesday she put her 19-year-old son, Aaron G. Geer, on a plane for basic training and Army Ranger school in Fort Benning, Ga.
The Vegas Desert Rats come from a variety of civilian occupations. They include teachers, cops, cooks, bailiffs, businessmen and gaming agents.
They have prepared for two years for the deployment and will train two more months at Fort Dix to validate their combat skills before serving 10 months at various locations in Afghanistan assisting troops on the ground.
"My soldiers are ready for the challenge," said Maj. Victor Ingram, the Delta Company commander out of North Las Vegas.
His motto: "Each person that we win over, that's one less insurgent."
"We have a group of family fighting soldiers," Ingram said at the send-off. "I can't tell you how much it moves my heart to be here for the deployment of a unit that has done so much."
Contact reporter Keith Rogers at krogers@reviewjournal.com or 702-383-0308.