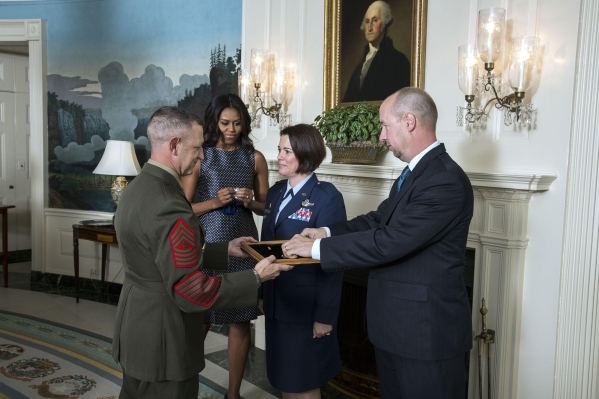 She has gone from Western High School to the White House with a lot of stops in between during her storied career in the Air Force.
Col. Nicole Malachowski, the woman who blazed the trail for other female pilots who dream of some day flying for the Thunderbirds at Nellis Air Force Base, received her "full bird" colonel wings during a White House ceremony in mid-September.
The special "frocking" ceremony with her husband, their 5-year-old twins, and her mother and father at her side came four months after she took the reins as executive director of Joining Forces, the initiative that first lady Michelle Obama and Dr. Jill Biden launched in 2011 to give military members, veterans and their families the tools they need to succeed.
"It was an absolutely phenomenal moment, not only for myself but for my family and friends," she said Monday in a telephone interview from the East Wing.
What she described as the "hour of a lifetime" to mark 20 years of service continues the momentum that began after she graduated from Western High in 1992 in Las Vegas.
Having been the school's Air Force Junior ROTC cadet corps commander, she was destined to become a combat pilot after earning her bachelor of science in management at the U.S. Air Force Academy.
"It started at a young age. I always wanted to be was a fighter pilot since since I was 5 years old," said Malachowski, 41. "I stayed focused on that and came from a family who supported me, and surrounded myself with positive people."
With a boost from a flight scholarship from the Civil Air Patrol composite squadron at Nellis, she was able to pay for flying lessons and actually performed her solo flight at age 16, a couple of days before she received her Nevada driver's license.
From the Air Force Academy she became an F-15E Strike Eagle pilot, notching the first of her 200 hours of combat missions in action over Kosovo during Operation Deliberate Forge in the late 1990s.
Day the world changed
She later flew in Operation Iraqi Freedom, but that followed an eye-opening homeland defense stint in support of Operation Noble Eagle.
"I remember the day the world changed," she said, reflecting on the Sept. 11, 2001, terrorist attacks.
She was at Seymour Johnson Air Force Base, N.C., "sitting in a dentist chair, watching a TV screen when the first plane hit the first tower" of New York's World Trade Center.
After the base made an announcement, she quickly joined other leaders in a conference room where they watched the second plane hit the other tower.
"We knew at that time, this is war," she said.
In the days that followed she found herself back in the cockpit flying homeland defense sorties along the East Coast.
"The silence on the radio was deafening. You never fly in the continental United States without constant radio chatter. The only people on the radio this time were me and my wingman," she said.
Switching to the controls of an F-16 for the 2006-07 Thunderbirds season, she became the first female pilot to fly for the Air Force's elite air demonstration team.
As executive director of Joining Forces, her job is to carry out the first lady's vision "to elevate the narrative of military families to national levels, shining the light on the positive things they do, and focus on the three pillars — employment, education and wellness."
While military families typically move every two or three years, she said they can provide valuable assets to their communities by being leaders and volunteers who are willing to make sacrifices and share their unique strengths. They can coach Little League teams, serve on boards of community organizations and participate in school functions.
"Military families really aren't different than the communities they come from," she said.
When she became executive director of Joining Forces in May, she succeeded Col. Steve Parker, who returned to the Army after a year in that position.
She and her husband, Paul, a retired Air Force lieutenant colonel, live in Virginia with their 5-year-old twins, Garrick and Norah.
Contact Keith Rogers at krogers@reviewjournal.com or 702-383-0308. Find him on Twitter: @KeithRogers2