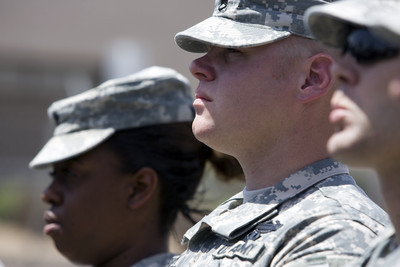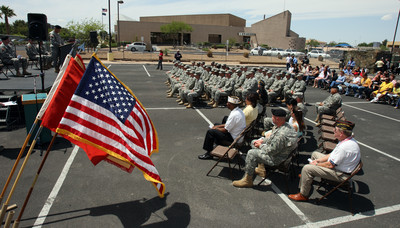 When he left last year for his third overseas tour in the nation's wars on terrorism, Army Reserve Sgt. George Turkovich responded to Senate Majority Leader Harry Reid's "war is lost" in Iraq comment saying, "We're not losing this war."
At a homecoming ceremony Tuesday for 50 citizen-soldiers who served in Kuwait supporting Operation Iraqi Freedom, Turkovich, now a staff sergeant, was even more confident in his assessment.
"We're definitely winning this war," he said, privately, after a brigadier general finished presenting him and others in 314th Combat Sustainment Support Battalion with a commander's coin and a U.S. flag in a display case.
"It's a long war we're going to have to fight," said Turkovich, a 2001 Palo Verde High School graduate.
"Unfortunately the American people are paying for the Iraqi economy," he said.
He added that many Americans are fed up with footing the bill for the war and that it's time for the Iraqi government to shoulder its share of the financial burden.
Before his latest deployment, Turkovich, 25, served as an infantryman with the 82nd Airborne Division for seven months each in Iraq and Afghanistan. This time his job was to support the training of all soldiers going into Iraq, including Japanese, British and other coalition troops.
Like other Army Reserve soldiers in the 314th, Turkovich objected to Reid's April 19, 2007, "war is lost" comment as the unit was about to leave for Operation Iraqi Freedom.
Reid, D-Nev., told reporters in Washington, D.C., on that day of his judgment "that this war is lost and that the surge is not accomplishing anything as indicated by the extreme violence in Iraq yesterday."
The next day on the Senate floor, Reid avoided using the word "lost," asserting that "no one wants us to succeed in Iraq more than the Democrats."
At the ceremony at Taylor Hall on East Sahara Avenue an aide for Sen. John Ensign, R-Nev., thanked the soldiers for their service.
A representative for Reid was listed on the program but didn't speak. Reid, however, issued a statement later commenting on House passage of a land conveyance act for the National Guard readiness center in the south Las Vegas Valley.
"Our proud Nevada National Guard stands on the front line of this mission, and I will always work to ensure they have everything they need to do their job well," the statement reads.
Turkovich said he can accept people who speak out against the war effort.
"That's a freedom we fight for," he said. "A lot of protesters support the troops. They don't support the conflict."
Like others who spoke Tuesday about their deployment in Kuwait, Turkovich was glad to see his family again when the troops arrived Monday in Las Vegas after demobilizing at Camp Atterbury, Ind.
Fittingly, the 314th soldiers had left the Middle East on April 23, the 100th anniversary of the Army Reserve.
During their deployment, the unit, known as a "tailored logistics element," provided support for 125,000 U.S. combat soldiers who were heading into Iraq from Camp Buehring, Kuwait, 25 miles south of the border.
The Las Vegas soldiers issued more than 50,000 cases of Meals Ready to Eat in addition to providing their comrades with more 80 million gallons of water, 46,000 cases of Gatorade and 10 million pounds of ice. They helped send 420,000 trucks through the border crossing from Kuwait to Iraq.
As Sgt. Brian Sladky, 38, described the work: "Our mission was to give them two more weeks of safety and comfort."
Lt. Col. John Blankenbaker, the 314th's overseas commander, said they worked six days a week, up to 12 hours a day. There was only one injury during the deployment, a broken ankle, he said.
Blankenbaker said four of his soldiers did travel to Iraq to escort air deliveries of Mine Resistant Ambush Protected vehicles.
At the ceremony, Brig. Gen. Charles Ebner, deputy commanding general of the 63rd Regional Readiness Command in Los Alamitos, Calif., praised the soldiers for "a great job."
"You were in a hostile environment," he said, "but your families have moved on and progressed in your absence. … Now it's time to bring your skills back to civilian life and your families."
Later, when he was asked about when the 314th will be deployed again, Ebner said, "We're trying to work in a five-year cycle so their families and employers have predictability."
Contact reporter Keith Rogers at krogers @reviewjournal.com or 702-383-0308.