Wounded warrior trials for military veterans get off to flying start
February 24, 2017 - 3:45 pm
Updated February 24, 2017 - 10:46 pm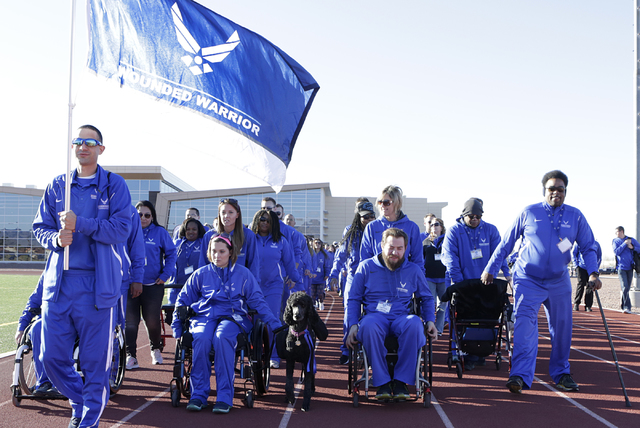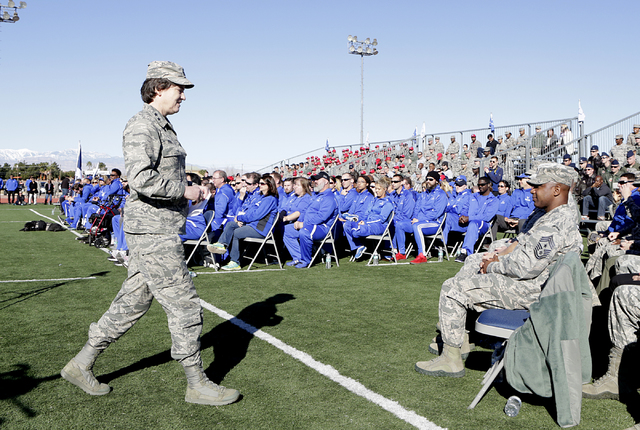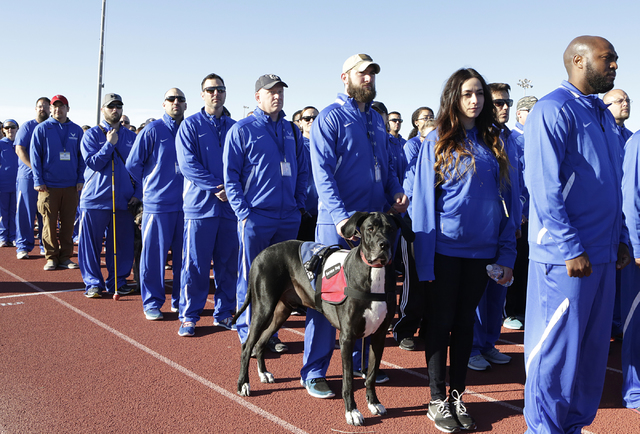 Chase Burnette said a debilitating panic disorder he developed after an ammunition crate fell on him while he was stationed at Thule Air Base in Greenland left him "too scared to leave my house."
The military's wounded warriors program – specifically the sports it offers to veterans suffering from a wide variety of physical and mental wounds – enabled him to venture beyond those four walls again.
"It's really broken me out of my shell and given me my life back," Burnette, 24, said Friday after the Wings of Blue parachute team and a host of speakers opened the Warrior Games trials in a ceremony at Nellis Air Force Base.
More than 100 athletes will compete in the trials at Nellis and UNLV over the next nine days..
Top competitors in events like wheelchair basketball, sitting volleyball, swimming, track and field, air pistol and rifle shooting, archery and cycling will advance to represent the Air Force in the joint service Warrior Games, slated for June in Chicago. Wounded warrior athletes from the U.S. Army, Great Britain and Australia are also participating in the Nellis trials.
Burnette said immersing himself in sports like cycling, rowing and marksmanship eased the burden of a panic disorder so severe he had to medically retire from the military as an airman first class.
"The camaraderie and fellowship of these wounded warriors is a really important thing as far as recovering. Just getting you moving again, surrounding you by things that are familiar, I think that's the biggest thing," he said.
Col. Paul Murray, 99th Air Base Wing commander, has a personal stake in the games.
"It brings together so much of my history and the time I served in combat and the people I served with. Some of them I lost. Some of them are wounded warriors," he said. "To get a chance to support this operation and be a part of so many lives is very special to us."
Air Force Personnel Center commander Maj. Gen. Peggy Poore described the athletes' participation to "a victory in a different type of battle: the battle to recover from a devastating illness or injury."
"On these fields the next few days, these athletes will sow the seeds that will bear the fruit of victory of recovery," Poore said.
Contact Keith Rogers at krogers@reviewjournal.com or 702-383-0308. Follow @KeithRogers2 on Twitter.
RELATED
Wounded warriors hit Red Rock trails on modified cycles
Fisher House groundbreaking: new home for wounded warriors' families
'Walk of Gratitude' gives thanks to wounded warriors in Las Vegas