Wounded warriors get VIP treatment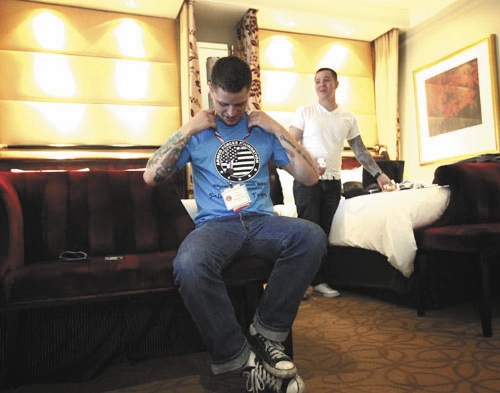 Hundreds of people cheered and clapped Wednesday as they welcomed a group of 80 wounded warriors into the Palazzo.
The group, members of the Warrior Transition Battalion at San Antonio Military Medical Center, were flown in for an all-expenses-paid weekend in Las Vegas, courtesy of Sheldon and Miriam Adelson. They leave Saturday.
The Palazzo has hosted groups of wounded service members and veterans annually for the past six years. The weekend is a vital part of the Armed Forces Foundation's PTSD program, Patricia Driscoll, foundation president, says.
About 600 men and women have participated since the Adelsons began rolling out the red carpet for this event. When the group arrived at the Palazzo, they walked through the hotel along a red carpet, lined with hundreds of cheering hotel workers and guests.
Wearing powder blue T-shirts that identified the sponsoring organizations for the trip, the group filed into waiting chairs at the Palazzo atrium. After about 20 minutes of welcome speeches, they were taken to their suites.
The trip helps the men and women, Driscoll says, by taking their minds off of the daily struggles they face while recovering from their wounds. Some use wheelchairs or wear prosthetic limbs.
For a few days, they get to eat, drink and party like VIPs. In addition to standard suites, the group will have a variety of activities, from a poolside barbecue to a night at Blue Man Group. There also are blackjack tournaments and other activities sprinkled throughout the visit.
The goal is to get them to socialize and talk about their lives, their struggles and their futures, Driscoll says, in hopes of building stronger support networks.
"This is awesome," Justin Gulde says of the reception. "I can't stop smiling."
Gulde, 21, is originally from Las Vegas. Like a lot of locals, the 2009 Basic High School graduate has never had a VIP weekend on the Strip. It sounded like the sort of thing that he and his buddy Jared Ray would love so he signed them both up.
"He's the guy I got blown up with," Gulde says, introducing Ray, 22. Both men were in the same Army battalion but didn't meet until they lay next to each other in their hospital beds in Iraq. They were both injured during a rocket attack on their camp in Iraq in 2010.
It was Thanksgiving Day, Gulde's first day off in nearly two weeks. He was relaxing in his CHU – Container Housing Unit – when a rocket exploded through the ceiling. With his left arm shredded and useless, he stumbled from his CHU. Shrapnel protruded from his scalp and body; he was covered in blood. He freaked out. He thought he was dying.
Ray was sleeping in his own CHU when the rockets hit; he woke up and knew the camp had been attacked but didn't realize he was injured. His first thought was to run outside and defend the camp. That's when he saw Gulde, his left arm mangled and half his body covered in blood. Ray called for a medic and Gulde begged him, "Don't let me die."
Gulde and Ray, who is from Los Angeles, were assigned as roommates when they ended up in the Warrior Transition Battalion together. That's when they discovered they had a lot in common. Not only were they the lone soldiers injured during the rocket attack on their camp, they also both like tattoos. And women with tattoos. They both love cars, too.
Another thing they have in common: They both think they're undeserving of their Purple Hearts.
Gulde has a hard time accepting that he will be a veteran after serving only two years.
"I was only in Iraq for three months. When I was injured, I wasn't doing my job," Gulde says. "I still don't feel like I deserve my Purple Heart, but the Army says I do so I will wear it with honor."
"I can relate to that," Ray says, nodding. He was in Iraq for 10 months before being injured; he was scheduled to go on duty that night.
Gulde lost use of his left hand and suffered a traumatic brain injury; Ray suffered permanent damage to his foot, among other injuries. Both suffer from post-traumatic stress disorder.
They see buddies who lost legs and arms, who can't walk or talk or hug their kids again. It makes Gulde and Ray feel grateful and guilty. In a few months, the men will be medically retired. After that, they both hope to get internships through a Warriors on Wall Street program. If that doesn't pan out, Gulde will return to Las Vegas and enroll in college. Ray plans to go to school, too.
Eventually, they want to give back to their fellow wounded veterans. It's the least they can do, they say. They can see themselves one day helping to organize a trip like the one they are on.
"Stuff like this trip, it definitely helps," Gulde says. "It brings us out from behind the hospital curtains."
Contact reporter Sonya Padgett at
spadgett@reviewjournal.com or 702-380-4564.
Follow @StripSonya on Twitter.