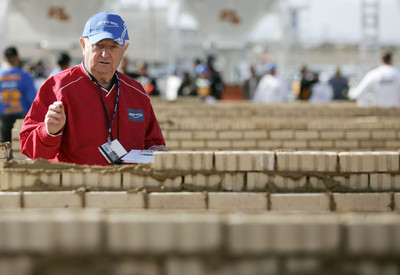 Columns of black smoke loomed over the Strip on Friday from a fire atop the Monte Carlo, forcing thousands of people to evacuate.
The fire started just before 11 a.m. on the upper reaches of the 32-story hotel. Fueled by highly flammable construction foam, the flames spread along the building's facade while firefighters standing on the roof and hanging out hotel room windows attacked them with water.
"It started with a little smoke, and I thought it was, like, kitchen smoke," said Angel Hernandez, who works at a nearby kiosk on the Strip. "The next thing I saw was the black smoke and I went, 'That's not the kitchen.'"
Plumes of smoke attracted hundreds of onlookers and news helicopters that swirled overhead, capturing live footage of the growing conflagration that conjured images of the MGM Grand fire in 1980 that killed 87 people.
Firefighters knocked down the flames by 12:15 p.m., but not before they had blackened a large swath of the building's exterior. At least 13 people were treated for smoke inhalation, but authorities reported no major injuries. Two people were taken to hospitals because they didn't have their medications, and another because she'd fallen.
"It could have been very serious," Fire Chief Steve Smith said, commending firefighters' efforts. "This is what we train for."
MONDAY
Housing market continues plunge
The housing market in Las Vegas ended the year with a whimper, tallying just 1,340 new-home sales in December for a total of 19,670 in 2007, down 45.6 percent from the previous year, Home Builders Research reported.
Existing-home sales were equally weak, with 1,339 escrow closings in December. The year's total was 24,838, a 40.7 percent decline from 2006.
TUESDAY
Macau gaming outstrips Strip
Macau's booming casino industry has blown past the Strip in revenues and is closing in on Nevada's statewide win.
Fueled by three large casino openings and a 23 percent jump in annual visitor volume, gambling halls in Macau collected more than $10.3 billion in gaming revenue during 2007, a 46 percent increase. The figures were released by Macau's Gaming Inspection and Coordination Bureau.
Nevada's total gaming win for 2007 won't be released until next month. Through November, the Gaming Control Board said, the Silver State's casinos had won $11.752 billion from gamblers. In 2006, 24 casinos operating in the Chinese gaming enclave collected $6.95 billion in gambling revenue. Strip casinos won $6.69 billion during those same 12 months.
WEDNESDAY
Inmate accused of seeking hit man
Authorities say a Clark County inmate tried to take out a hit on a judge, a prosecutor and a cop who put him behind bars.
Daimon Hoyt, 42, offered to pay a fellow inmate $30,000 to kill District Judge Michelle Leavitt, Deputy District Attorney Sandra DiGiacomo and Detective Bradley Nickell, authorities said.
Leavitt said Hoyt appeared in her court at least once on a burglary charge and acted "like a total gentleman."
Hoyt faces three counts of soliciting murder and more than three dozen unrelated charges including burglary, possession of stolen property and lewdness with a minor under the age of 14. Hoyt said in court Friday that he was innocent of the charges and wanted to take a lie detector test to prove it.
THURSDAY
Lawmakers back Gibbons' cuts
Although they complained that Gov. Jim Gibbons was stealing from the citizens of Nevada, legislators left intact the governor's plan to cut state spending by $542 million over the next 18 months.
Democratic legislators, led by state Sen. Bob Coffin, D-Las Vegas, complained that they legally were entitled to a say where cuts should be made.
"What they are about to do is commit a crime, for Christ's sake," said Coffin, comparing Gibbons' plan to cut spending to someone walking into a home and stealing a TV set.
But after two hours of angry discussion, Assembly Ways and Means Chairman Morse Arberry, D-Las Vegas, moved onto another item in the Legislature's Interim Finance Committee agenda.
"Keep the Lord out of this," he told Coffin.
FRIDAY
Furniture show organizers upbeat
Organizers of one of the country's biggest furniture shows said registration for their upcoming Las Vegas market is up despite a national housing slump that's hammering the home furnishings industry.
On Monday, the World Market Center opens its winter market, one of two major annual events in the multistructure campus in downtown Las Vegas.
The market is expected to attract as many as 50,000 people. It will be the first market event since the housing slump hit the U.S. economy, particularly the home furnishings industry.
COMPILED BY MICHAEL SQUIRES
READ THE FULL STORIES ONLINE AT
www.reviewjournal.com/wir
Week In ReviewMore Information