BLM pulls plan to auction oil and gas leases near Zion National Park
Updated June 2, 2017 - 5:07 pm
Citing "substantial feedback from the public," federal officials in Utah have decided not to open up land just outside Zion National Park for possible oil and gas development, at least not yet.
The Bureau of Land Management announced Friday that it is deferring plans to offer "fluid mineral leases" on three parcels totaling just over 4,700 acres near the iconic park 160 miles northeast of Las Vegas.
The BLM received tens of thousands of mostly negative public comments about the proposed auction, which was originally set to take place in September. State and local officials, nearby landowners, conservationists and tourism boosters all opposed the possibility of oil and gas drilling so close to the park.
The bureau still plans to hold the Sept. 14 oil and gas lease auction, but the three controversial parcels in Utah's Washington County will not be offered. Officials for the agency said the parcels will be "further evaluated for possible reallocation" in the future.
Two of the parcels extend within 2 miles of Zion's western boundary and straddle a creek that flows into the Virgin River and Kolob Terrace Road, the main route into the less congested, central part of the 150,000-acre park.
In January, the BLM issued a draft environmental analysis that concluded there would be no significant impact from leasing the proposed parcels.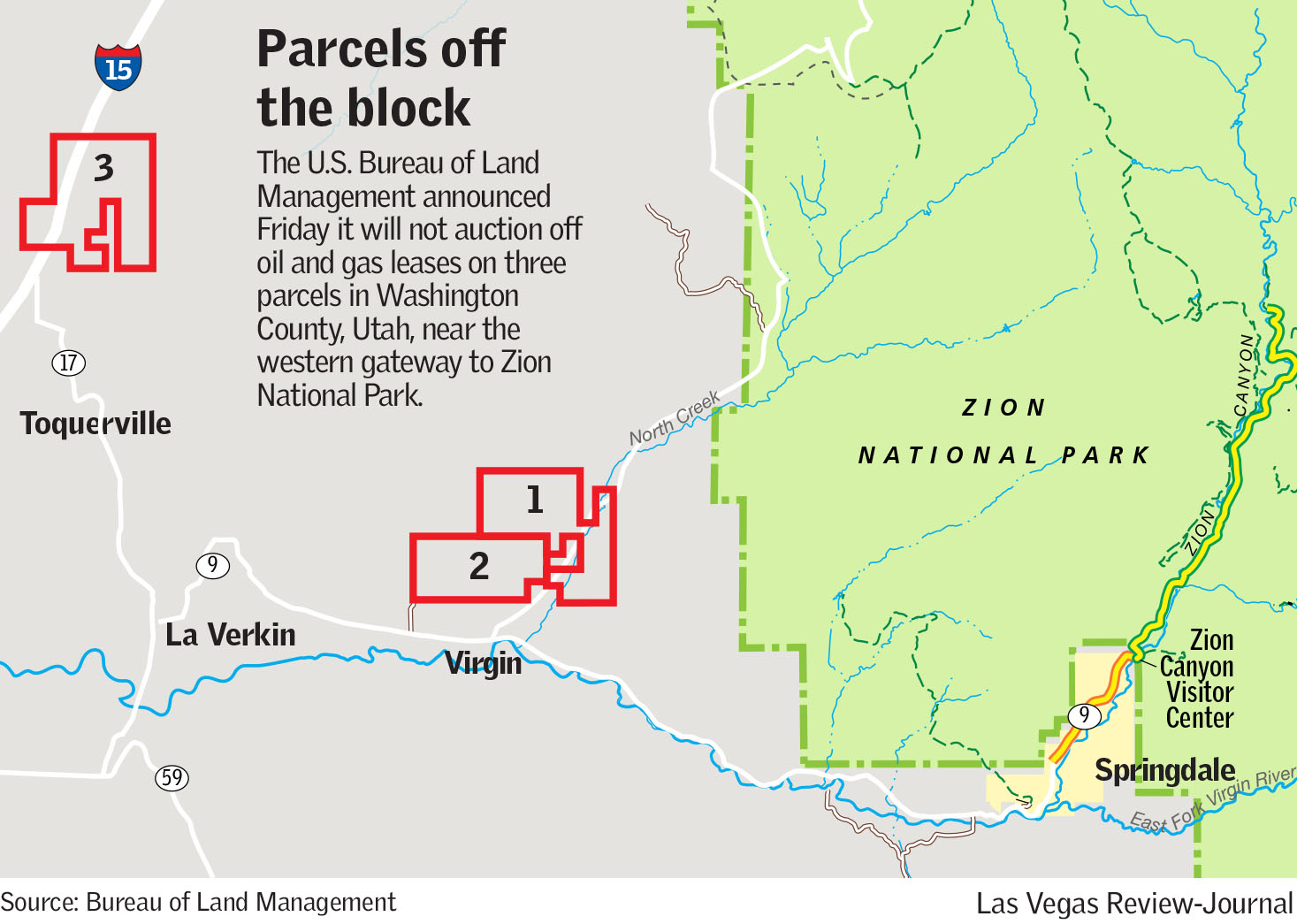 Fight could continue
Conservation groups hailed the agency's change of heart.
"Pumpjacks and drill rigs, heavy-duty truck traffic, flaring of natural gas, the threat of air and water pollution and other infrastructure from industrial oil and gas activities have no place next to Zion National Park," said David Nimkin, senior southwest regional director for the National Parks Conservation Association, an independent, nonprofit advocacy group. "Fortunately for Zion, BLM listened to the National Park Service, nearby communities and voices from around the country."
But the fight isn't over, according to Cory MacNulty, Utah program manager for the association. She said there are other parcels of federal land directly adjacent to the park boundary that are eligible for possible oil and gas drilling under the BLM's resource management plan for the area, which was last updated in 1999.
"In order to really remove the possibility oil and gas right up against the national park, that plan needs to be revised," MacNulty said.
The three parcels in Washington County were nominated for lease by St. George-based Utah Exploration and Drilling LLC, a company that specializes in the location of underground water resources. Jeff Reber, managing partner for the company, previously told the Review-Journal he had no immediate plans for large-scale oil and gas drilling on the land, but he wanted to lock up the mineral rights in case he hit oil while looking for water.
There is a history of oil exploration in Washington County that dates back to before Zion became a national park in 1919, but the area hasn't seen any significant fossil fuel activity in decades. According to Utah state records, only one application for a drilling permit has been filed in the county since 1986, and that was for a single well was drilled and capped in the same year.
Contact Henry Brean at hbrean@reviewjournal.com or 702-383-0350. Follow @refriedbrean on Twitter.
Roberson, Ed BLM Oil and Gas Leases Near Zion Opposition Letter May 26, 2017 (2) by Las Vegas Review-Journal on Scribd
Utah governor urges protection for Zion
You can count Utah Gov. Gary Herbert among those who oppose oil and gas drilling near Zion National Park.
The Republican issued a last-minute plea Tuesday to stop the Bureau of Land Management's plans to lease parcels a few miles from the park for fossil fuel exploration.
Though he said he supports "a diverse economy" in his letter to the BLM's Utah state office, Herbert warned that drilling in the area could drive away tourists and investors and hurt efforts to expand recreation amenities around Zion.
"Visitors come from around the world to see the lush landscape surrounded by towering iconic sandstone cliffs. The preservation of this unique experience is important to the surrounding communities," Herbert wrote. "We ask that you protect these parcels, protect these public lands and not open them for leasing."
The BLM cited the governor's input Friday when it announced it would defer the sale of oil and gas leases near the park.