California river levee break causes evacuations, water rescues
March 11, 2023 - 10:24 am
Updated March 11, 2023 - 9:01 pm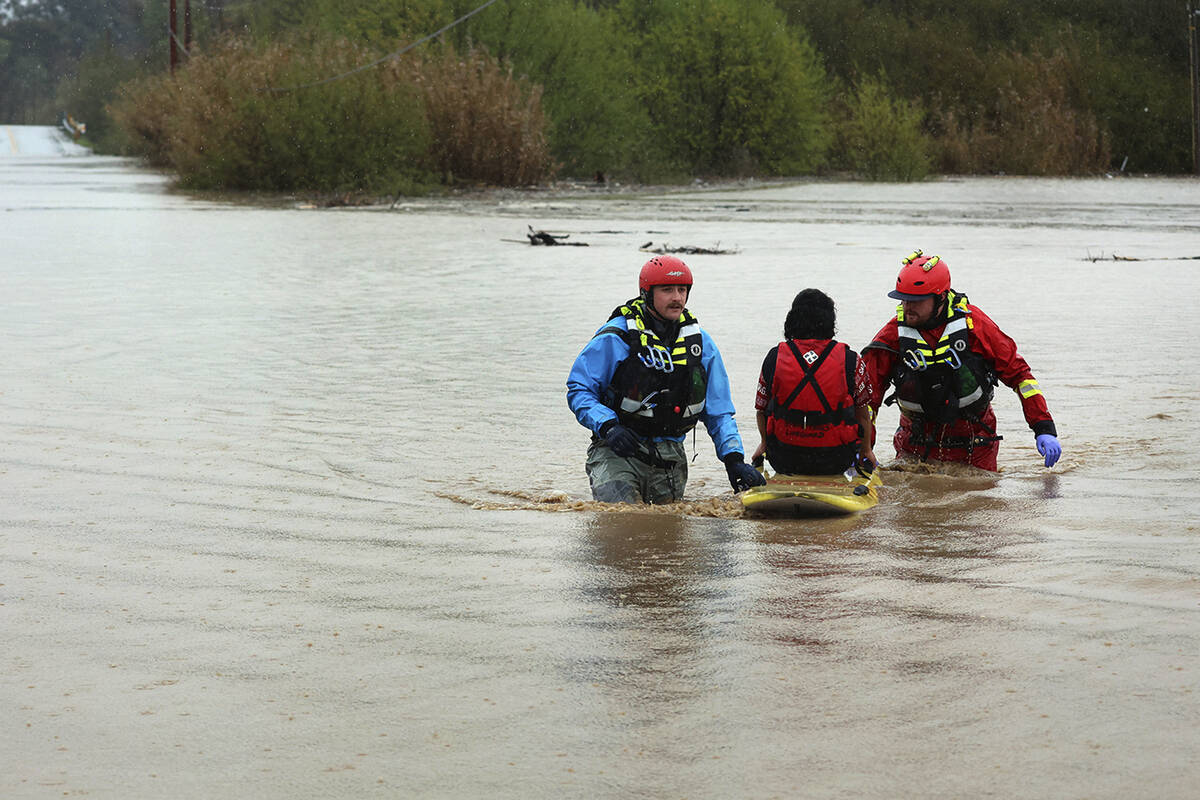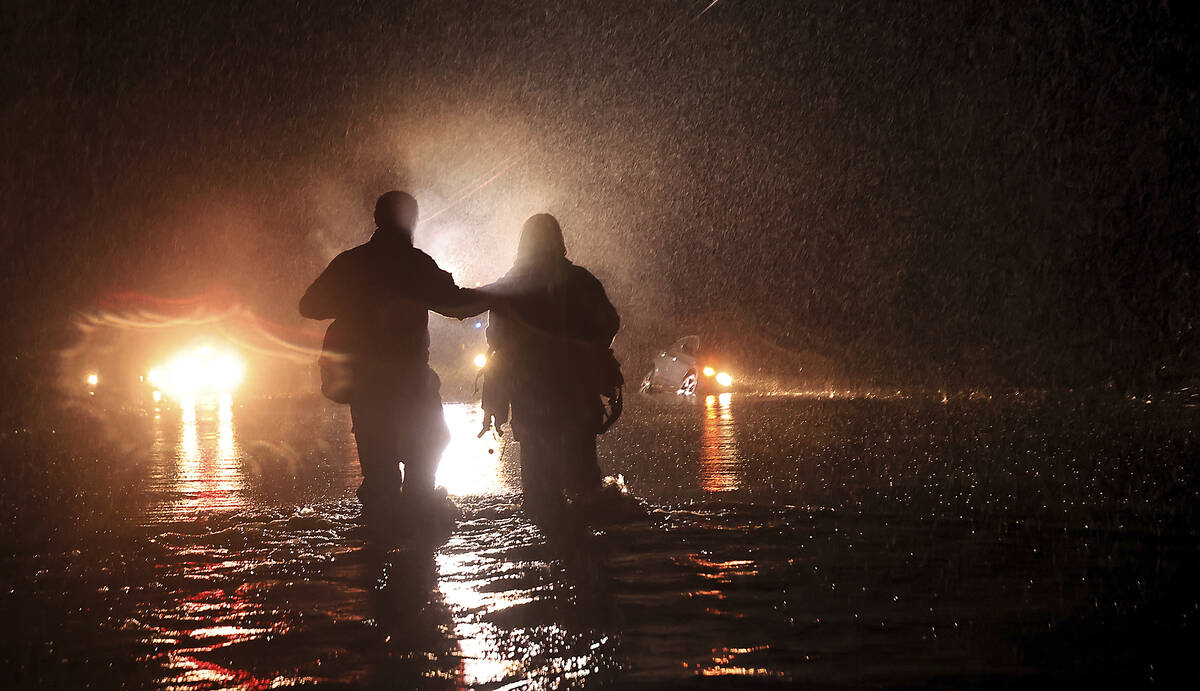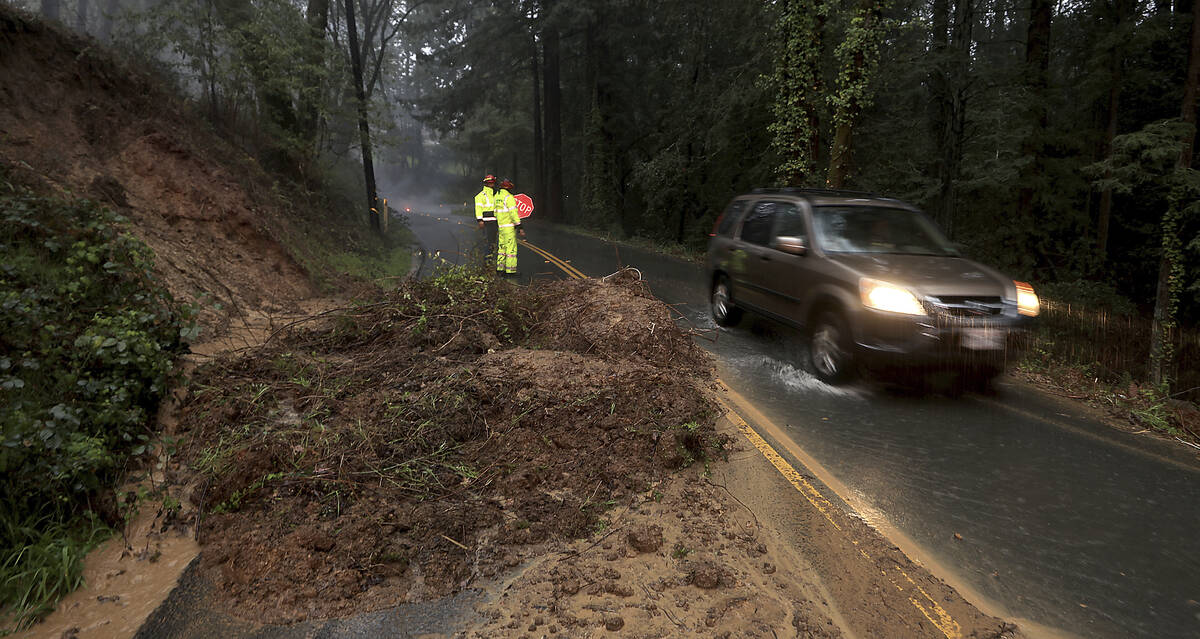 PAJARO, Calif. — A levee failure on the Pajaro River in Monterey County triggered massive flooding and prompted hundreds of evacuations and dozens of water rescues as the latest atmospheric river storm pummeled large swaths of California.
The levee — 3 miles upstream from the town of Pajaro — breached late Friday night, said Nicholas Pasculli, a Monterey County spokesperson. Patrols noticed "bubbling up in the adjacent farmland" at 11 p.m., the first sign there was a problem.
Thirty minutes later, the levee failed, Pasculli said. As of Saturday morning, he said, "the failure is approximately 100 feet wide." The town of Pajaro — with a population of 1,700, mostly farmworkers — is under water, he said.
Authorities conducted 60 rescues that included the use of high-water vehicles, the sheriff's diving team and the California Department of Forestry and Fire Protection's swift-water team, officials said. National Guard personnel were dispatched to assist. At least 96 people were placed in county shelters.
Rain has picked up and river continues to rise. #kernville #kernriverflooding #california #flooding pic.twitter.com/28iQjqc0dZ

— dougbarden (@dougbarden) March 10, 2023
Pajaro weathered recent storms because a flood wall in the lower part of the levee held up, said Monterey County Supervisor Luis Alejo.
"We had avoided just barely, by the grace of God, the flooding of the community," Alejo said.
Residents were ordered to evacuate Friday afternoon, but some didn't, Alejo said, because they "were hoping that the worst would not happen because the levee did not breech during the last set of storms."
Monterey County sheriff's officials, Watsonville police and the California Highway Patrol conducted a second round of evacuation notices Friday around 11:30 p.m.
Governor, Biden invited
Alejo said he has asked President Joe Biden and Gov. Gavin Newsom to visit Pajaro. He said it will take months to repair homes, and the town will need significant help to recover.
"This is a disadvantaged community that often doesn't get the attention it deserves," Alejo said. "These are our friends, our neighbors, these are people that we really care about, and we know that they're going to go through some tremendous hardship over the next several months."
VIDEO: Catastrophic flash flooding in Springville, California. A PDS (particularly dangerous situation) FLASH FLOOD EMERGENCY 🚨 is in effect for the region. More rain on the way. #cawx @JimCantore @weatherchannel @WeatherNation @foxweather VIDEO NOT MINE credit Brian Duke on FB pic.twitter.com/FEoG9otRgW

— Michael Gibson (@Geekflanka) March 10, 2023
On Saturday afternoon, crowds of onlookers stood on the Watsonville side of the Pajaro River Bridge looking at the swollen, muddy river rushing below and the submerged town of Pajaro on the other side.
Sheriff's deputies, police, county divers and boat rescue crews were parked along the bridge, behind yellow tape. Law enforcement officials stopped those with relatives or businesses on the other side, as well as the merely curious, from crossing.
One man, who declined to provide his name, said his grandmother was stuck on the other side in a flooded home. The police would not let him cross but took down her address and promised to check.
Connie and Victor Alvarez said they were trying to get in to check on their business, Alvarez Collision and Paint. They said they'd been notified by Monterey County that the business was likely flooded, and there was concern that toxic chemicals and solvents could be getting into the water.
"So, we're here to check," said Connie Alvarez, as she waited for a sheriff's deputy to see if she had permission to cross.
Three blocks upstream, on the other side of a flooded area, three people were walking east along the river, carrying black plastic bags. Javier Gomez, a legislative analyst for Alejo, said they were likely among the residents who didn't heed the evacuation warnings.
"I don't know how many stayed," he said. "But we've been doing back-to-back rescues all day. Feels like there were at least 100."
Some evacuated for 2nd time
Monterey County Sheriff's Deputy Mike Hampson said many of the same people had been evacuated in January, when the river got high.
"At that time, they were displaced for about a week," he said, noting that this time it's likely to be longer — as crews will have to clean flooded and contaminated streets and homes and reestablish electricity to the area.
Elsewhere in Monterey County, the Salinas River flooded around the community of San Ardo, prompting evacuation orders Friday night.
Rain was expected to continue in the county Saturday, with up to half an inch possible along the coast, said Cindy Kobold, meteorologist with the National Weather Service. Up to a quarter of an inch is expected for northern portions of the county.
Efforts associated with the levee break, Kobold said, are "going to be further hampered by incoming weather."
More storms expected
Another storm is expected to hit the area early next week.
"This next atmospheric river event is not looking like it's going to be as strong, but when you have a flood on top of a flood, it just makes a bigger flood," Kobold said. "That means this next one could be more impactful, because the ground is way overly saturated, and we're going to have additional rainfall, with gusty winds."
In neighboring Santa Cruz County on Friday, a woman was caught in a flood-prone area of Watsonville, where waters had risen to 8 feet. By the time swift-water divers from California State Parks got to her, she was standing atop a pickup truck with water up to her thighs, said Gabe McKenna, a spokesman for state parks.
Rescuers swam her 100 feet to shore, McKenna said. The parks have nine swift-water divers in high-risk areas around Santa Clara County ready to deploy.
"I think we're supposed to be dying down in the rain a little bit with another one coming in a couple days," McKenna said. "So we're trying to anticipate these and be prepared and have the staffing available wherever situations do occur."
Kobold, with the National Weather Service, urged residents to "turn around; don't drown." In some areas, it could be difficult to gauge the depth of water on roadways.
"It might seem like it's only 6 inches deep, but if that road is washed away, and there's erosion below that, it's possible that it could be 6 to 12 inches or deeper, and you could get into a very dangerous situation," she said.
27K without power
Systemwide, as of Saturday afternoon, there were approximately 27,000 customers without power with current storm outages focused mostly in the Central Coast region, according to Pacific Gas & Electric.
Further north, in Butte County, a swift-water rescue team helped two people stranded on an island in the Feather River in Oroville. Releases from the Lake Oroville Dam caused water to rise downstream and trapped them.
On Saturday afternoon, the National Weather Service issued a brief tornado warning for areas near Tuolumne and Calaveras counties due to a severe thunderstorm. Another was later issued for Fresno County.
Flash flood warnings are in effect for parts of Santa Cruz, Santa Clara, Monterey, Tulare, Sonoma, Fresno, Madera and Mariposa counties, according to the National Weather Service. At least two deaths have been confirmed as storm-related, officials said.
Major flooding was reported in Tulare County's Springville area — where officials conducted dozens of water rescues Friday morning — and in Kernville, where the roaring Kern River surrounded houses and mobile homes, spurring evacuations.
Valeriana López, a 55-year-old resident of Tooleville in Tulare County, said the floodwater didn't come inside her home but turned her yard into soft mud. She placed down boards to get across the yard without sinking and was searching for sandbags to create a makeshift walkway.
'Trust in God'
Sheriff's deputies went door to door on Friday night urging residents to be ready to leave, López said. Some neighbors left to find shelter elsewhere, while López and others stayed in their homes.
"I'm going to trust in God because we can't do anything," she said. "We don't have anywhere to go."
Farmworkers and other low-income residents in Tooleville have long struggled with inadequate infrastructure, including contaminated tap water and failing wells. They have been waiting for a planned project that will connect their water system to the nearby city of Exeter.
A few weeks ago, heavy rains damaged electrical wiring in the water system's pumps, leaving people without water for a few hours until service could be restored, said Emma De La Rosa, a regional policy manager for the nonprofit group Leadership Counsel for Justice & Accountability.
Highway 99, one of the state's main north-south thoroughfares, is closed for a 4-mile stretch in Tulare County just north of the Kern County line due to flooding, according to the California Department of Transportation. A detour has been established. A portion of Highway 1 near Big Sur in Monterey County remained closed.
The chief concern Saturday afternoon is thunderstorms, said Gerald Meadows, a meteorologist with the National Weather Service in Hanford. The greatest risk, he said, is from the southern edge of Tulare County and northern edge of Kern County north through the San Joaquin Valley.
Light LA rain expected to increase
Rain in Southern California was light Saturday but was expected to pick up again starting Monday evening, according to the National Weather Service.
Two-day precipitation levels in Los Angeles were around 1 inch in coastal and central areas and nearly 2 3/4 inches in the Opids Camp area of the Angeles National Forest as of 6 a.m. Saturday.
Big Bear and Lake Arrowhead saw about an inch of precipitation Friday and Saturday, most of it rain as temperatures stayed above freezing, according to the weather service. The San Bernardino Mountains have been pummeled by back-to-back storms that have blanketed the region with record snowfall, trapping residents, closing roads and making it difficult for rescue workers to get food and other supplies to those in need of help.
Another round of heavy, wet snow is expected to hit the Sierras and areas of high elevation mid-week, the weather service said. Officials reported about 32 inches of snow had fallen by Saturday morning at the Mount Rose ski resort on the edge of Reno, Nevada.