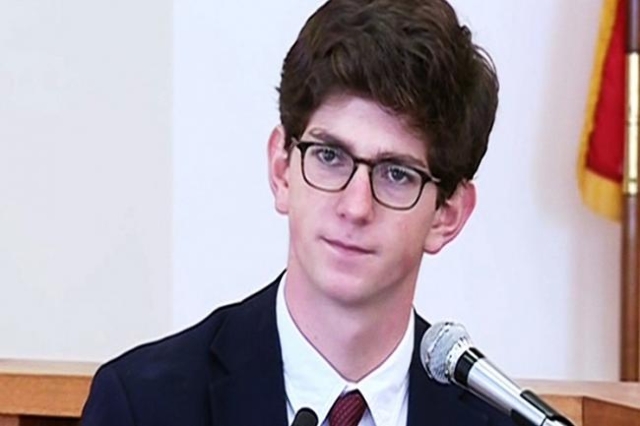 A former New Hampshire prep school student convicted in the sexual assault of a fellow student will spend one year in jail, a judge ruled Thursday.
Owen Labrie, 19, will also be on probation for three years after he is released and undergo another psychosexual risk evaluation, Judge Larry Smukler ruled.
Labrie was convicted in August of five counts, including one felony, regarding the 2014 encounter at the elite St. Paul's School in Concord. At the time of the assault, the accuser was 15 and Labrie was an 18-year-old senior.
Authorities said the encounter was part of a school tradition called the "Senior Salute" in which seniors sought to have sexual encounters with younger students — though the school has denied that such a tradition exists.
Labrie was acquitted of the most serious counts of aggravated felonious sexual assault. But he was convicted of a felony — the use of an online service to seduce, solicit or entice a child under 16 in order to commit sexual assault.
He also was convicted of three counts of misdemeanor sexual assault and child endangerment. His conviction requires him to register on a sex offender list.
Before the sentencing, prosecutor Catherine J. Ruffle argued that Labrie's victim was "a sexual conquest."
"This was a mission for him," she said. "And it was a game."
She read several Facebook messages from Labrie filled with profanity and violently degrading comments about girls.
She stressed that the judge should not allow Labrie to return to the community unless he goes through sexual offender therapy as the state of New Hampshire sees fit.
Labrie has shown a lack of consideration of any kind about the defendant, she said. He has only been concerned with himself and even tried to delete Facebook messages that he thought could be incriminating. For that, Ruffle said, police could charge him later for destruction of evidence.
The teenager that Labrie was accused of raping was not in the courtroom for the hearing. An attorney read a statement from her. The judge asked CNN affiliates not broadcast that.
'We no longer see good in the world'
But statements from her mother, sister and father were broadcast. They talked about how the experience affected everyone in their family.
"In raping our child, Labrie robbed our entire family of so much of what he valued," her mother wrote.
The family's "normal" is no more, she said. "We no longer see good in the world … instead [we've] witnessed evil."
Despite the trauma and loss the victim has endured and the family has gone through, the mother wrote: "We continue to be so proud of our daughter that that she has had the strength to remain courageous to stand up to labrie …"
In his statement, the victim's father said that the experience created "an empty void" where he used to "feel trust."
He said the family has endured "needless pain and loss" and he feels "sorrow" not just for his daughter but the many people who have been sexually assaulted everywhere.
Survivors have reached out to the family to offer their support, the father said.
He also offered that he felt a "sense of worthlessness" because he did not prevent what happened to his daughter and shield her from threats and insults on the Internet directed at her and family members or protect her from the intrusive nature of the justice system.
Labrie's defense attorney, J.W. Carney Jr,. told the court that his client was raised by a single mother who worked as a teacher. Labrie "wanted to be accepted at St. Paul's School" and that his client felt like an "outsider."
The teenager excelled academically, he said, and wanted very much to enter the clergy after graduating from divinity school.
Ahead of Thursday's sentencing in a New Hampshire courtroom, Labrie's attorney filed a document asking that the judge sentence Labrie only to probation, with conditions that would include counseling and community service.
The filing, which includes letters of support from his peers, notes that he voluntarily participated in a psychosexual risk evaluation and that the psychologist who examined him recommended that he not be required to register as a sex offender.
Labrie testified during the trial that the encounter in an attic room at the school was consensual but that there was no intercourse.
He testified that items of clothing were removed, but that the two kept their underwear on. The accuser, now 16, testified that Labrie penetrated her with his fingers before raping her. The prosecutor in the case argued that it was a carefully planned sexual assault.
The trial brought unwanted attention to the elite school, the alma mater of Secretary of State John Kerry and half a dozen congressmen.