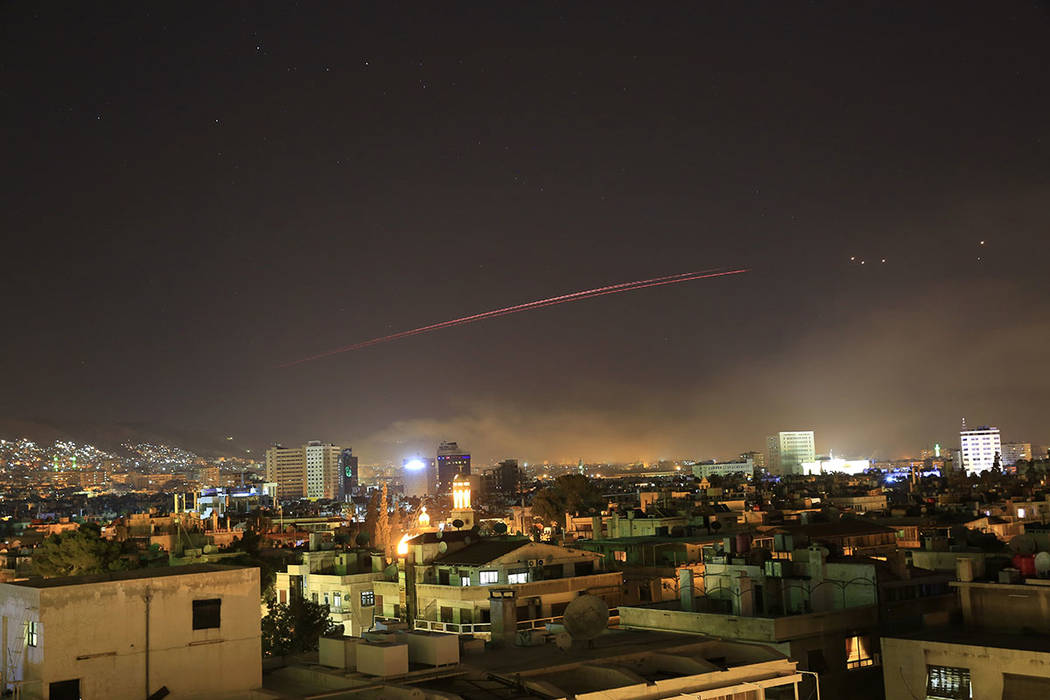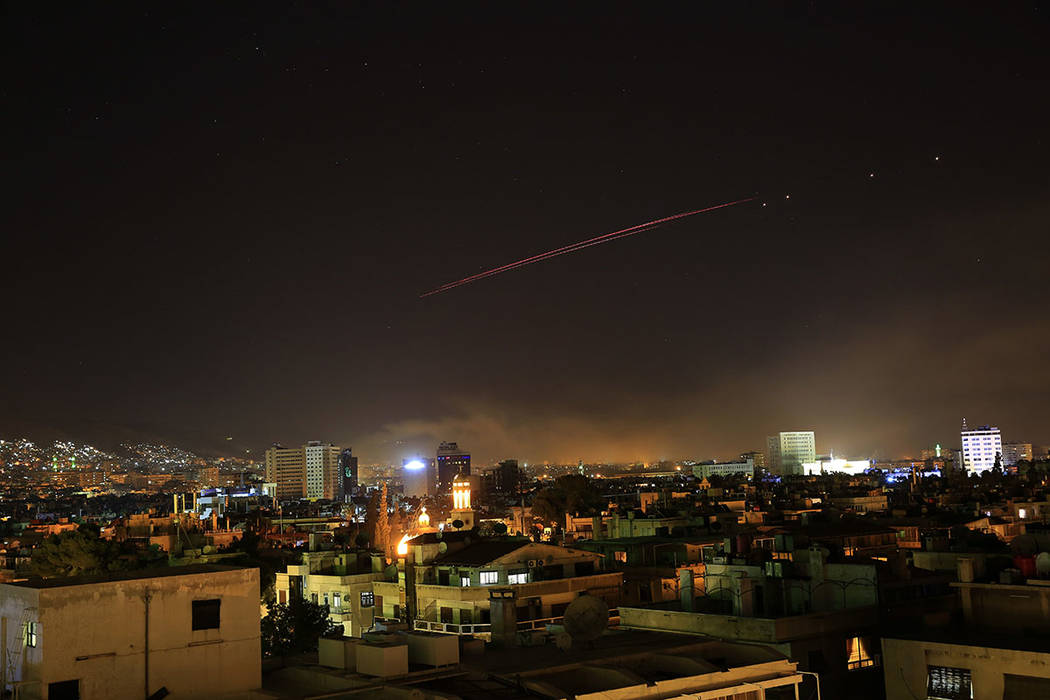 WASHINGTON — President Donald Trump told the nation Friday night that he ordered U.S. armed forces to launch "precision strikes on targets associated with the chemical weapons capabilities" of Syrian President Bashar Assad in retaliation for a chemical weapons attack that killed some 40 Syrians last weekend.
Explosions lit up the skies over Damascus, the Syrian capital, as Trump spoke from the Diplomatic Reception Room in the White House.
Syrian television reported that Syria's air defenses, which are substantial, responded to the attack. Defense Secretary Jim Mattis said there were no reports of U.S. losses in what he described as a heavy but carefully limited assault.
In his address, Trump recalled a similar strike he ordered last year in retaliation to a chemical attack on Assad's "own innocent people." Trump ordered the April 2017 attack from his winter home in Mar-a-Lago in Florida, where he was entertaining Chinese President Xi Jinping.
Friday's response was different, a somber Trump explained, because U.S. forces were working with French and British allies. And this time, Trump said, "We are prepared to sustain this response until the Syrian regime stops its use of prohibited chemical agents."
Mattis, however, said the assault was a "one-time shot," so long as Assad does not repeat his use of chemical weapons.
By air and sea
The strikes were carried out by manned aircraft and from ships that launched cruise missiles from the Mediterranean Sea.
Mattis disclosed that the U.S. had not yet confirmed that the most recent suspected Syrian chemical weapons attack, on April 7 in the Damascus suburb of Douma, included the use of sarin gas.
He said at least one chemical was used — chlorine, which also has legitimate industrial uses and had not previously triggered a U.S. military response.
Mattis said the targets selected by U.S., British and French officials were meant to minimize civilian casualties.
"This is difficult to do in a situation like this," he said, in light of the volatility of chemical agents.
At a Pentagon news conference alongside Mattis, and with British and French military officers beside them to emphasize allied unity, Gen. Joseph Dunford said the attacks targeted mainly three targets in western Syria.
Dunford, chairman of the Joint Chiefs of Staff, said missiles first struck a scientific research center in the Damascus area that he said was a center of Syrian research, development, production and testing of chemical and biological warfare technology.
The second target was a chemical weapons storage facility west of Homs. He said this was believed to be the main site of Syrian sarin and precursor chemical production equipment.
The third target was a chemical weapons equipment storage facility and an important command post, also west of Homs, Dunford said.
British Prime Minister Theresa May said in London that the West had tried "every possible" diplomatic means to stop Assad from using chemical weapons. "But our efforts have been repeatedly thwarted" by Syria and Russia, she said.
"So there is no practicable alternative to the use of force to degrade and deter the use of chemical weapons by the Syrian regime," May said. "This is not about intervening in a civil war. It is not about regime change."
French President Emmanuel Macron said in a statement that a target of the strike was the Syrian government's "clandestine chemical arsenal."
The Syrian government has repeatedly denied any use of banned weapons.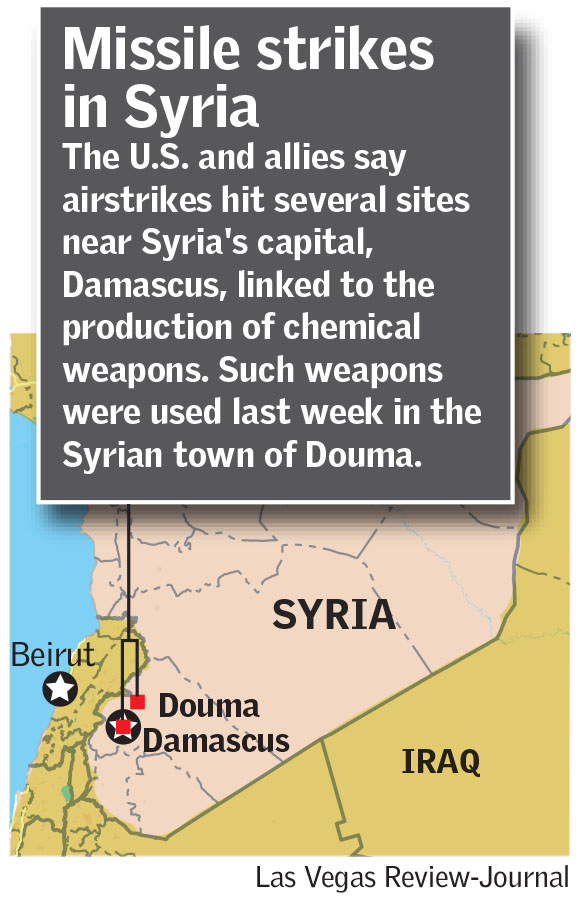 Calling out Iran, Russia
Trump, May and Macron spoke on the phone this week about a joint response to the Syrian conflict.
While Trump denounced Assad alone when he announced the 2017 strike, on Friday he called out Iran and Russia, "the two governments most responsible for supporting, equipping and financing the criminal Assad regime," for their association with "the mass murder of innocent men, women and children."
This month, Trump reportedly was pushing the Pentagon to remove U.S. troops from Syria. Days later, chemical weapons left dozens of Syrians dead in Douma. An appalled Trump responded much as he did in April 2017. On Twitter, Trump warned that an attack was imminent.
"Never said when an attack on Syria would take place," the president tweeted Tuesday. "Could be very soon or not so soon at all! In any event, the United States, under my Administration, has done a great job of ridding the region of ISIS. Where is our 'Thank you America?' "
Contact Debra J. Saunders at dsaunders@reviewjournal.com or 202-662-7391. Follow @DebraJSaunders on Twitter. The Associated Press contributed to this report.