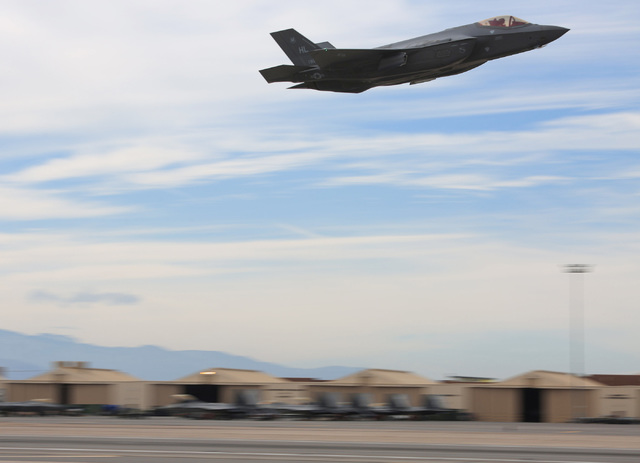 The stealthy F-35 fighter jets made by Lockheed Martin were temporarily grounded Friday at an Air Force base in Arizona because of irregularities in pilots' oxygen supplies, an Air Force spokesman said.
Training flights were scheduled to resume Monday after a day of safety briefings at the base Friday, a base spokeswoman said.
Lockheed Martin plans to demonstrate the advanced jet at the Paris Air Show this month.
At Luke Air Force Base, northwest of Phoenix, the 56th Fighter Wing canceled local flying operations for its F-35A Lightning II aircraft because of five incidents in which pilots experienced symptoms resembling hypoxia, or oxygen deprivation, according to Air Force spokesman Capt. Mark Graff at the Pentagon.
The Air Force said that the incidents occurred from May 2 to Thursday and that in each case the aircraft's backup oxygen system worked as designed and the jets landed safely. The base typically has25 training flights each weekday, the base spokeswoman said.
The Pentagon said it was comprehensively reviewing the facts and circumstances with industry experts.
A Lockheed representative said the company would help the Air Force address the issue.
The F-35 business accounted for about 37 percent of Lockheed's total revenue during the last fiscal quarter, which ended March 30.
During the quarter, Lockheed's revenue from its aeronautics business increased 8 percent to $4.11 billion, led by higher sales of the F-35.
Lockheed and its main partners, Northrop Grumman, United Technologies' Pratt &Whitney and BAE Systems, have been developing and building F-35s for the U.S. military and 10 allies.
More than 220 operational F-35s have been built and delivered worldwide, and they have collectively flown more than 95,000 flight hours.
Nellis' F-35s keep flying
More than a dozen F-35 Lightning II joint strike fighter jets at Nellis Air Force Base continued normal flight operations Friday.
"The physiological issues reported appear to be limited to Luke Air Force Base," Nellis spokeswoman Lea Greene said in an email response to the Las Vegas Review-Journal.
She said officials are not aware of any F-35 pilots complaining of oxygen deprivation at Nellis.
"The safety of our pilots is top priority," Greene said. "We will continue to monitor operations, communicate with our Airmen and the F-35 community, and will implement recommendations that may come as a result of the investigation into the incidents … at Luke Air Force Base."
Currently, as many as 14 F-35 Lightning II joint strike fighters fly to the Nevada Test and Training Range routinely from Nellis. Eleven are operated by the 422nd Test and Evaluation Squadron, a tenant squadron at Nellis that is part of the 53rd Wing in Florida. But three are in use by the Air Force Weapons School for graduate-level "Top Gun" training.
Keith Rogers Las Vegas Review-Journal