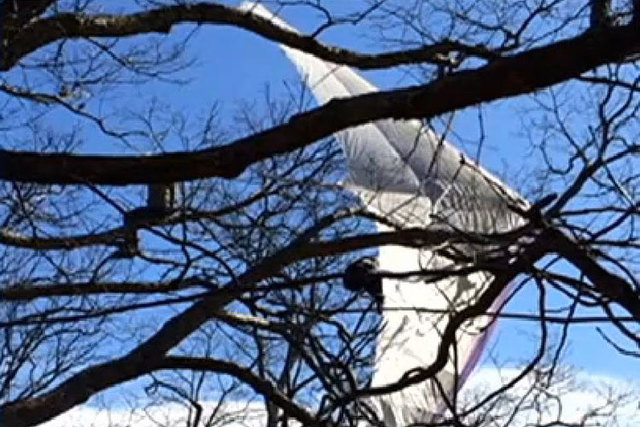 Two hang gliders crashed at The Cliffs at Glassy Mountain near Landrum, South Carolina, on Sunday, leaving one stranded in a tree.
Jarrod Parker with the Glassy Mountain Fire Department said one hang glider was trapped in a tree about 15 feet off the ground. Emergency services crews used rope rescue members to help get him to the ground.
Parker said the other hang glider was able to get himself down from the tree.
"It's nothing short of a miracle" was the reaction from fellow hang gliders who witnessed the crash.
"He was hit by a guest of wind that pushed him into the mountain and into trees," a witness told WHSN TV.
"It did it to me, but I was able to get out of it. Frank apparently was not," hang glider Richard Schnedl said.
The two men took flight at the top of the cliff.
"That's just the nature of the beast," Schnedl said.
Experts said how he landed could have been a matter of life and death.
"He had the presence of mind as he was flying into the trees to grab on to a large branch and not let go," a witness said. "He ended up clinging to it, and he was able to unfasten himself from the harness that holds him into his glider, let it fall away, but he was 80 feet high over a cliff and with boulders below him. And he just ended up like a partridge in pear tree perched on this limb."
The man was stuck in the tree for three hours.
"It's just a helpless feeling," Schnedl said.
The fire department said the rescue effort required multiple agencies to perform a daring rope rescue to get him down.
Official say no one was seriously injured in the crash and that both men walked away with minor scrapes and bruises.