Here's how Las Vegans can help the Orlando nightclub shooting victims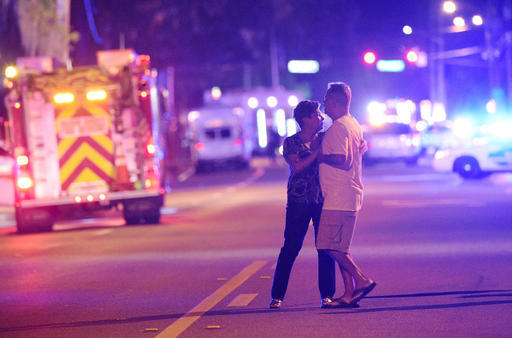 In the hours after a gunman entered an Orlando nightclub early Sunday morning killing 49 people and injuring 53 more, many people across the country took to social media to express condolences for the victims and their families, including Nevadans.
Although Orlando is more than 2,300 miles from Las Vegas, there are still many ways Las Vegans can help the victims, the injured and the families involved.
FUNDRAISERS
Equality Florida, the largest LBGT advocacy group in Florida, has set up a gofundme page, which has become the official fund page for the Pulse Victims.
"We are reeling from the tragic news that a gunman opened fire on the 2am capacity crowd at Pulse…We are heartbroken and angry that senseless violence has once again destroyed lives in our state and in our country," Equality Florida wrote in the description of the page. "Every penny raised will be distributed directly to the victims and their families."
The group's initial goal of $500,000 was met within hours, according to CNN, and the goal has been increased to $2.5 million — donations had reached $1.9 million as of late Monday morning.
"The amount of love and compassion felt around the world towards the victims and their families of the Pulse shooting is a testament to the incredible good is in the world," Equality Florida wrote on the page. "Thank you for your contributions."
To donate, visit: gofundme.com/pulsevictimsfund
CrowdRise, a fundraising site, has set up a page for Pulse victims. The page lets you donate directly to a Pulse Orlando Relief Fund along with many other funds to benefit the Pulse victims.
To donate, visit: crowdrise.com/Pulse-Orlando-Relief-Fund
Planting Peace, a nonprofit organization, has also started a CrowdRise page for Pulse victims. The page, We Stand with Pulse, notes that money raised will be used to help "with medicals bills and the funeral costs of the victims of this senseless and heartbreaking act of terror."
As of Monday morning, Planting Peace had raised nearly $40,000 for Pulse victims.
To donate, visit: crowdrise.com/we-stand-with-pulse-fund
TRAVEL HELP
Equality Florida is also working with a network of airline employees to help loved ones of Pulse victims looking for travel assistance. More information can be obtained by emailing Equality Florida's Human Resources department at hr@eqfl.org.
BLOOD DONATION
Sunday many people flocked to local blood banks in Orlando to offer their blood in hopes to help the injured. OneBlood, the local blood bank in the area, quickly meet their need Sunday after the overwhelming response, according to CNN. OneBlood has also asked that people in the area wait until later in the week to donate after the large response, according to Equality Florida's website.
OneBlood, whose service area is only in Florida and small areas of surrounding states, doesn't collect blood in Nevada or host local blood drives. Although blood donated in Nevada through other drives and blood banks likely won't make it to Orlando, it will still be used locally and can help inspire a global effort.
To donate locally, visit:
Southern Nevada
Northern Nevada
Contact Kira Terry at kterry@reviewjournal.com. Find her on Twitter: @kiraterry
RELATED
50 dead, 53 injured after shooting at Orlando nightclub
7 Orlando nightclub shooting victims' names and ages released by city
Las Vegas LGBT center to hold vigil for Orlando shooting victims
Nevada reacts to Orlando nightclub shooting
'Heavily armed' man arrested near LA Pride parade
Lawmakers talk gun control after Orlando nightclub shooting
Orlando nightclub was sister's tribute to gay brother who died of AIDS
'Hamilton' performance at Tony Awards will drop use of muskets after Orlando shooting