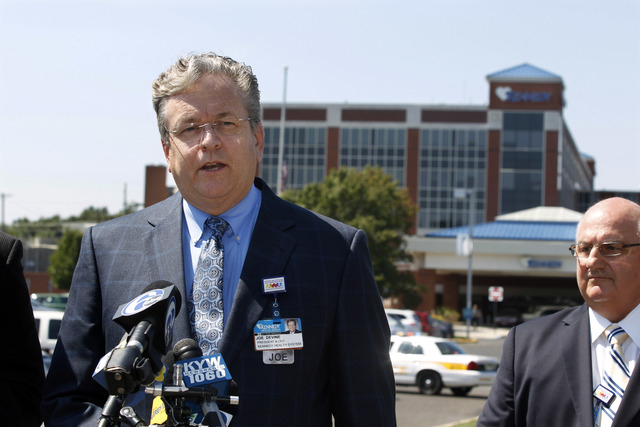 STRATFORD, N.J. — A man shot and killed his hospitalized wife on Wednesday and then tried to kill himself, prompting investigators to search their home, where their son was found fatally shot, authorities said.
The Camden County prosecutor's office was investigating whether the same handgun was used in the two deaths and in the man's suicide attempt.
Raymond Wychowanec signed in at Kennedy University Hospital in Stratford, a Philadelphia suburb, at about 9:25 a.m. to visit his wife, officials said.
Hospital staff members said in initial interviews that they did not hear arguing or anything amiss from the woman's second-floor room until 10:10 a.m., when they heard two shots fired, said Capt. Ron Moten, of the county prosecutor's office. The shots killed 62-year-old Denise Wychowanec, authorities said.
When hospital staffers entered the room, 63-year-old Raymond Wychowanec shot himself, authorities said. He was flown to another hospital, where he was being treated for life-threatening injuries.
Authorities visited the couple's home in nearby Glendora as a routine step in their investigation, Moten said. There, they found the body of the couple's 35-year-old son, Ryan Wychowanec.
Hospital officials would not say why the woman was hospitalized, but neighbors said she had long been using a wheelchair and ambulances had been at the couple's home lately.
Neighbors said they did not hear shots coming from the home. They said the couple's son, who worked as a researcher at the University of Pennsylvania, often stayed at the home. On Wednesday, there were piles of debris outside, and neighbors said sometimes there was even more junk in the yard.
Laura McCafferty, who has lived in the neighborhood for 18 years, said she did not see the mother or son much but spoke sometimes with Raymond Wychowanec, who she said cared for his wife.
"He was a nice man," she said.
She said he had worked at Atlantic City's Sands Hotel & Casino until it closed in 2006 and worked at a local Wal-Mart more recently. She said Denise Wychowanec fed cats in the neighborhood.
———
Follow Mulvihill at http://www.twitter.com/geoffmulvihill