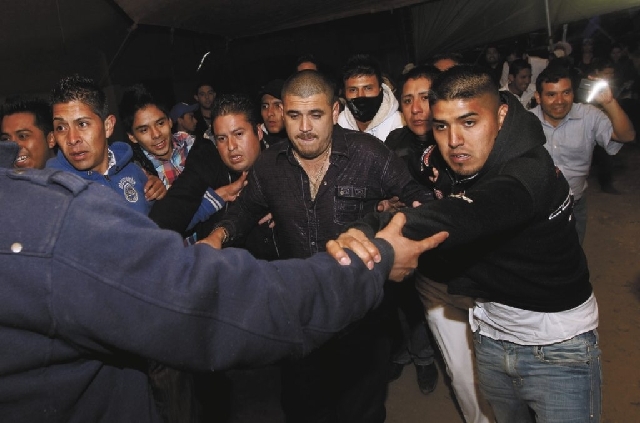 MEXICO CITY — Mexican authorities seeking to ban drug ballads known as "narco-corridos" have levied one of their stiffest punishments yet against the music, fining concert promoters 100,000 pesos (almost $8,000) for a weekend performance in the northern city of Chihuahua.
Authorities said Friday the city-imposed fine was for a performance Saturday by Alfredo Rios, better known as "El Komander," one of the best-known singers of the "Altered Movement" genre whose lyrics frequently focus on shootouts, killings and guns.
Thousands of people in the border state of Chihuahua have died in drug-related violence in recent years, and starting about three years ago, authorities in the state capital decided to try to discourage songs that glorify drug trafficking or crime.
Javier Torres, the Chihuahua City assistant government secretary, said the concert promoters had been forced to forfeit a 100,000-peso deposit they posted prior to the weekend concert.
Torres said the money will be used to buy computers for community centers. It's not the first time that promoters have lost deposits after singers stepped out of bounds. In July, the organizers of a local fair lost a 97,000-peso deposit after the Tucanes de Tijuana performed some narco-corridos in Chihuahua City.
"In an atmosphere of violence, it's not right to have people glamorizing crime," said Torres. "That feeds this type of culture, above all among young people around high school age, who see these references to crime and think they're attractive."
"What we are doing is protecting society, protecting our citizens and our youth," said Torres. "(Crime) prevention is fundamental, and that can't be done with more gunfire."
There is little doubt that "El Komander" has glorified violence.
In one song "Cuernito Armani," a reference to a designer assault rifle, he sings, "My luck was with me, a bullet pierced their driver, their truck flipped over, they couldn't do me any more harm."
Some other lyrics, such as those of "Tachycardia," celebrate drugs. "Go get the jugs to get the drunkenness going, go get some floozies to enjoy, and don't forget my additive, you know I'm a cocaine addict."
It was unclear which of the songs violated city rules, but Torres said "there were five or six songs that reflected criminal acts, or glorified drug trafficking."
Omar Valenzuela, Rios' manager, acknowledges that "El Komander" has built a reputation.
"When he comes on to sing, people see him as a real big Mafia hotshot, even though he isn't," Valenzuela said. Age, marriage – and perhaps a well-founded fear – have changed him.
"His songs have changed a lot … Now that he's getting radio play, he has some love songs out," Valenzuela said. "He shows a lot of respect for the cities (where he performs), and for his own life. We wouldn't want anyone to get mad, so there a lot of songs he doesn't sing anymore."
A number of famous Mexican banda and norteno singers have been killed in recent years, and some of the killings have been attributed to drug capos angered by the musicians' songs or personal life.
But the whole idea of trying to censor songs irks Valenzuela.
"This censorship is a big fat lie," Valenzuela said. "The politicians can tell the press they're banning this … but they continue to listen to it. The police who stop us on the street ask for records."
"A lot of people from the government, the federal police, the security forces, were sitting there enjoying it, drinking wine when El Komander sang," Valenzuela said. "They even requested songs."
Concert organizers seem to have accepted the lost deposits as one of the prices of bringing well-known acts to the city. And Rios, who didn't have to pay any fine, has no plans to change his repertoire.
"Alfredo is more worried about what his fans want, than what the governor or the press says," said Valenzuela.
—- Associated Press Writer E. Eduardo Castillo contributed to this report.