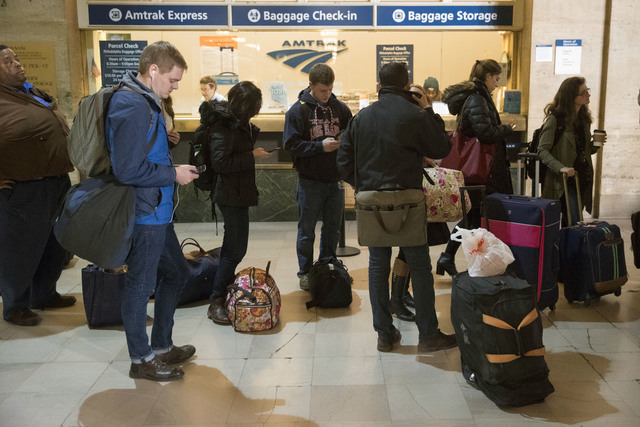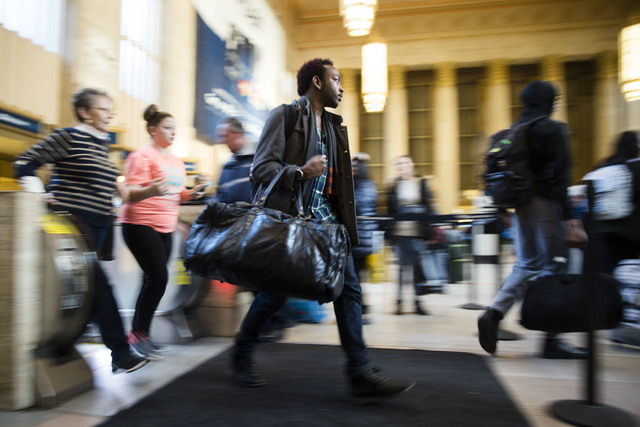 CHICAGO — Elizabeth Thompson can't wait to leave the big city behind and decompress over the Thanksgiving holiday at her grandmother's house in rural south-central Indiana. But first she has to get there.
On Wednesday, Thompson, 23, missed her Amtrak train from Chicago to Galesburg, Illinois, where she'd planned to catch a ride with a family member the rest of the way to Edinburgh, Indiana.
"It's just where we go to unplug and escape," said Thompson, who had to decide whether to wait several hours for the next train or hop on a bus and get going.
Americans took to the roads, air and railways Wednesday for what is expected to be the busiest Thanksgiving travel period in almost a decade. Almost 49 million people are expected to travel 50 miles or more between Wednesday and Sunday, the most since 2007, because of lower gas prices and an improving economy, according to AAA.
Las Vegas is expected to be the top destination for travelers this weekend, followed by San Francisco, San Diego, Orlando, Florida, and New York, according to AAA's travel forecast.
Roughly 318,000 people are expected to visit the Las Vegas Valley during the holiday weekend, with about 60 percent of those travelers making the trip by car, said Tony Illia, a spokesman for the Nevada Department of Transportation.
Out-of-town visitors are expected to spend about $201.1 million on food, hotels and gambling from Thursday to Saturday, a 0.4 percent increase from the same time last year, according to Las Vegas Convention and Visitors Authority figures. Of the 149,086 total available hotel rooms in the region, 92.6 percent will be occupied for the weekend, the authority said.
About 1.2 million travelers are projected to pass through McCarran International Airport from Nov. 19 to Nov. 28, airport spokeswoman Christine Crews said. Roughly 737,000 airline passengers will come through the airport during the five-day holiday travel period that started Wednesday — as tracked by the travel industry — a 7 percent jump from the same time last year.
No flight delays were reported as of 11:40 a.m. Wednesday at McCarran, where lines at the ticketing counters and security checkpoints appeared to be short and moving along quickly, Crews said.
Traveling through McCarran started earlier this year because local families are taking advantage of a change in the holiday schedule for the Clark County School District, where students are off the entire week for Thanksgiving.
The busiest day at McCarran is expected to be Sunday, with about 140,000 travelers leaving Las Vegas or returning home, Crews said. The least busiest time will be Thanksgiving Day, with about 90,000 passengers coming in and out.
While travellers may look forward to eating turkey and watching football on Thursday, many are ready to abandon another, more recent, American pastime: rehashing the rancorous election between Republican Donald Trump and Democrat Hillary Clinton.
"My mother specifically said, 'We're not going to talk about it,'" for her grandmother's sake, Thompson said. "My grandmother is sick of hearing about it."
Kevin Baumann, a 47-year-old boilermaker from Spokane, Washington, is able to join his family for Thanksgiving for the first time in two years, so politics was the last thing he wanted to discuss.
"We'll avoid it," said Baumann, who stopped in central Montana Tuesday on his way home, after working on a coal plant in Iowa. "We've got bigger things to talk about during the holidays."
James Arnold, 18, a freshman at Eastern University near Philadelphia, expects that the election will be a big topic of conversation during Thanksgiving dinner at his family's home in Silver Spring, Maryland.
"My family loves to talk about things together and the election is something huge," he said Tuesday while waiting for a train.
"Every holiday they sit down and talk about things like that," he added. "It's going to be interesting."
The weather appeared to be cooperating for the most part, with no significant issues, National Weather Service meteorologist Amy Seeley said. There was light rain in Chicago, a major airline hub, but delays were only averaging 15 minutes, according to the Chicago Department of Aviation.
"It looks pretty quiet across the country today; I'll take it," Seeley said.
For those who didn't want to drive, Amtrak was adding some extra trains Wednesday and Sunday between Chicago and Milwaukee, its biggest Midwest corridor, spokesman Marc Magliari said. Some Midwest trains have been sold out for several days, he said.
Amtrak CEO Wick Moorman said the railroad was prepared to handle extra riders.
"This is a day when we need everything to go right in order to not have a serious issue with delays, with folks being backed up into stations," Moorman told reporters at New York's Pennsylvania Station. "Knock on wood when I say this, everything's going well."
Staff Writer Art Marroquin contributed to this report.