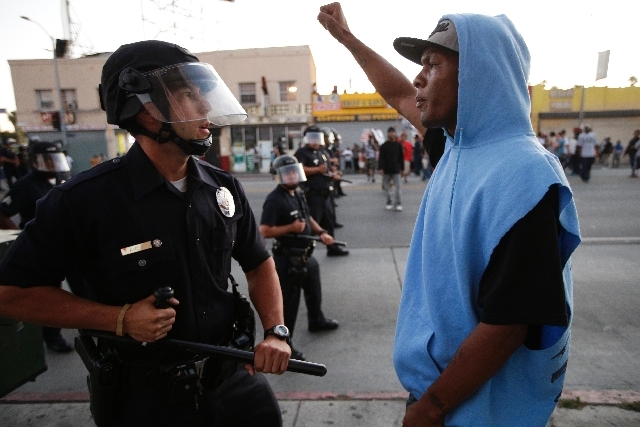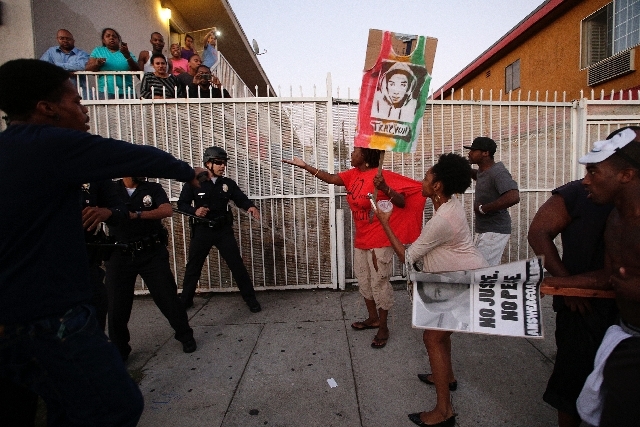 LOS ANGELES — Disturbances spiraling out of Los Angeles street protests against the acquittal of George Zimmerman in the killing of Florida teenager Trayvon Martin will not be allowed to continue, city leaders vowed Tuesday after a spate of vandalism and assaults that led to 14 arrests.
"We cannot allow a small group of individuals to not only damage the community, strike fear in the community but also distort the message of so many in this community including on this Police Commission," Chief Charlie Beck told the Police Department's civilian overseers.
Demonstrations began occurring in California Saturday evening, when word of the Florida verdict arrived. Trouble has repeatedly occurred in Oakland and in Los Angeles, particularly in the Crenshaw district southwest of downtown.
On Monday night, about 150 people split off from a demonstration at a Crenshaw-area park and ran through streets, jumping on cars, trying to break store windows and committing assaults. A Wal-Mart store was vandalized by intruders.
TV news helicopters showed some people kicking and punching others along a street, including two people sitting on a bus bench.
Also assaulted were a reporter and photographer for Los Angeles TV stations KCBS and KCAL who were interviewing a man when someone tackled them and ran off. KCBS-KCAL reported the crew was treated for minor injuries.
In Oakland, meanwhile, demonstrators split off from a gathering at City Hall Monday evening, briefly blocked Interstate 880, tried to march onto Interstate 580, threw fireworks and assaulted a restaurant waiter with a hammer, the Oakland Tribune reported.
Police used flash-bang grenades and made nine arrests for crimes including assault with a deadly weapon and vandalism, police spokeswoman Johnna Watson said. Witnesses told the Tribune that a protester was also injured by a police projectile.
More than 300 police officers responded to the Los Angeles demonstration. They initially were slow to directly engage protesters in an attempt to allow a peaceful end to the demonstration, according to Beck.
"What we've been doing the last couple days is being as accommodating as we can be to people," said Cmdr. Andrew Smith, a police spokesman. "We're really allowing people to express themselves, which we continue to do."
But Beck said the department was being forced to change its enforcement tactics, including requiring a city permit for any gathering.
Los Angeles Mayor Eric Garcetti told a late-night press conference that the trouble was caused by people exploiting the situation.
"The trial that we saw in Florida has ignited passions but we have to make sure that it will not ignite the city," Garcetti said.
"The Martin family didn't ask anybody to break car windows," he added. "They didn't ask anybody to take little kids' scooters. They didn't ask anybody to attack businesses and they certainly didn't say to take over traffic in the streets."
Councilman Bernard Parks, who is a former police chief, joined Garcetti in urging only lawful behavior.
"We've gone through in my tenure at least two major riots," he said. "Many of the areas that were burned have never really recovered and these are things that we don't want to experience as a city."
—
AP writers Raquel Maria Dillon, Robert Jablon and John Antczak contributed to this report.
Juror: Zimmerman jury was initially split
A woman, known as Juror B37, told CNN's Anderson Cooper on Monday that when the jury began deliberations Friday three jurors- including B37 – were in favor of acquittal, two supported manslaughter and one backed second-degree murder. She said the jury started going through all the evidence, listening to tapes multiple times.
"That's why it took us so long," said B37.
When they started looking at the law, the person who initially wanted second-degree murder changed her vote to manslaughter, the juror said. Then they asked for clarification from the judge and went over it again and again. B37 said some jurors wanted to find Zimmerman guilty of something, but there was just no place to go based on the law.
B37 said jurors cried when they gave their final vote to the bailiff.