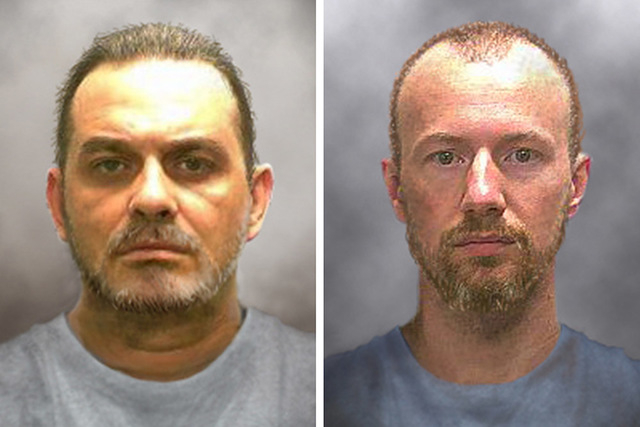 NEW YORK — No members of prison escapee Richard Matt's family have met a deadline to claim his body and he may now be buried by the New York county where he was gunned down by a federal agent after nearly three weeks on the run, officials said Wednesday.
Matt was no longer a ward of the state when he was killed Friday after escaping on June 6 from the Clinton Correctional Facility in Dannemora, N.Y., and will not be buried at the prison's cemetery, Franklin County Coroner Bryan Langdon said.
Matt, 49, and David Sweat, 35, both convicted killers, fled the maximum security prison in an elaborate escape in which they cut through their cells, slithered through a steam pipe and emerged from a manhole outside the prison walls.
Megan Avery, spokeswoman for Alice Hyde Medical Center in Malone, where Matt's body was transferred following an autopsy on Saturday, said his daughter has declined to claim the body and that his son, Nicholas Harris, has not yet responded.
Harris could not be reached by Reuters for comment. Buffalo's WIVB News 4 reported on Tuesday that Harris said he intends to claim his father's body but Avery said a midday Tuesday deadline for doing so had passed.
She said the hospital is now proceeding with an unclaimed burial, which would be handled by Langdon.
Matt was fatally shot by a U.S. Border Patrol agent on Friday in thick woods in Malone, in Franklin County, about 27 miles from the prison in neighboring Clinton County.
Sweat was shot and captured by New York State Police on Sunday about 2 miles from the Canadian border. He remained hospitalized in fair condition Wednesday.
Like burials at Clinton Correctional cemetery, which include a graveside service and prayers from the prison's chaplain, Matt's burial will be simple and respectful, said Langdon, who has supervised many unclaimed burials before.
"They're very simple burials," Langdon said. "They're proper. They're done with dignity. I would be proud to be part of it."