Pence addresses Israeli Knesset, draws ovation and some jeers
January 22, 2018 - 4:04 am
Updated January 22, 2018 - 4:07 pm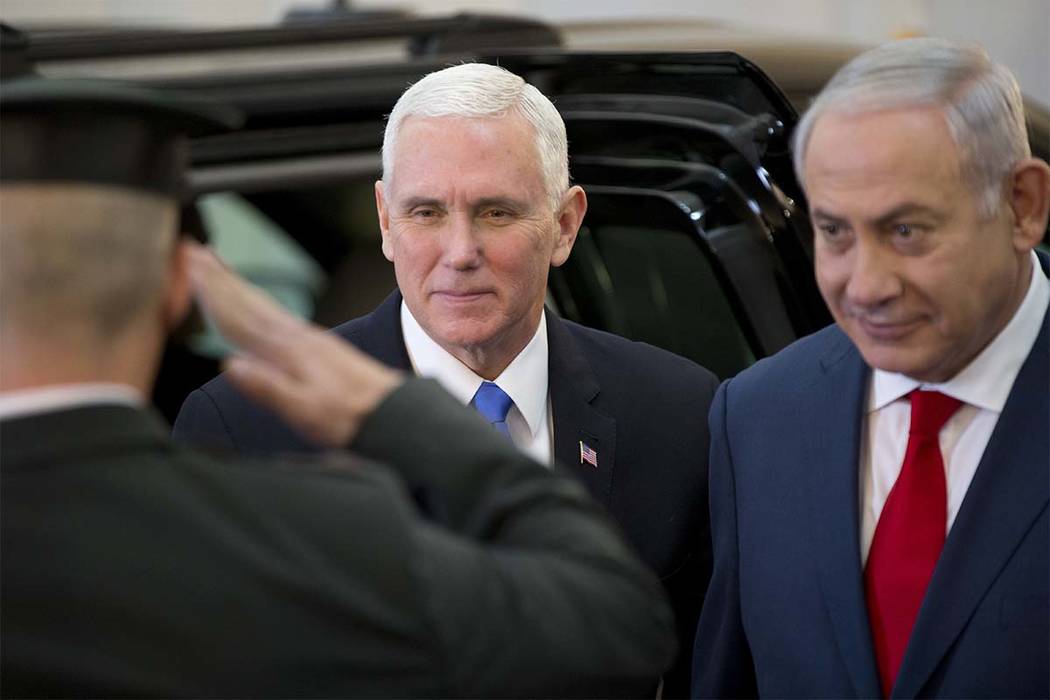 JERUSALEM — Vice President Mike Pence on Monday told Israel's Knesset that a new U.S. embassy would open in Jerusalem "before the end of next year," drawing a standing ovation and some jeers from Israeli lawmakers.
Pence's address to the Israel parliament indicates that President Donald Trump meant business on Dec. 6 when he announced plans to move the embassy from Tel Aviv.
The Trump administration billed the decision to move the embassy and recognize Jerusalem as the capital of Israel as a "recognition of reality," but the announcement horrified western European leaders, some U.S. lawmakers and Palestinians, who also view the city as their capital.
Jerusalem was the last stop of Pence's first trip to the Middle East as vice president.
The trip began with quick stops in Cairo and Jordan, where the vice president and his wife, Karen, spent the night Saturday. Both Egyptian President Abdel-Fattah el-Sissi and Jordanian King Abdullah II have made clear their countries' opposition to Trump's embassy decision.
But during his 48 hours in the Israeli city at the heart of the controversy, the vice president had every reason to expect to be hailed as a conquering hero.
Prime Minister Benjamin Netanyahu did not disappoint. Netanyahu received Pence, on his fourth visit to Israel, at his offices, where the two leaders reviewed and engaged in small talk with Israeli troops.
After a private one-on-one meeting, the two leaders gave statements in a small conference room packed with diplomats and dignitaries. For his part, a beaming Netanyahu marveled that it was the first time ever he met with another world leader and both of them could say "those three words, 'Israel's capital, Jerusalem.'"
My friend, @VP Mike Pence, welcome to Jerusalem – the capital of Israel. pic.twitter.com/kJS6NPzRpo

— Benjamin Netanyahu (@netanyahu) January 22, 2018
Pence's address to the Knesset was the first-ever made by an American vice president, according to Knesset spokesman Yotam Yakir. President George W. Bush was the last president to address the body.
Boycott and protest
Pence began his remarks in a room thinned by a boycott called by the Joint List of Arab-dominated parties – which left between 15 and 17 empty seats in the 120-member body, according to different reporters' counts.
When Pence spoke of Jerusalem's historic role, opposition members who did attend erupted. Some held signs in Arabic and English that read, "Jerusalem is the capital of Palestine." Knesset security escorted the protesting Knesset members out of the plenum.
Ayman Odeh, head of the Joint List, a political alliance of four Arab-dominated parties, later tweeted, "Proud to lead the Joint List in strong, legitimate protest, against the Trump-Netanyahu regime's exaltation of racism and hatred, who speak of peace solely as lip service. Our protest today in the plenum is in honor of all those who oppose the occupation and dream of peace."
Expressive Knesset members talked loudly after passages in Pence's speech with which they disagreed as other lawmakers shushed them.
Netanyahu called the Joint List protest "a disgrace."
With the steady tone of a preacher before his parish, Pence explained the case against Iran, ISIS and "radical Islamic terrorism." He repeated remarks he made in Egypt and Cairo about the Trump decision not affecting "contested borders" – which should be settled through mutual negotiation.
Pence also repeated the administration's position that Trump's decision to recognize Jerusalem as Israel's capital "is in the best interests of peace."
No meeting with Palestinian leader
When the trip was planned originally in December, Pence was supposed to meet with Palestinian leader Mahmoud Abbas, but Abbas canceled the meeting after Trump's announcement and did not reschedule a meeting when the White House moved the trip to January.
In a run-up to Pence's visit, Abbas declared the Oslo Accord, under which Israel and the Palestinian Liberation Organization recognized one another, was dead and warned that Trump's actions in the midst of his push for a big Mideast peace deal were "a slap in the face." He said the embassy announcement invited Palestinians to "slap back."
It was a far cry from May when Abbas appeared at the White House with Trump and stated that while a permanent solution had eluded others, Trump's dream of a "deal of the century" might be possible "under your great negotiating ability."
On Tuesday Pence will have a bilateral meeting with Israeli President Reuven Rivlin. Later the vice president and his wife plan to visit the Holocaust Memorial Yad Vashem and the Western Wall before they fly back to Washington.
Contact Debra J. Saunders at dsaunders@reviewjournal.com or 202-662-7391. Follow @DebraJSaunders on Twitter.