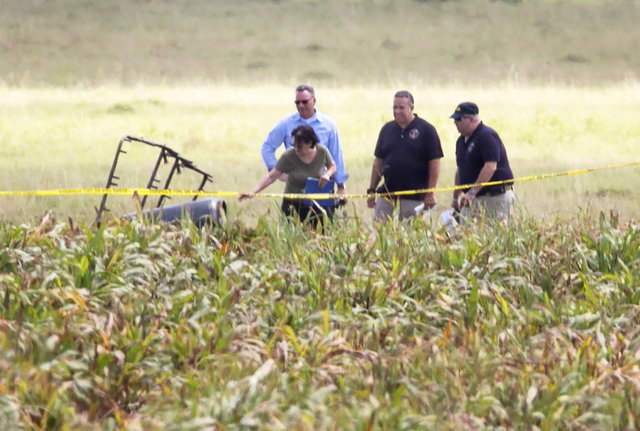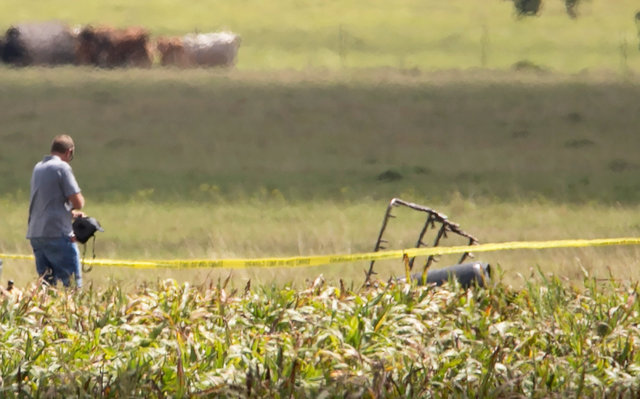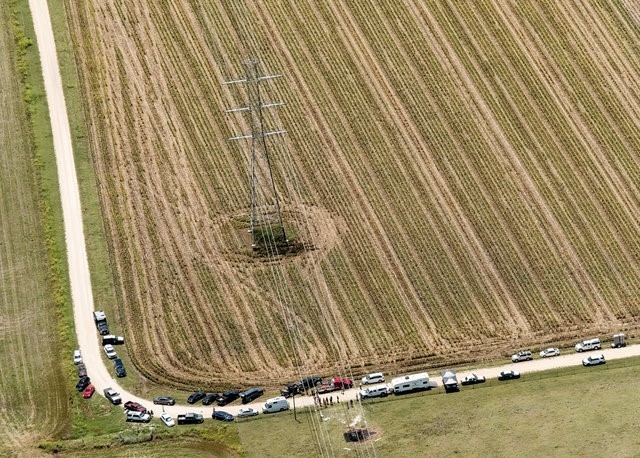 LOCKHART, Texas — The pilot of a hot air balloon that crashed in Texas, killing all 16 people aboard, was convicted of drunken driving at least four times in Missouri and twice spent time in prison, court records show.
A former girlfriend described Alfred "Skip" Nichols as a recovering alcoholic. She said the 49-year-old had been sober for at least four years and never piloted a balloon after drinking.
Nichols also had a long history of customer complaints against his balloon tour companies in Missouri and Illinois dating back to 1997. Customers reported to the Better Business Bureau's St. Louis office that their rides would get cancelled at the last minute and their fees never refunded.
Nichols pleaded guilty to driving while intoxicated in St. Louis County in 1990, then twice in 2002 and again in 2010, according to online court records.
He was also convicted of a drug crime in 2000 and spent about a year-and-a-half in prison before being paroled. He was returned to prison in April 2010 after his parole was revoked because of his drunken driving conviction that year. He was paroled again in January 2012.
The former girlfriend, Wendy Bartch, said Nichols "did not fly when he wasn't supposed to. Having other people's lives at stake was Skip's primary concern."
Authorities have not publicly named anyone killed in Saturday's crash, saying it could take a while to identify the bodies. But Nichols was identified as the pilot by his friend and roommate Alan Lirette, who said Nichols was a good pilot.
"That's the only thing I want to talk about, is that he's a great pilot," Lirette said, speaking to the AP from a house he shared with Nichols in Kyle, Texas. "There's going to be all kinds of reports out in the press, and I want a positive image there too."
Authorities say the balloon, which was operated by Heart of Texas Hot Air Balloon Rides, hit high-tension power lines before crashing into a pasture Saturday near Lockhart, about 60 miles northeast of San Antonio.
The National Transportation Safety Board is investigating. Board member Robert Sumwalt said the pilot was licensed to fly the balloon.
Between late 1998 and 2001, the Better Business Bureau said it had received more than three dozen complaints against Manchester Balloon Voyages, leading it to twice warn the public about the company.
Customers complained that canceled rides cost them $70 to $700. In one case, a Catholic nun celebrating her 50th anniversary of service had lost $364 that she paid toward a ride for her and three friends.
Then in 2008, after logging eight more complaints, the bureau issued a third warning about Nichols, who was then operating under the name of Air Balloon Sports. One complaint came from a woman who had paid $1,600 to take her family on a ride as a Christmas gift. The woman said Nichols would repeatedly cancel rides "even when the weather appeared calm and sunny," according to the bureau.
The St. Louis Post-Dispatch reported on the bureau's warning. When the newspaper asked Nichols to respond, he declined to comment.
Bartch, who said she met Nichols in St. Louis in 1989, said Nichols' alcoholism and criminal record caused tensions with his father, Alfred G. Nichols III, a decorated retired lieutenant colonel who piloted medical evacuation helicopters in the Vietnam War. According to a February 2016 online obituary, the elder Nichols was awarded a Purple Heart among other medals and had commanded a helicopter rescue unit at Fort Carson in Colorado.
Bartch said "there had been a mending" in Nichols' relationship with his father in recent years.
The younger Nichols had attempted to join the military but could not meet the physical requirements, Bartch said.
Bartch described Nichols as lighthearted, a follower of the Grateful Dead whose dogs, Zappa and Joplin, were named after two of his favorite musicians.
She said that after she and Nichols broke up, they remained friends, and she helped him move to Texas in 2014. In order to keep his St. Louis business going, he started offering flights in Texas in the winter when St. Louis was rainy and cold.
Federal Aviation Administration records indicate that the Texas company was involved in an accident with same balloon two years ago. On Aug. 3, 2014, the balloon made a hard landing in Kyle, Texas, when the pilot touched down abruptly to avoid striking a ground-crew vehicle that had been parked in the balloon's path. Two passengers were hurt.
It was not clear if Nichols was the pilot on that day.
Missouri court records show that Nichols in 2013 settled a personal injury lawsuit filed by one of eight passengers in a balloon that crash-landed in suburban St. Louis. The lawsuit blamed lack of propane. Nichols blamed lack of wind.
Although the baskets of many hot air balloons are limited to three to five people, some models used by sightseeing companies are much larger and can accommodate 20 people or more.
FAMILIES, FRIENDS SPEAK
Among the 16 people who were killed in the hot air balloon crash were a couple celebrating their 17th wedding anniversary and a researcher whose work focused on treating burn victims, grieving family members said.
Authorities haven't released the names of those who died when the balloon struck power lines and crashed Saturday morning near Lockhart, which is 30 miles south of Austin. But some family members have come forward to say their loved ones were aboard and to speak of the growing dread they felt in the hours after the crash as their frantic texts and voicemails went unanswered.
Josh Rowan said his brother and sister-in-law, Matt and Sunday Rowan, were among those killed. The couple, both 34, grew up in College Station and had been friends since high school, and had just gotten married in February, he said.
"All of us were sort of calling them and texting them and messaging them and just trying to get anything back and just sort of time went on and we didn't hear anything back," Rowan said, noting that authorities later told the family his brother and sister-in-law were aboard the balloon.
Matt Rowan was a researcher and scientist at Brooke Army Medical Center who served as chief of one of its research centers. His research centered on treating burn victims, and he had also taught college chemistry.
Sunday Rowan worked at a clothing store and had a 5-year-old son. Brent Jones, the boy's father, told Dallas television station KDFW that Matt Rowan was an amazing man and that Sunday Rowan was "obsessed with her son's happiness."
"They were really happy and they were in love and they were really starting a life together. They were amazing people and they were full of life and full of joy," Josh Rowan said.
Joe and Tresa Owens took the balloon ride as a belated anniversary present to themselves, his sister, Angie Nadolny of Mattoon, Illinois, said by phone Monday. The couple had been married 17 years and lived in Brookshire, west of Houston.
Nadolny said her brother posted a photo on social media saying he and his wife were about to go on a balloon ride and giving the same launch location as the one used for the ride that crashed. She said she and other family members kept trying to call her brother, but they never heard back.
She also said she's grown frustrated that authorities haven't revealed the identities of the victims in the crash, which is being investigated.
"No one at all, as far as any authorities, can tell me what happened to my brother," she said.
Nadolny said her brother, who was 42, was a butcher at the H-E-B supermarket, and that he was a warm man who made friends easily.
"He was a hard worker and loved his family very much," she said.
Tresa Owens worked at a daycare center in the Houston suburb of Katy. Cheryl Myers, the assistant director of Tiger Land Child Care, said Tresa Owens was a leader in their infant classrooms for more than 20 years.
"She knew what she was doing. She knew how to make things work. She was great with the parents," Myers said.
The daycare center released a statement saying that Holly Smith Huckabee, the mother of one of its teachers, was also killed in the balloon crash. A man who answered the door Monday at Huckabee's home in Katy said the family didn't want to speak.
ONE 9-1-1 CALL MADE
The person who called 911 following a hot air balloon crash that killed 16 people thought it was a vehicle fire in a remote patch of Texas countryside.
The Caldwell County Sheriff's office said Monday that there was only one call placed to 911 following the crash. Federal investigators say the call came a minute after powerlines were tripped at 7:42 a.m. Saturday. Investigators believe the balloon hit the powerline wires, killing everyone onboard.
In a recording of the 911 call, nearby resident Margaret Wylie reports seeing what she thinks is a vehicle fire in a pasture near Lockhart, a city south of Austin. She provides directions to the area to help responding firefighters.
She then adds: "The whole thing is in flames now."
Wylie told The Associated Press on Saturday that, "it was like a fireball going up."
RELATED
Balloon hit power lines before crashing, killing 16, officials say