National immigration reforms sought
April 26, 2010 - 11:00 pm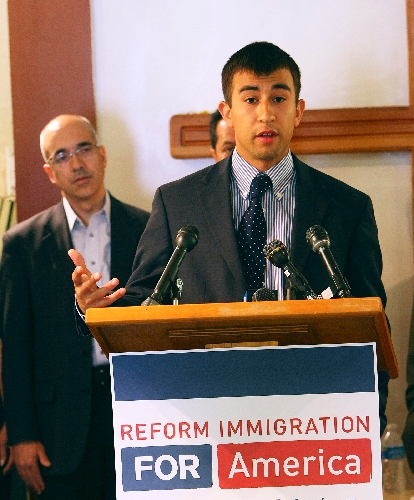 Local immigration reform advocates came back from weekend protests in Arizona with a clear message: what happened there won't fly in Nevada.
"People in Nevada are going to stand up," Michael Flores, Southern Nevada director of Reform Immigration for America, said at a Monday morning press conference at La Iglesia Amistad Cristiana, a church on Stewart Avenue at Ninth Street. "We're going to prevent anything like that from coming here."
Flores and other Southern Nevadans traveled to Arizona's state Legislature over the weekend to join thousands protesting a controversial new law that will make it a state crime to be in the country illegally. The law, which is set to take effect this summer, requires police to question people about their immigration status — including asking for identification — if they suspect someone is in the country illegally.
Opponents say such a law promotes racial profiling and will make people less likely to cooperate with police during investigations.
They also argue that it is unconstitutional, a violation of the Fourth Amendment which guards against unreasonable searches and seizures.
Supporters of the law said it is necessary to protect Arizonans from crimes committed by illegal immigrants. Arizona is home to an estimated 460,000 of them and is the nation's busiest gateway for people slipping into the country.
Republican Gov. Jan Brewer, who signed the bill on Friday, said Arizona must act because Washington has failed to stop the flow of illegal immigrants and drugs from Mexico. Brewer has ordered state officials to develop a training course for officers to learn what constitutes reasonable suspicion that someone is in the U.S. illegally.
Employees at Arizona's Capitol came to work Monday to find that vandals had smeared swastikas on the windows.
The White House would not rule out the possibility that the administration would take legal action against Arizona. President Barack Obama, who warned last week that the measure could lead to police abuses, asked the Justice Department to complete a review of the law's implications before deciding how to proceed.
Mexican President Felipe Calderon said the law is discriminatory and warned that trade and political ties with Arizona will be seriously strained by the crackdown.
Luis Valera, chairman of the board of the Latin Chamber of Commerce, said many small-business owners who are legal immigrants "are just as much at risk" of having their constitutional rights violated by such a law as undocumented immigrants "based on how they look, what their name is, an accent.
"That's unacceptable."
Valera joined other members of the local business, labor and faith communities Monday to voice opposition to the Arizona law and continue a push for national immigration reform legislation this year that will include a path to citizenship for millions of illegal immigrants in the United States.
The only positive effect that could stem from the Arizona law is it may force legislators to address immigration reform on the federal level, they said.
"I don't think there's anybody out there who doesn't agree we need to do something," said Assemblyman Mo Denis, D-Las Vegas, who is running unopposed for state Senate. "But that needs to happen at the federal level."
Flores said local Hispanics who helped elect Obama in 2008 will again flex their political muscle to oppose politicians who bring forth or support legislation similar to Arizona's new law.
Meanwhile, activists hope momentum from the Arizona controversy will bring more people out to local events pushing immigration reform, including a Saturday march to the Lloyd George U.S. Courthouse. The march, scheduled to kick off about 5 p.m. from Commercial Center on Sahara Avenue near Maryland Parkway, coincides with International Workers' Day, a celebration of immigrant workers around the world.
Contact reporter Lynnette Curtis at lcurtis@reviewjournal.com or 702-383-0285.
The Associated Press contributed to this report.
INTERACTIVE: Arizona adopts controversial immigration enforcement law