Neighbors squeal over pig permit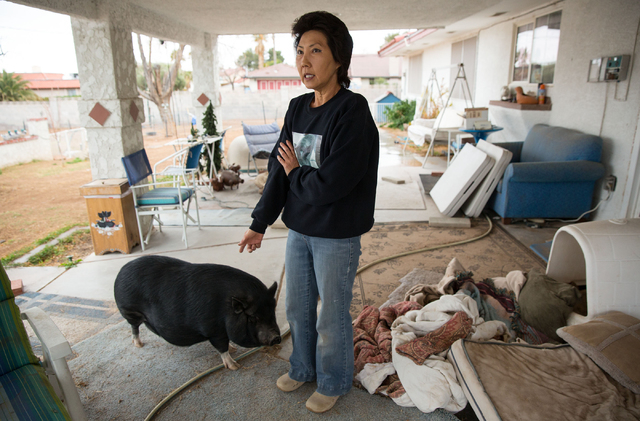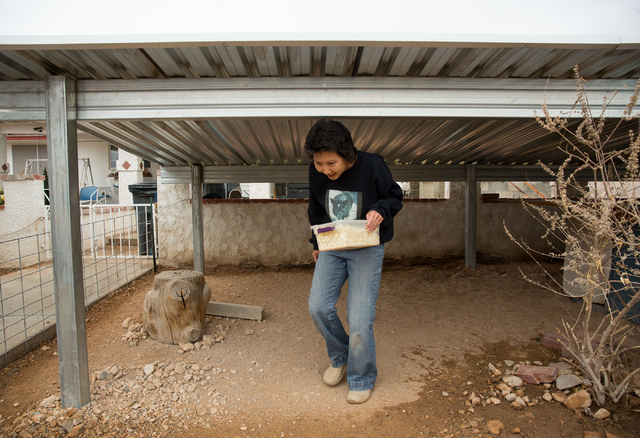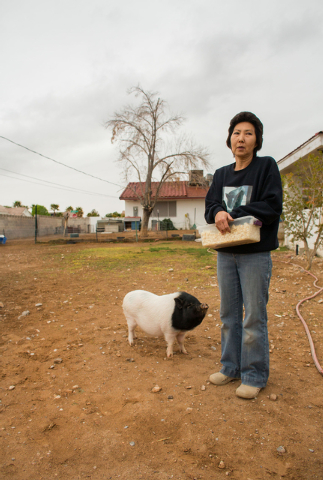 In the world of animal rescue organizations, Crystal M. Kim-Han stands apart from the dog and cat lovers.
She runs a pot-bellied pig rescue operation, the non-profit VegasPigPets, and has obtained permission from Clark County to have more than three of the porkers in her half-acre fenced yard at 3188 Redwood St. in Las Vegas.
The county has approved her application for a special use permit, but four neighbors are squealing — or voicing, perhaps — their concerns to the county. The neighbors have filed an appeal and asked the county to reconsider. A decision on the appeal comes Wednesday from the county's Zoning Commission.
For Kim-Han, rescuing and caring for the pot-bellied pigs is a labor of love. She doesn't rescue them so the pigs can live there permanently.
The goal is to get them to a new home, with a pet owner who understands that a cute little piglet will, in the course of several years, become a pot-bellied pig that can weigh well over 100 pounds. Oftentimes, the pigs have already matured.
"I need to be a revolving door for the pigs," she said. "I'm not a sanctuary."
As a result, Kim-Han's goal isn't to have the full eight allowed under the special use permit on hand all the time. Instead, she just wants the flexibility to have more than three, noting that sometimes the pigs come in pairs.
"Sometimes, I only have three or four," she said.
Pot-bellied pig owners may not know what they're getting themselves into. For example, sometimes they buy their pet from an unscrupulous breeder who downplays the expected size that the piglet will reach.
That's where VegasPigPets comes in.
People can leave their former pets with her, and she'll get them a veterinarian exam, vaccinations and sterilizations before looking for a new home.
"They keep you on your toes — plus they're cute," said Kim-Han.
The pot-bellied pigs caught the attention of county zoning officials after an anonymous complaint in November 2013 about the smell from a neighbor. After a county inspector in December 2013 found five pot-bellied pigs, Kim-Han was allowed to put in her application for a special use permit.
A separate inspection from Clark County Animal Control was favorable for the pot-bellied pigs. The inspector found that the pigs were well-behaved and individually penned with separate pig houses, and the backyard was clean and odor-free, county records show.
A doggie — or piggie — door allows the pot-bellied pigs access to the house, which the inspector found free of any bad odors.
The pigs aren't fed garbage or slop. Instead, Kim-Han feeds the pigs popcorn and produce — nothing that she wouldn't eat. That diet keeps the smells away.
"Pigs do not bark and always hide away and sleep soundly throughout the darkness of night," Kim-Han wrote in her letter to the county.
Kim-Han's application to increase the number of pigs allowed also points out other efforts: the pig areas are cleaned at least twice a day, and the waste is bagged and placed in trash bins.
Her neighborhood has its pot-bellied pig fans. Indeed, they numbered more than the four opponents who have filed the appeal.
The special use permit got 26 cards in support and 14 cards in opposition after surrounding property owners were notified.
The four who appealed the permit contend that eight pigs wouldn't be compatible with the area.
"Having that many animals on a half-acre of space concerns me," Richard Kostelac said in an interview. "I don't know where it stops."
He acknowledged he wasn't aware of the rescue operation until getting the notification from the county. Kostelac said he's not against three pigs — or the work of the rescue operation.
"I don't mind the pigs," he said. "It's the number I have a problem with."
But others, including a direct neighbor, have confidence in Kim-Han.
"Crystal is my direct neighbor to the south," Jennifer Sasso wrote in a letter of support to the Clark County Planning Commission. "Upon moving in, she made it a point to introduce herself to the neighbors and inform us about her pig rescue. She made it clear that if we ever have a problem with them, she would be available to address any issues. I can attest to the fact that there have never been any noise or odor problems."
To learn more about Kim-Han's rescue operation and adopting a pot-bellied pig, visit http://www.vegaspigpets.org/.
Contact reporter Ben Botkin at bbotkin @reviewjournal.com or 702-405-9781. Follow him on Twitter @BenBotkin1.