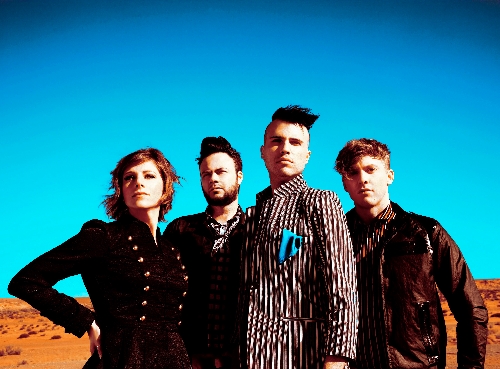 Branden Campbell's daughter Katie is a second- grade star, thanks to him. A month ago, she wore a Neon Trees T-shirt to class. Older kids gave her high-fives, and a teacher asked, "Where did you get that shirt? … Do you even know who they are?"
"Well," Katie told the teacher, "my dad is in the band."
"It's definitely her calling card on the playground," Campbell says, and jokes, "I'm gonna find out she's bootlegging CDs and T-shirts at school."
Campbell, a Vegas native, plays bass in Neon Trees, the only rock band with a single ("Animal") in the Billboard Top 20. It's also a No. 1 alt-rock hit.
Not only that, but "Animal" is the theme song for "Camp Vegas" ads promoting the Strip to the world.
This is all quite a highlight in Campbell's long musical journey.
In the mid-1990s, there were no real all-ages venues for teen bands. So Campbell and other teens from the high schools Western, Clark and Bonanza (his alma mater) created a "hit-and-run scene" of all-ages venues, such as a Ramada Inn banquet hall, a shuttered Tex-Mex restaurant called T-Mex, and the caves of Red Rock.
It was an "underground free-for-all," he says.
"We hung out in caves, played music and did other unmentionable things," he says coyly. "You couldn't advertise it, because we didn't want the cops to find out. It was almost like a speakeasy in the desert."
Back then, teen bands amped up with two gas-powered generators, fortified by an iron-frame stage made of two or three pieces, with plywood on top, set in the back of a van.
"It was a mobile stage. We had some great shows with that over off Sahara (Avenue) and Highland (Drive)," he says.
"We could continue to show up and do these things until, usually, something bad happened," ranging from getting caught for underage drinking, to eluding "creepy 30-year-old dudes that still liked hanging out with the high schoolers."
Over time, Campbell strengthened his chops and expanded his musical taste in a series of acts that some locals may remember: Wholes, Sol Gron, Blatant Disregard, Summer's Eve, Professor Punn and Home Cookin'.
He also played ska in Attaboy Skip, which featured Ronnie Vannucci Jr., who became the drummer in the Killers.
Thus, Vannucci and Campbell are now part of a loose collusion of people I think of as the Vegas music mafia — intertwined Las Vegans who have skills and power. The Vegas music mafia includes but isn't limited to: the Killers; Franky Perez (who has backed up acts from Slash to ZZ Top); Robert Reynolds (who manages the Killers and works with Neon Trees); sometimes Mark Slaughter (he taught guitar to Scott Kirkland of Crystal Method); on rare occasion Jimmy Kimmel, who hosted Neon Trees on his show in the spring; and insiders in the huge DJ scene; but I'm not sure how much the guys from Panic! at the Disco dip into any of those circles.
Campbell learned a great deal by watching the rise of the Killers. The Killers didn't perform locally much. But they were business-minded and they networked.
Most importantly, the Killers focused on making good songs, one at a time.
"I don't care who says you're good, or who says you're bad. If you have a good song people can sing along to, that'll be louder than whatever press you're getting, or not getting," Campbell says.
"The Killers tried to help friends along the way — other Vegas bands — but at the end of the day, it comes down to a song."
Vannucci put Neon Trees in touch with Mercury Records. But that connection would have been useless without Neon Trees' ready-for-radio songs.
"I'll be honest," Campbell says. "Over the years, since things started taking off for Ronnie and the Killers, I floated him lots of projects that I worked on. While they were good, he was like, 'Hey this is good, but I can't do anything with this.'
"Songs have to have their own life and be their own thing. I think that's happened for us. We're so grateful 'Animal' has taken off. Now people will pay attention to our other stuff."
Musicians usually move to L.A. to make it. But Campbell got into Neon Trees after moving to Provo, Utah, where he lives with his wife (they met when she was Emilie Patterson in high school) and two kids (3 and 7).
"The only reason I moved to Utah for college is UNLV didn't have a graphic design program at the time," Campbell says.
There's a bizarre coincidence in his band. Campbell's dad Steve crafts neon signs for YESCO in Vegas. Many years ago, Steve made a sign for a California restaurant named Neon Palm Trees. That sign made an impression on singer Tyler Glenn, who then moved to Provo, named his band Neon Trees after Campbell's dad's sign — and then Tyler met Campbell.
Neon Trees has talked about relocating to California or Vegas, but they decided to stay in Utah. Provo is "our own, big-little scene now," Campbell says.
On Wednesday, they're here to headline the Mirage's Revolution Lounge to raise money for the charities Music Saves Lives and Picture Healing.
And everywhere they go, they play their hit that was picked up for the "Camp Vegas" ad campaign. Campbell, whose family still lives here (as does his wife's), is happy about that.
"For me it did feel special, doing something for the hometown," he says.
However, predictably, now he finds himself defending both Vegas and Utah against clichés.
"People think people in Utah just go to church day and night. But it's not like that. And when people go to Vegas, they think it's just the Strip, like showgirls vs. Wayne Newton and magic shows.
"But there are galleries, musicians, poets, writers — people who work hard at that stuff."
One of those hard workers moved to Provo, Utah, and became a rock star.
Doug Elfman's column appears on Sundays, Mondays, Tuesdays and Fridays. E-mail delfman@reviewjournal. com. He also blogs at reviewjournal.com/elfman.
NEON TREES COMING TO VEGASNeon Trees plays Wednesday in the Revolution Lounge at the Mirage ($50), benefiting the charities Music Saves Lives and Picture Healing.