Nevada AG candidates split on gay marriage
January 31, 2014 - 12:22 pm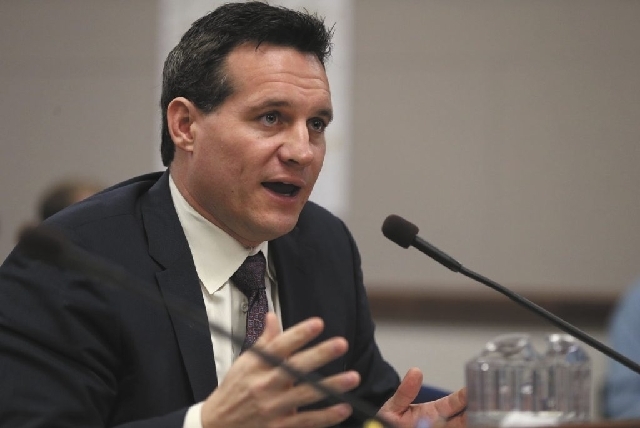 The two candidates running for Nevada attorney general disagree on whether gay marriage should be allowed in the state, according to statements provided to the Las Vegas Review-Journal.
Republican Adam Laxalt, an attorney, said he believes marriage is between a man and a woman — as it is currently defined in the Nevada Constitution.
Democrat Ross Miller, who is the secretary of state and a lawyer, said he would vote to change the constitution to allow same-sex marriage if given a chance.
The opposing views released this week come as the state defends its law against a court challenge. Attorney General Catherine Cortez Masto said last week that she is reconsidering that defense in light of last week's 9th U.S. Circuit Court of Appeals ruling that says it is unconstitutional to exclude jurors because of their sexual orientation, essentially making gays a protected class. The case is SmithKline Beecham Corp. V. Abbott Laboratories.
Laxalt said gay marriage is an issue for each state "to decide for themselves."
"As attorney general of Nevada, I would follow and uphold the law as passed by the people of Nevada through our constitutional process and I would vigorously defend that law when challenged," Laxalt said. "For an attorney general, in this state or any other, to substitute his or her will for the will of the people is not proper unless that popular will clearly runs contrary to the Constitution."
Laxalt said the U.S. Supreme Court hasn't held that there's a constitutional right to gay marriage and it should be left up to the states to decide.
"Abbot Labs is a narrow opinion regarding juror selection and its ruling goes against the 9th Circuit's own precedent on the level of scrutiny to apply in sexual orientation cases," Laxalt said. "In the absence of a Constitutional imperative, we must not substitute the will of judges, Attorneys General, or for that matter, an American president for the will of the people."
Asked about his own views, Laxalt said: "My personal belief is that traditional marriage means one man and one woman, which is consistent with the will of the voters who placed such a definition into our Constitution."
Miller said just the opposite.
"On a personal level, I support equality and if a question appears on the Nevada ballot to overturn the ban on gay marriage, I'll be voting yes," Miller said.
Asked about the pending legal challenge to Nevada's law. Miller declined to weigh in.
"I'm not inclined to address hypotheticals and won't speculate on future rulings," Miller said. "Since I was not part of the discussions between Attorney General Masto and her client, the governor, I won't second-guess their decisions."
GOP Gov. Brian Sandoval has said that his personal belief is that marriage is between a man and a woman.
Masto was heavily criticized by liberals and gay rights groups after she filed Nevada's brief to the 9th Circuit last week defending the state's law banning gay marriage.
The new 9th Circuit ruling in the separate case gave her the opportunity for reconsidering Nevada's defense.
"The 9th Circuit's new decision, entitled SmithKline Beechum Corp. v. Abbott Laboratories, appears to impact the equal protection and due process arguments made on behalf of the state," Masto said in a statement last week. "After careful review of the SmithKline decision these arguments are likely no longer tenable in the 9th Circuit."
The Lambda Legal Defense and Education Fund is challenging Nevada's definition of marriage — placed in the Nevada Constitution by voters in 2002 — on behalf of eight same-sex couples.
In November 2012, U.S. District Judge Robert C. Jones upheld Nevada's prohibition on same-sex marriage, finding that it does not violate the Equal Protection Clause of the 14th Amendment of the U.S. Constitution.
Lambda appealed to the 9th Circuit.
Contact reporter Laura Myers at lmyers@reviewjournal.com or 702-387-2919. Follow her on Twitter @lmyerslvrj.