Nevada, Delaware signing online poker partnership
February 25, 2014 - 4:52 pm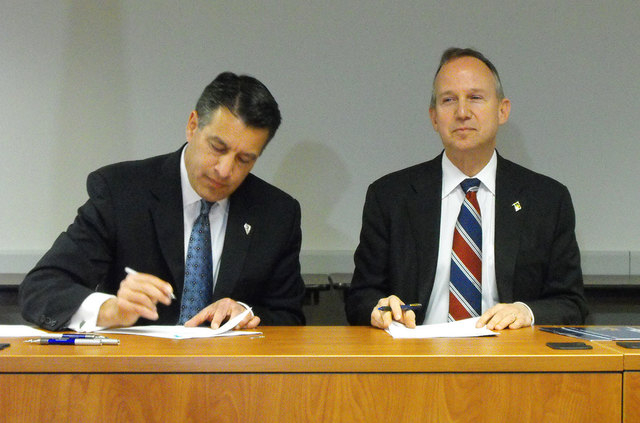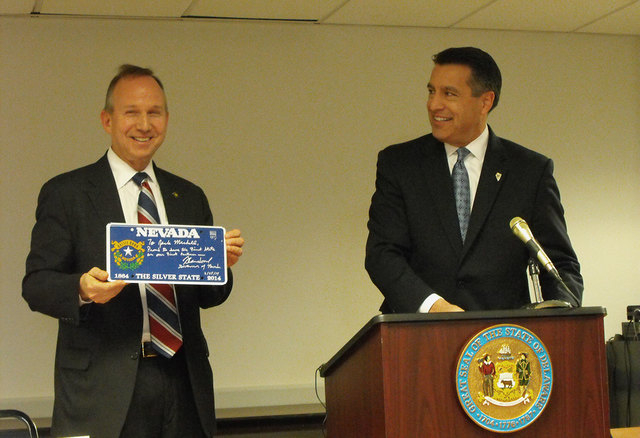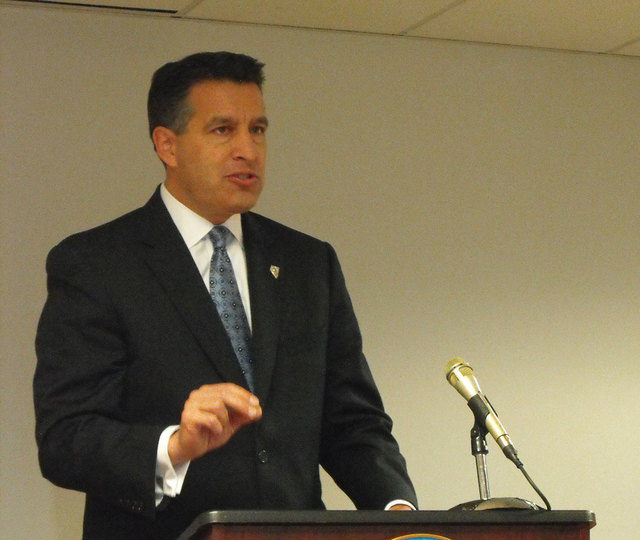 Wilmington, Del. — Nevada and Delaware leaders signed a landmark agreement Tuesday that will join their states for online poker, potentially increasing payouts for residents who gamble while aiming to model how states might collaborate on an emerging economic opportunity.
The Multi-State Internet Gaming Agreement signed in Wilmington by Gov. Brian Sandoval of Nevada and Gov. Jack Markell of Delaware establishes a legal framework for the first authorized interstate Internet gambling.
The deal aims to expand the marketplace for online poker in the small states that by themselves are not seen as having significant populations for Internet gambling to flourish. Nevada has legalized poker-only online for players logging on within the state, while Delaware has green-lit online slots, blackjack, roulette and poker.
Sandoval described the agreement as a marriage of high tech and gaming, embraced by states seeking growth. He said the day is near when someone in Ely might face a gambler from Seaford, Del., across a virtual poker table, "in a fair game and structured environment."
"We are standing in a moment of history today," the Nevada governor said at a signing ceremony held in a state office building in Wilmington before an audience of Delaware legislators and state officials. "Nevada first passed gaming in 1931. I consider this a landmark intersection in the road of gaming history."
The governors could not say when interstate online poker would go live, as technology providers now must harmonize site platforms in the two states.
Nevada has almost 2.8 million people according to last census; Delaware has just less than 1 million according to the last census.
Officials said in Nevada that the WSOP.com site operated by a Caesars Entertainment Corp. subsidiary might have an early leg up as its technology partner is Gibraltar-based 888 Holdings, which also provides the technology platform for Delaware's websites.
888 Holdings CEO Brian Mattingley said his company "was delighted" by the agreement between Nevada and Delaware. He said the company is working with Nevada gaming regulators to launch an 888 branded website for online poker.
"This is a very strategic move that provides a much better gaming experience for customers," Mattingley said. "It gives the smaller states much more liquidity and I can only assume the governors will reach out to other states in order to increase the network."
Markell was reluctant to predict the amount of economic benefit from the partnership.
"We'll see over time, it's got to grow," Markell said. "This is a brand-new concept. It ought to be additive because it means there will be more liquidity, it will be more interesting for Delaware players when there are more people to participate with."
NEED FOR LARGER STATES
According to the Delaware Lottery, the state brought in $145,200 in revenue from online gaming in January, following $140,000 in December and $111,000 in November.
Nevada hasn't broken out online poker revenues in the state's monthly figures, but Union Gaming Group estimated the revenues were between $200,000 and $750,000 each month.
Eilers Research gaming analyst Adam Krejcik told investors that Delaware's current numbers "have been nothing short of a disaster." He said the agreement with Nevada was a good start, but the arrangement needs the presence of larger states to make it more beneficial.
"It's hard to find any silver linings from these initial (Delaware) results," Krejcik said. "Moreover, we believe today's announcement regarding a partnership with Nevada, while symbolically important, is unlikely going to have a major impact on near-term revenue trends."
Nevada has three online poker websites: Ultimate Poker, which is owned by a subsidiary of Station Casinos; WSOP.com, which is aligned with the World Series of Poker; and Real Gaming, which is owned by South Point.
Delaware's websites are controlled by the state's three racetrack casinos and run on 888's platform.
Although the economic implications are not yet clear, the bistate agreement heralds a new chapter in online gambling. New Jersey is the only other state to have legalized online gambling. GamblingCompliance.com estimated that at least 10 states are considering online gaming legislation.
Markell and Sandoval began talking about a poker partnership in the spring. Sandoval said there also have been discussions with New Jersey about entering the agreement.
"I think they want to see how this works out for us," he said.
Sandoval acknowledged that Congress has debated federal regulation of online poker, but it lacks consensus, and "we can't wait. I see this as an opportunity for the states to show leadership and show it can work."
FRAMEWORK FOR MORE STATES
Nevada launched its online poker in April through Ultimate Poker. WSOP.com followed in September. Real Gaming began accepting wagers this past week.
Delaware's online gaming websites went live in November.
As envisioned, gamblers in Delaware would log onto the website of one of the in-state casino sites, while Nevadans would log onto a site in their state. Once online, the players would be able to sit at the same virtual poker table and compete for the same pot.
Site operators would be able to pool the wagers into a common pot. Each state would receive a percentage of the rake attributable to players from that state.
Nevada gaming laws and regulations would apply to Nevada players; Delaware players would be subject to that state's laws.
Although there are only two states to start, the agreement was described as a "multistate" agreement in hopes it might add other states as they legalize online gambling. Markell said it sets a framework where new states could be added easily.
"Today this is an Internet poker agreement between Delaware and Nevada," Markell said. "But we know more games and more states mean more players, which means more revenue for participating states."
Nevada Gaming Control Board Chairman A.G. Burnett said the state's regulatory agency would start working with the Delaware counterparts to set up the framework that governs the system.
'MORE PLAYERS TO THE TABLE'
Caesars Interactive Entertainment CEO Mitch Garber said the agreement between Delaware and Nevada was a "great first step" in establishing an online poker network across the United States. The company, which also operates online gaming in New Jersey, stayed out of Delaware because of state's small population.
Now, with Nevada and Delaware pooling players, a new push would be made into the market.
Garber added that without a federal Internet gaming framework, the agreement marks the best possible solution.
"It's another case of forward thinking and an endorsement of the importance of pooled liquidity especially for lesser populated states," Garber said. "We knew the states would find a way to collaborate. This will bring more players to the table."
Senate Majority Leader Harry Reid, D-Nev., said Tuesday that the interstate gambling compact signed between Nevada and Delaware wouldn't hurt his efforts to legalize poker-only online gambling nationwide.
"As I understand it, that is the main thrust of the agreement," Reid said.
U.S. Sen. Dean Heller, R-Nev., said he favored the poker agreement, even as he said he continues to have troubles with other forms of online gambling.
"While I have repeatedly expressed my concerns about the impact of online gaming on consumers and minors, I believe that online poker is a game of skill and not of chance," Heller said. "In the meantime, this agreement is a proactive effort from Nevada and Delaware to provide a safe and consumer-conscious environment for online poker, and will serve as an example for other states."
Stephens Washington Bureau reporter Peter Urban contributed to this report.