Nevada group calls allegations of voter registration fraud 'intolerable'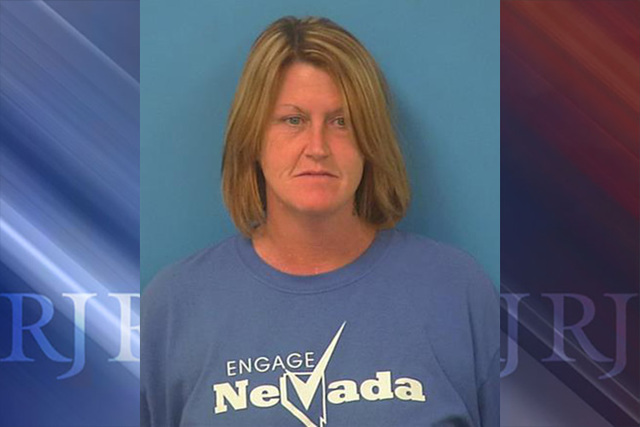 CARSON CITY — A conservative outreach group said Thursday it is cooperating with law enforcement following the arrest of a Pahrump woman accused of falsifying voter registration applications and called the allegations "intolerable."
Tina Marie Parks was arrested Wednesday and charged with 11 felonies following an investigation by Nevada's Election Integrity Task Force and secretary of state investigators. A criminal complaint alleges she fraudulently marked the party affiliation for three people while registering them to vote before the June 14 primary.
Parks worked for Engage Nevada, a conservative community organization that conducts voter registration outreach.
"While Ms. Parks is presumed innocent until proven otherwise, we are absolutely outraged by the allegations contained in the complaint," the group said in a statement issued through its president, Jack St. Martin.
"Ms. Parks has only been with Engage Nevada for a few months, but what she is alleged to have done in that limited time is intolerable. And it reflects poorly on both our organization and the 250 plus Engage Nevada employees who have been registering thousands of Nevada voters since 2013."
St. Martin is the husband of Mari St. Martin, communications director for Gov. Brian Sandoval.
Engage Nevada said it is conducting its own internal investigation, which will include a review of all of Parks' work, the organization's hiring policies, training materials and procedures.
"We will also meet with and re-train each and every employee to make sure that they know and understand that this can never happen again."
The organization said it cooperating fully with state officials and law enforcement.
All three voters told investigators they wanted to register as Democrats but were wrongly registered as Republican or nonpartisan.
Parks, 45, was charged with two counts of attempted intimidation of voters; one count of intimidation of voters; three counts of acts concerning registration of voters for allegedly falsifying registrations; and one count of prohibited acts of employees of voter registration agencies.
She also faces four counts of perjury for allegedly signing four registration forms for herself on which she attested to having no felony conviction or other loss of civil rights that would make it unlawful for her to vote. Investigators said Parks had previous felony convictions for drug offenses and attempted burglary. Her voting rights had not been restored.
Each felony carries a possible sentence of up to four years. Parks remained jailed Thursday morning on $100,000 bond.
One voter, Michael Belcher, told investigators he was approached by the group on May 5 and asked to register to ensure all his information was correct.
According to an affidavit by Shelley Neiman, chief criminal investigator with the secretary of state's office, Belcher said Parks filled out his form, had him sign it, and then engaged him in conversation. Belcher said she never asked him his party affiliation.
Belcher said he called the county clerk's office after he didn't receive his voter registration card in the mail. It was then he learned he was registered as nonpartisan. He was able to correct his affiliation in time to participate in the Democratic primary.
Another voter, Charleen Taylor, said Parks handled her registration and initially listed her as a Republican. Taylor caught the error, scratched out the party affiliation and told Parks she was a lifelong Democrat. Parks allegedly told Taylor she would take care of it.
According to the affidavit, Taylor received her card in the mail and put it away without looking at it. When she went to early voting she was told that as a registered nonpartisan her ballot was only for a school board seat.
Taylor said she went to the clerk's office and filled out a new application, but was unable to vote in the June primary.
A third voter, Pamela Valenzuela, also alleged Parks completed her voter registration application and then directed her to sign it. When she received her card, it showed her as a Republican. Valenzuela said she did get a corrected card in the mail but was unable to make it to the polls because of a disability.
Cases of voter registration fraud are rare, and officials credit vigilant enforcement of election laws.
In 2011, the now defunct Association of Community Organizations for Reform Now, also known as ACORN, pleaded guilty to one count of felony compensation for registration of voters. Two ACORN field operatives in Nevada also pleaded guilty to lesser charges stemming from the 2008 presidential election when the organization registered hundreds of bogus voters using fake names and addresses. State law prohibits registration agencies from paying canvassers based on the number of voters they register.
A Henderson woman was charged and arrested after she tried to vote twice at two different polling locations in the 2012 presidential election, just to prove it could be done. A records search at the second location showed she had already voted, and poll workers did not allow her to case another ballot.
In 2014 a Las Vegas woman pleaded guilty to two felony counts of voter registration fraud and identify theft for twice registering to vote twice under false name.
Contact Sandra Chereb at schereb@reviewjournal.com or 775-461-3821. Follow @SandraChereb on Twitter.