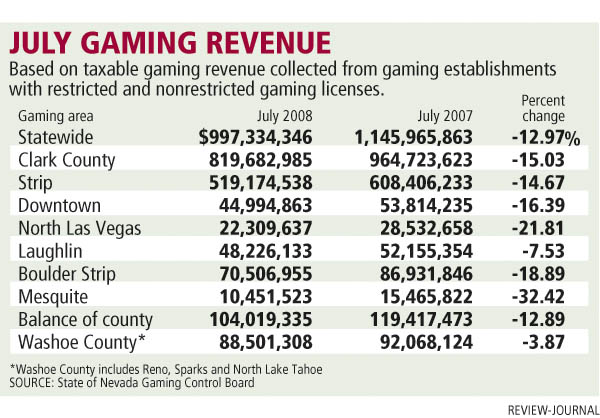 With July's 13 percent decline in statewide casino revenues on the books, 2008 is headed toward recording the worst ever year-over-year percentage decrease in Nevada gaming win since authorities began collecting such data more than two decades ago.
Through July, gaming revenues statewide are down 6.6 percent compared to the first seven months of 2007. On the Strip, gaming revenues are down 6.5 percent.
In 2001, statewide gaming revenues fell 1.3 percent compared with 2000, the largest ever year-over-year drop.
The Gaming Control Board began recording monthly and annual revenue figures for casinos in 1984.
"With seven months of the calendar year already in, it really doesn't bode well for a positive finish," said Frank Streshley, the control board's senior research analyst. "Only two of the months left in the year, October and December, are considered really strong months."
July's sagging gaming revenues were not the only falling numbers.
Visitation to Las Vegas fell 4.6 percent in the month while gaming tax collections were off 24 percent.
Statewide in July, casinos collected $997.3 million in gaming revenues compared with $1.146 billion in July 2007, according to control board numbers released Wednesday.
The 13 percent decline was not the largest in state history, however. That record belongs to May, when gaming revenues fell 15.2 percent.
On the Strip, gaming revenues were $519.2 million, a nearly 15 percent decline compared with $538.6 million won in July 2007.
The July decline statewide was the seventh straight month that gaming revenues fell and the eighth month out of the last nine there was a decrease.
July also marked the third straight month that statewide gaming win fell below $1 billion. Some analysts believe it's going to get worse before it gets better.
"We expect 2008 to be a transitional period for most segments of the Nevada gaming market, as consumers grapple with the higher cost of living, rising unemployment, loss of airline capacity and a weakened real estate market," Wachovia gaming analyst Dennis Farrell Jr. said in a note to investors.
The state took in $58.3 million in gaming taxes based on July's gaming revenues, a 24 percent decrease compared with $76.7 million collected for the same period a year ago.
Ben Kieckhefer, a spokesman for Gov. Jim Gibbons, said the disappointing July gaming report puts the state about $10 million in the red early in the new fiscal year that started July 1.
"We don't need any action at this point," he said. "We're waiting on other revenue reports to come in."
The first taxable sales report of the new fiscal year will come in later this month.
"Anecdotally, we've heard that August might have been better than July," Kieckhefer said. "So we may see better numbers coming in from the gaming segment. It just highlights again that the people in the state of Nevada are struggling. Both big businesses and small businesses, individuals, families, everybody. We need to be responsible about how we manage this situation."
Gibbons and lawmakers have cut nearly $1.2 billion from the two-year budget because of lower than expected tax revenues. Gaming tax revenues are down 11 percent in the first two months of this, the 2008-2009 fiscal year.
The Economic Forum projected in June that gaming revenues would grow by 2 percent this year.
In addition to declining gaming revenues, tourism figures fell during the month, according to the Las Vegas Convention and Visitors Authority.
July's 3.2 million Las Vegas visitor tally pushed the year-to-date total to 22.7 million visitors through July, a 1.1 percent decrease from the 2007 pace.
Las Vegas Convention and Visitors Authority President Rossi Ralenkotter addressed the downturn on Tuesday, before the most recent figures became public. Ralenkotter said the local hotel occupancy rate could fall further if hotels don't attract more guests as thousands of new rooms open for business.
He said a 13.2 percent dip in the number of available airline seats could make the situation worse.
"We need to be able to fill these rooms," Ralenkotter told the authority board of directors. "The number of seats is critical to that."
Streshley said several factors contributed to July's gaming revenue decline. The $1.146 billion won in July 2007 was the single-largest monthly gaming revenue figure ever in state history. Also, gamblers played lucky; the hold percentage by casinos on the amounts wagered on table games was roughly 1 percentage point below what the state considers a normal hold percentage of 12 percent.
Several researchers said they are looking beyond the raw numbers to determine if the downturn is worsening.
The amount of money wagered on slot machines was down more than 9 percent statewide and more than 12 percent on the Strip, the ninth straight month of declines in the segment.
Streshley said lower slot wagering indicates that value-oriented customers and low-rollers are not spending as much on gambling when they visit Nevada.
The figures also translate into lower gaming revenues in the locals market outside of the tourist corridor. Casinos in North Las Vegas, along the Boulder Highway (which includes Henderson) and the balance of Clark County, all had double-digit declines in gaming revenue.
Deutsche Bank gaming analyst Bill Lerner said the situation in the tourist market is not getting incrementally worse. Table game wagering statewide in July was $2.5 billion, a 2.9 percent increase. Baccarat wagering was up 16.1 percent.
"The volumes are important to look at. It's not just about win percentages," Lerner said. "We are seeing evidence that certain segments of the market, however, are much weaker than others."
The July figures also hurt the stock prices Tuesday of the major publicly traded gaming companies with holdings in Las Vegas.
Las Vegas Sands Corp. shares fell almost 11 percent while Wynn Resorts was off 3.5 percent. Shares of MGM Mirage and Boyd Gaming Corp. also fell.
Reporter Benjamin Spillman and Sean Whaley contributed to this report. Contact reporter Howard Stutz at hstutz@reviewjournal.com or 702-477-3871.
VISITATION DOWN 3.2 MILLION people visited Las Vegas in July, a 4.6 percent decrease from the same month a year earlier. The dip pushed visitation for the year about 1.1 percent lower than the pace set in 2007. $105.97 average daily room rate, down 10 percent. 87% occupancy rate for Las Vegas hotels, down 4.8 percent 90,000 cars per day coming into Nevada from other states — down 6.4 percent. The number of total airline passengers fell 8.6 percent. 5.3% & 14.4% decrease in visitation in Laughlin and Mesquite, respectively. The average room rate in Laughlin fell to $46.87 per night. Room rates in Mesquite were down to $45.83. SOURCE: Monthly visitation report by the Las Vegas Convention and Visitors Authority