Nevada law sought to reduce unnecessary dog shootings by police
November 24, 2013 - 5:35 pm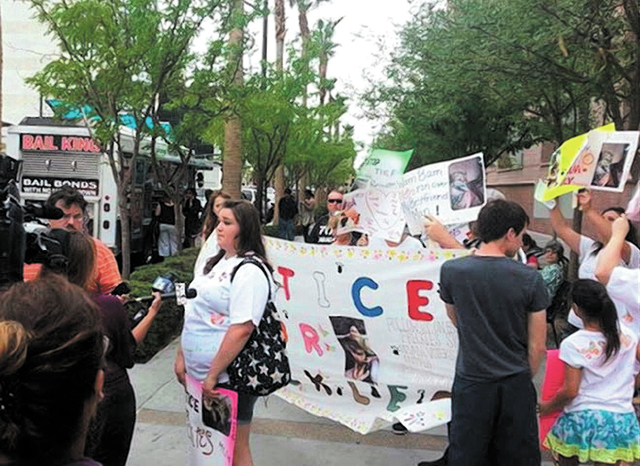 CARSON CITY — A 45-pound Australian shepherd named Freckles died in May when a Las Vegas police officer hit him with his cruiser to stop him from running toward a group of children.
The officer said the dog jumped a fence and he feared he would harm the children.
But Freckles' owner, SarahRose Hecht, contended her "son" would not harm anyone. She paid more than $1,000 in veterinarian bills in a futile attempt to save her pet. She later organized a "Justice for Freckles" protest at which she and others demanded mandatory training on dealing with unruly dogs for all police.
"I have no doubt my dog would still be alive if the officer had on iota of training on dog behavior and dog psychology," said Hecht, 27, who still sobs when talking about Freckles. "There was no reason for deadly force."
Hecht could get her wish. State Sen. David Parks, D-Las Vegas, has requested legislation to require police to go through training in dealing with dogs to avoid shooting of peoples' prized pets.
ADVOCATES SEE PROBLEM
Parks said he's concerned about the number of incidents where police in Southern Nevada unnecessarily shot dogs. An officer shot one dog in a Las Vegas neighborhood in one case, and an officer shot his own police dog in 2012.
He plans to introduce the bill at the next legislative session in 2015.
Parks said animal control officers, U.S. Postal Service and private package carriers have found ways to handle dogs without killing them. They should be able to teach police officers about dealing with dogs without a lot of costs.
"In many instances, a dog is being territorial, not vicious," said Parks, who has been bitten by dogs himself. "It would help if police knew what category of dog they were dealing with."
One of Parks' constituents is Gina Greisen, the leader of Nevada Voters for Animals and the force behind some of Nevada's major animal protection laws. Greisen advocated the 2011 Cooney's Law, which calls for felony sentences against people who maliciously abuse animals.
She and Parks are looking at a Colorado law that requires a minimum of three hours of police training in understanding dogs. Animal activists there complained that 30 dogs over a five-year period were needlessly killed by police.
"Each of the shootings I'm aware of in Southern Nevada were preventable if police would have had training and actually used it," Greisen said.
Counting Freckles, she knows of six instances of local police shooting or running over dogs this year. But information about dog shootings is not readily available, so she feels the total is much higher.
Bill Cassell, a spokesman for the Metropolitan Police Department, said his figures show five incidents in the department's jurisdiction of deadly force against dogs in 2011, and one dog died. In 2012, there were six incidents of deadly force against dogs, with four fatalities. Through Sept. 30 this year there have been six incidents with three deaths.
Since many police officers have everyday encounters with unruly dogs, Cassell said the number of shootings is "statistically minuscule."
Cassell said police try to call animal control officers if they know a dog might be at a crime scene. But he added some dog owners, typically drug dealers, use their dogs as weapons against police and police have to make quick decisions, particularly if they don't know whether a dog is on the other side of the door.
"It is not in the nature of a police officer to want to kill a dog," he said. "There are a few times where it is the only option."
Cassell said Las Vegas police already receive limited training in dealing with unruly dogs. They review a video and power-point presentation on dealing with dogs. He is aware of the Colorado law on police training, but declined to comment on the Parks bill until it is introduced and analyzed.
OTHER INSTANCES
Three stories about dog shootings appeared in the Las Vegas Review-Journal this year. The first was in January when Las Vegas police killed a pit bull named Bubba in the yard next to the home where they were called to investigate unknown trouble.
An officer heard a shot fired at a nearby residence. Then a dog charged the officer who shot and killed Bubba. Police later said they had been called to that residence 25 times since 2008.
"There are plenty of people who had interactions with police, both positive and negative," said the homeowner, Victor Patino. "It doesn't change the fact that police came into my backyard without permission and executed my dog."
Patino said police did not knock on his door before entering the backyard.
That month a Las Vegas constable shot a dog named Pongo who broke free from his owner and ran toward him while barking. Pongo recovered, but his owners paid $2,000 in veterinarian bills.
Then came Freckles on May 21.
Hecht said she is considering filing a lawsuit against the police over Freckles' death.
Children in her neighborhood had been known to throw rocks at the 9-year-old dog. That is what she believes happened on the fateful day. Freckles might have jumped the fence and ran after two children, but she said he had never bitten anybody.
To Hecht, Freckles was more than just a pet. He was a companion for her during the crises of her life. She has acquired another Australian shepherd that is a lot like Freckles, but it just can't replace him.
Las Vegas police even shot one of their own, Marco, in a May 2012 incident in which he bit an officer and could not be subdued. Marco underwent surgery but died nine days later. Marco thought the officer was a suspect and bit him, and the entire department mourns his loss, Cassell said.
Before suing, Hecht has been waiting on a decision by the police board that reviews incidents of deadly force. The board could discipline the officer or find his use of force was justified. The board's results, however, are confidential, according to Cassell.
Greisen said barking by dogs does not mean they are about to bite.
"Dogs only have one voice and that is barking, Greisen said. When a dog is happy, it barks. When a dog is angry, it barks. When a barking dog races around the corner of his house and you are in his yard, he is doing his job."
Greisen intends to make the Parks bill a campaign issue in the Clark County sheriff's election next year. She will ask candidates whether they support the bill, and she will ask them for ideas to prevent the unnecessary shooting of dogs. The bill also should be amended to include cats and other pets, she said.
Parks said bill drafters will watch what other states are doing as they work on his bill. Three states and at least six cities now require police to receive training in understanding dogs.
He does not see the need to impose any penalties on police who shoot dogs when they fear the animals are about to attack them.
As someone who campaigns door to door, Parks frequently encounters barking dogs.
"I had one person say 'My dog doesn't bite,' but he made a jump at me. I have been bitten so many times, mostly as a kid. I keep my tetanus shots up to date."
While he has had dogs for most his life, Parks' only pet now is a desert tortoise.
"He is often hungry and will try to bite on my fingers," he said.
Contact Capital Bureau Chief Ed Vogel at evogel@reviewjournal.com or 775-687-3901. Follow him on Twitter at @edison vogel.