Nevada, Mexico to share data
December 16, 2008 - 10:00 pm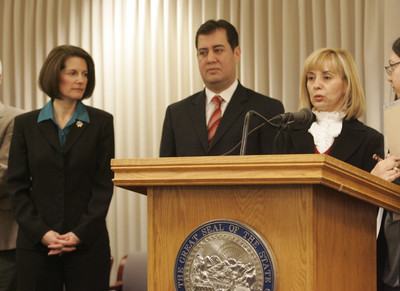 Nevada Attorney General Catherine Cortez Masto signed an unprecedented agreement Monday with two Mexican states, vowing to share intelligence information and assist leaders there to reform their once-archaic judicial system.
Flanked by Rommel Manjarrez and Patricia Gonzalez, the attorney generals for Baja California and Chihuahua, Mexico, respectively, Masto said the parties forged the agreement with hopes of targeting such crimes as drug dealing, money laundering and human trafficking.
Mexican President Felipe Calderon has urged states to open up their judicial systems and present forensic findings and other evidence in an open trial setting.
"The president said he will do whatever he can to put a stop to the crime," Masto said of the conversations that led up the agreement.
Mexican states have traditionally been secretive about their criminal investigations. They presented no evidence at trial and charged suspects based on piles of affidavits and forced confessions, U.S. government officials said.
Cross-examination of witnesses and presentations of evidence were non-existent, according to Rafaela Herrera, a rule of law advisor for the U.S. Agency for International Development.
"There were no forensic labs; crimes scenes were not taped off," said Herrera, who added that in Chihuahua, a butcher with no medical license conducted autopsies. "It didn't matter if they had the wrong guy because they didn't have the forensic evidence to show it was the wrong guy."
The agreement allows Nevada's law enforcement agencies to teach the Mexican states how to conduct forensic investigations, how to collect evidence and properly prosecute cases in open court.
Because of the legal agreement, the two Mexican states will freely share information on drug dealers and other criminals who might cross the border into the United States.
Although Nevada doesn't border Mexico, law enforcement officers see methamphetamine and other drugs that were smuggled in from across the border. And Masto said money is laundered in Las Vegas and taken back to Mexico.
"There is a nexus with Nevada," she said.
In a highly publicized case in October, Clemens Tinnemeyer was arrested after his 6-year-old grandson was abducted in Las Vegas. Law enforcement authorities have said Tinnemeyer might have owed money to a Mexican drug cartel.
Although Masto said the agreement was discussed long before the Tinnemeyer case, the deal could help Nevada officials by providing more information on drug cartels operating in the state.
While Masto's office orchestrated the deal, each of the Las Vegas Valley's law enforcement agencies, along with the Clark County District Attorney's office, agreed to participate.
Chihuahua and Baja have signed similar agreements with New Mexico and Oregon.
Herrera said intelligence received from the Mexican states have led to the arrest of fugitives before they can enter the country.
Lifting the cloak of secrecy surrounding criminal cases has come at a price. Herrera said that since Gonzalez took office in 2006, 26 of her bodyguards have been gunned down.
"The state I come from is a border state. We have drug cartels, and we're trying to control that situation," Gonzalez said through an interpreter. "My state is trying with all its efforts to work with the government and get it under the control."
Officials from Nevada and Mexico were originally scheduled to sign the new information-sharing agreement on Nov. 7, but that ceremony was cancelled after a rash of killings in Baja California.
Contact reporter Adrienne Packer at apacker@reviewjournal.com or 702-384-8710.