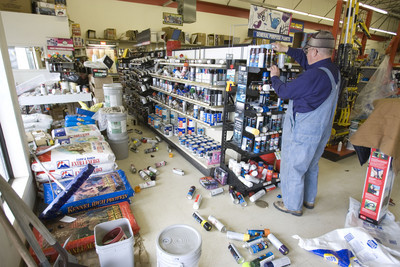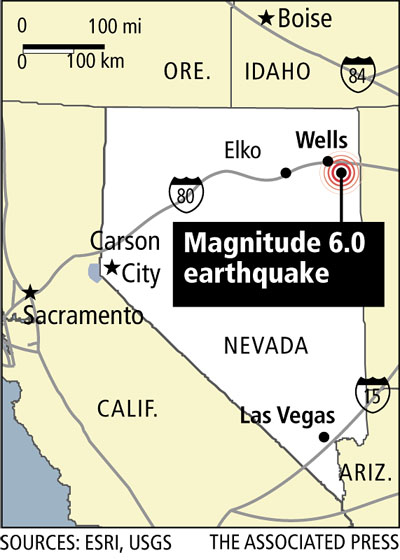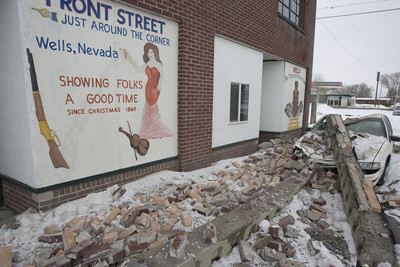 WELLS — An earthquake early Thursday rocked the rural northeastern Nevada town of Wells, damaging hundreds of homes, rupturing gas and water lines and felling brick building facades in the mostly unoccupied historical district.
No serious injuries were reported after the magnitude 6.0 quake jolted the high desert town awake at 6:16 a.m. and rumbled across much of the West.
County commissioners declared a state of emergency in Wells, where some 20 to 25 buildings in the largely vacant historical district were "heavily damaged," Elko County Sheriff's Sgt. Kevin McKinney said.
"It was like a bomb went off," said Elko County Commissioner Mike Nannini, who was standing in the middle of the 4-way Cafe & Casino when the quake began.
"The walls and ceilings started coming down. Almost all of the businesses are shut down. We have no services and no fuel," he said at an emergency meeting.
Tom Turk, a state spokesman at the scene, said almost every one of the 700 residential structures in town had some damage.
"It just immediately jumped into rattling the walls," said Donna Anderson, who was at the Wagon Wheel residential motel her father built 50 years ago. She said it seemed like the shaking went on for "five or six hours."
"I wasn't terribly scared, but it felt like everything was just going to crumble down around us," Anderson said.
Gov. Jim Gibbons said after touring the area Thursday afternoon that several buildings in the historical district had been reduced to "bricks and mortar and foundations."
"But people are safe. We have three minor injuries, no deaths." Gibbons said.
"I think we were just blessed that Mother Nature struck when it did … rather than some time later on when the people would be out and about and the sidewalks might have had more people on them when these structures came down," he said.
The temblor, centered in a sparsely populated area six to 12 miles east of Wells, was felt from northern Idaho and Utah to Southern California, officials said.
"Definitely a lot of people felt this, and if they were sleeping, they were awoken," said geophysicist Carrieann Bedwell of the U.S. Geological Survey's National Earthquake Information Center in Golden, Colo., which initially measured the quake at 6.3.
As many as 30 aftershocks were reported.
"It was scary, the scariest thing ever," said Karen Swabb, who lives southeast of Wells in Clover Valley.
"I never imagined it could be like that," she told the Elko Daily Free Press. She said friends in Wells told her "one of their fish flew out of the bowl."
The town of about 1,600 was closed to all but residents, the Nevada Highway Patrol said.
Dan Burns, spokesman with the Nevada Division of Emergency Management, said workers were inspecting roads, bridges and dams for structural damage.
Crews were getting the upper hand on a ruptured supply pipeline that was leaking up to 20,000 gallons of water a minute.
Newmont Mining Corp. Chief Executive Officer Richard O'Brien said an inspection of the underground gold mines in the area "found no deficiencies."
Wells, located along the California Trail traveled by Western pioneers, was founded by Central Pacific Railroad in the 1860s.
Thursday's quake temporarily disrupted the railroad, now owned by Union Pacific.
"After it happened, we had to make sure that our track was OK," Union Pacific spokeswoman Zoe Richmond said.
Because Wells is a crossroads for travelers on Interstate 80 and U.S. 93 about 60 miles west of the Utah state line, officials were posting signs along the highways for motorists to fill up on gasoline elsewhere.
"In Northern Nevada, gas stops are few and far between," trooper Jim Stewart said. "We don't want motorists stranded in the middle of nowhere."
In the historical district, brick facades tumbled off several buildings, signs fell and windows broke, and some vehicles parked on the street were damaged by falling debris. A support beam crushed an unoccupied car. Brick and mortar piled up along the street. Several chimneys were toppled.
"They have some businesses in there, mainly some retail stores, some old hotels, things like that, but only about half of them are occupied," McKinney said. "Most or them are kind of in the process of being refurbished, being revitalized."
Three injuries were reported, but they were "not very serious: a broken arm, some head lacerations, some difficulty breathing," he said.
The Flying J Truck Stop was evacuated because of a propane leak, Elko County Undersheriff Rocky Gonzalez said, but no fires started.
The Red Cross had set up a temporary evacuation center at the fire station.
By nightfall, about 40 families had registered at the center but officials had no indication yet of how many would need a place to stay overnight, said Caroline Punches of the Northern Nevada Chapter of the American Red Cross.
In Wendover, Utah, just over the Nevada state line, Tammy Wadsworth was ironing clothes when the quake hit.
"I kept thinking, 'When is it going to quit?' A couple pictures fell off the walls," she said. "One of my grandkids ran outside. They didn't know what else to do. It scared them."
The USGS said the quake occurred along the Independence Valley fault system that runs east of Wells and near the Pequop Mountains.
RELATED STORY Experts: Nevada has faults that can fuel big temblors More about earthquakes in Nevada